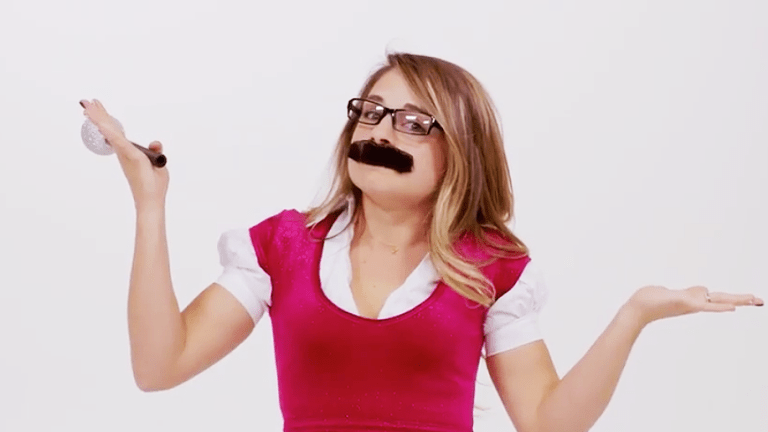 Why Skipping The Sexy Costumes is More Important Than Ever This Halloween
Ken Bone and Kim Kardashian became Halloween memes this week adding to a dangerous rhetoric in our society.
Now in the tenth month of 2016, it's safe to say it has been a pivotal year regarding sexual assault—Brock Turner, Bill Cosby, Roger Ailes, and most recently, Republican presidential candidate, Donald Trump, all come to mind. These stories of sexism and female degradation have made their way into our homes via constant media coverage and have resonated with unforeseen numbers of men and women who have been victims of sexual assault themselves.
In response to it all, society has begun to play a larger role in the watchdog effort against sexual assault. The cry has grown louder against rape culture and a culture that demeans and over-sexualizes women (and men). I have sat in tears over the past week as I see more and more women opening up about the sexual assaults they experienced. The New York Times reported that when author Kelly Oxford sent out the simple, direct probe: "Women: tweet me your first assaults" this past Friday night, she received 27 million replies in the first 36 hours. The vulnerability that has been shared on Twitter is only a portion of the reflection of how sick and tired so many individuals are of feeling unheard.
So perhaps it should come as no surprise that the 2016 version of Sexy Halloween Season is more cringe-worthy than ever. The top picks? Sexy Hillary Clinton, Sexy Donald Trump, and Sexy Ken Bone—the unsuspecting, be-sweatered contributor to Sunday's Presidential debate whose fame blew up overnight. Furthermore, after many came to the defense of Kim Kardashian after she was violently robbed in Paris, a costume company still managed to come out with a "sexy" tied and gagged Kim Kardashian costume. You read that right: a sexy tied and gagged costume.
The ongoing marketability of the "sexy" version of decidedly un-sexy things might seem trivial, but it's not. Halloween has always sparked controversy as a one-night glimpse into an underbelly of our zeitgeist—a costumed affair that's actually quite revealing about popular culture. What this year's crop of costumes tells us is that despite growing outrage over sexual assault, we're deeply confused about what the outcome of that activism should be. On the one hand, we're saying we're tired of being treated like sexual objects; on the other, we choose sexy costumes under the guise of "empowerment." So which is it?
Lest we think we have no power to make a change, consider the frequency with which costumes that have been deemed culturally appropriating have been condemned and pulled from shelves. Most recently, Disney faced condemnation when customers complained about a brown zip-up costume with tribal tattoos made to promote their upcoming film Moana. In the ensuing outcry, Disney ended up pulling the costume.
Instead we get a Ken Bone-inspired costume officially called "Sexy Undecided Voter." In a video posted to Twitter, costume creator Yandy shows the brand's VP of Merchandising, Pilar Quintana, saying that one of the company's notable characteristics is their ability to "react." Immediately after, an unidentified employee says, "I came in to Pilar this morning and said, 'We really need to figure out how to make a sexy Ken Bone costume.'" The company's reaction, on the heels of days fueled by sexual assault stories culminating in a heated and nasty Presidential debate, was to crop a red top and make an outfit where everything is really "tight," in their own words. 
Yes, even Bone, who charmed the nation with his sweet, honest demeanor, is not spared from the sexualized culture. The narrative has quickly shifted from whom he is and what he represents to how to sexualize and monetize his likeness. The costume is now being sold on their website for $99.95.
Halloween can be a day to dress up and have a little fun. But it's also a statement. Amid the national outcry against sexual assault and women's degradation, this year could be an amazing opportunity to step up and rewrite the narrative. We are more than just our sexuality, more than our bodies. Perhaps Halloween could, for once, be an opportunity for women to dress for who they are, not how they look. We are strong, funny, smart, independent, and, yes, beautiful. And we can personify that in our choice to be Leslie Knope, Mother Teresa, or maybe Rey from Star Wars. We've all heard the overused trope, smart is sexy, but I can't help but use it here because it rings true.
We may not be able to stop men from having "locker room talk," but we can choose not to play into it. Let's create a new narrative—one that supports true empowerment of women, not only in our day-to-day lives, but also in our adopted persona for Halloween.
Photo Credit: Dose