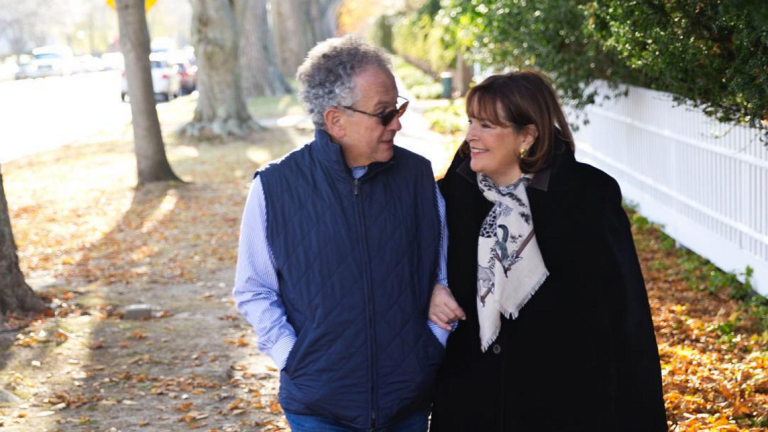 3 Secrets to a Long and Happy Marriage We Learned From Ina Garten
The beloved chef's latest book, "Cooking For Jeffrey," is a giant love letter to her husband.
This week Food Network star and idolized celebrity chef Ina Garten published her tenth cookbook. Arguably the most personal among her recipe compilations, Cooking For Jeffrey is a culinary ode to her husband. 
Fans of the Hamptons-based purveyor of modern comfort foods and a comfortable yet luxurious lifestyle have watched Ina fawn over her husband for years on her TV show, Barefoot Contessa. And Jeffrey has made many cameos. By now we know food is a huge part of their relationship—from Jeffrey's love of a Friday night roast chicken to Ina's oft-heard catchphrase, "Jeffrey's gonna love it." 
During the press tour for her book, Ina has made it clear that her career and happiness centers on her husband. She told Vanity Fair her greatest regret in life was "not marrying Jeffrey sooner." For context, Ina was 20 when she married a then-22-year-old Jeffrey. 
So what can the rest of us learn from their 48-year marriage that has played out largely around kitchen stoves and dining tables? 
A lot it seems.
Support Drives Success 
Ina's career began with a risky purchase of a small specialty foods store in New York's posh Hamptons locale. Working in politics and policy—Garten was a White House policy analyst at one time—wasn't fulfilling her, and she credits Jeffrey with supporting her dream to make her love of cooking a career. 
Ina told People Magazine: "'I was watching TV at 11 o'clock in the morning and Jeffrey said, "You need to figure out what you want to do with your life," she recalls. "I was shocked. It was 1969 and I was married. That was what girls did.'"
He financially supported her purchase of the store, also known as Barefoot Contessa, but Ina has proven over and over that it was his sheer appreciation of her culinary talents that motivated and inspired her. "He encouraged it so much by just being so appreciative when I cooked, and that was really the beginning of my career," she told People.
It Doesn't Have To Be Either Or
When Jeffrey appears on Ina's show, it's a real treat. But back in the day, before much was known about the inner workings of this culinary power couple, it seemed odd that Ina always talked about Jeffrey as though he was really only around on the weekends. 
Of course, we came to learn that Jeffrey's job at Yale keeps him away during the week. But what's interesting is that despite this frequent and routine distance, the pair seem palpably connected, emotionally and physically. 
We often hear about marriage being all about compromise, about sacrificing one partner's career for the other's. Of course, every situation is unique, but the Gartens have modeled a relationship that clearly supports both party's dreams in equal measure.
In Cooking For Jeffrey, Ina says, "Just as important to me, though, was that Jeffrey loved everything I cooked. His enthusiasm truly fueled the fire. I was making a home for us, which made me happy, and taking care of the love of my life."

Similarly, Ina clearly supports Jeffrey's life. Rather than stewing over their weekly separations, she makes the time they do have together special. She told People, "'We're always connected, texting and calling each other,'...adding that their weekends together are 'sacrosanct.'" Aww.
Family Is Exactly What We Make It
Many have noted over the years that Ina and Jeffrey have no children. Their habits of jetting off to Paris and hosting impossibly chic garden parties are perhaps the most obvious reminder that there are no children (or grandchildren) running around in a chaotic fuss. But the Gartens have proven that family life is what you make of it.
The Atlantic quoted Jeffrey as he told Johns Hopkins Magazine, "We don't have any children. I'm her family. And she is all about family cooking."
Whether it's knowing your partner's Love Language and making a point to practice it, or being intentional about having time for just the two of you, the Gartens' near 5-decades-long and seemingly happy marriage proves that showing appreciation for each other and your sacred bond is worth the effort (no matter how large or small your family may be).
Ina also told Vanity Fair that her favorite qualities in a man are "generosity and a great sense of humor." We can only assume that Jeffrey does, in fact, possess both these things. And we'd be hard-pressed not to do what we can to put some of the Gartens' values to work in our own relationships. After all—humility, devotion, and mutual respect in a marriage? In the words of Ina, herself, "How bad could that be?"
Photo Credit: Ina Garten