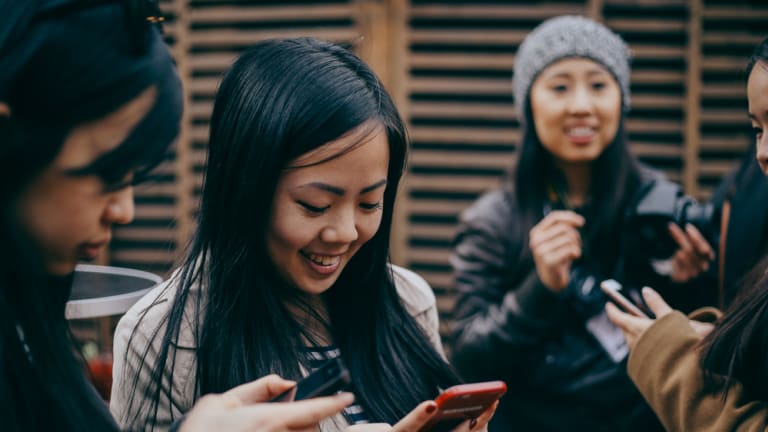 Can Hinge's Update Really Get You More Dates—and Even Love?
The company announced today that it no longer wants to be an app for people who are addicted to swiping.
I signed up for Hinge when I was single and dating, and it seemed pretty promising at first. It was cool that all guys I was matched with were guys who I kind of had some mutual connection with via Facebook . . . though sometimes the connection was faint, like a friend of a friend who always wished me a happy birthday but I'd never remember how I know him. The trouble is, after a day or two of getting matched, Hinge became a digital replica of your stereotypical bar scene—everybody just scoping each other out and nobody actually making a real move.
After too many messages back and forth and no real dates, I wrote Hinge off as just another dating app designed for people who don't actually want to be in a relationship.
Now I'm married, so I have forgiven Hinge and every other dating app that has let me down, but I'm still pretty dubious about the whole app situation for my single friends' sakes. Dating apps are exhausting and have the tendency to suck any dating mojo right out of you (granted, not 100 percent of the time). When my friends vent about how hard it is to meet men who actually want to be in a relationship, I typically groan along with them and tell them to set their sights on setups from friends, not algorithms and swipes.
But, lo and behold, Hinge might no longer be what I once wrote it off as. The company announced today that it no longer wants to be an app for people who are addicted to swiping, and it has redesigned the interface to be the go-to app for men and women who actually want to meet someone and fall in love. Obviously, my interest was piqued.
The key difference between the old Hinge and the new and improved app, explains Hinge representative Karen Fein, is the community. According to Fein, things such as the $7 membership fee and the addition to the app's name—Hinge: The Relationship App—will help curate a community of daters who want to meet offline and who are open about wanting something real.
"We have learned that one of the most exhausting things about dating is trying to navigate these waters of people who are not really interested in a relationship," Fein explains. "But there is something empowering about an app that allows you to say, 'I am looking for a relationship, and that's OK.' You don't have to play cool girl."
Other differences in the app include the elimination of swiping—as Fein explains, Hinge felt that it contributed to objectifying games (um, yeah!)—and a brand-new Instagram-esque interface that allows for more sharing and the opportunity for users to comment individually on specific pieces of content. According to Fein, this feature garnered seven times more numbers exchanged among the beta population.
With Hinge 2.0, you still have the comfort of knowing your matches are Facebook friends with that guy you met at that concert one time, but you are no longer limited to the batch of ten matches delivered to you by Hinge. Instead, you can scroll through more profiles that have been curated through your Facebook social circle and make first contact if you wish.
This all seems pretty great to me, but is Hinge the silver bullet for a dating culture that is swiping itself into extinction? Probably not. I'm not saying that you shouldn't give Hinge a try. On the contrary, if you are single and wondering where on earth a busy woman can meet a nice guy, I would definitely give Hinge a chance. It certainly has the potential to be a place for people seeking meaningful relationships to meet, but whether or not it reaches its potential is entirely up to you.
Fighting the dawn of the dating apocalypse requires more than just a fancy new app. Bringing dating back means we need to be intentional about how we use the tools available to us. We need to be bolder about sticking up for the kind of relationships we want by saying no to casual hookups, if it's a relationship we really seek. Truly making a change when it comes to dating means we need to stop seeing profiles as a menu for a perfect man and instead look at them as mere breadcrumbs that lead toward a deeper understanding of a real, flawed person who just might be the love of your life.
Hinge, or any other dating app for that matter, will only ever be the breadcrumbs. It's up to you to follow the trail and make something of it.
Photo Credit: Alexa Fernando