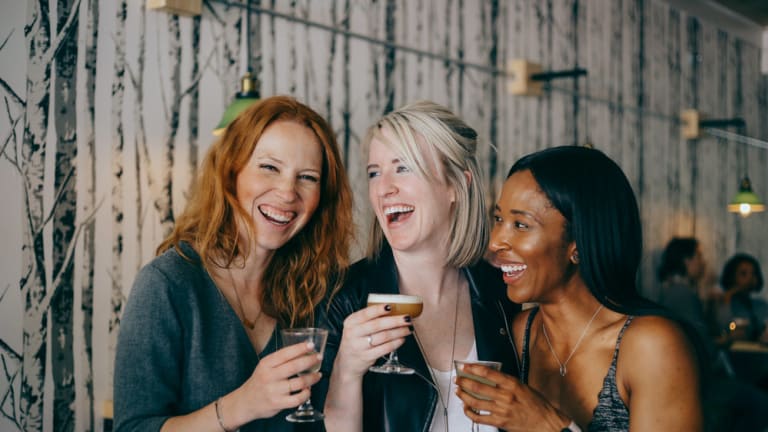 5 Creepy Cocktail Recipes for Your All Hallows' Eve (and Beyond)
Skip the candy for these festive beverages.
Lots of lore surrounds the history of Halloween, but this fall festivity actually dates back to a combination of cultural histories and practices. The HISTORY network notes, "In the eighth century, Pope Gregory III designated November 1 as a time to honor all saints and martyrs; the holiday, All Saints' Day, incorporated some of the traditions of Samhain [a Celtic festival when people would light bonfires and wear costumes to ward off roaming ghosts]. The evening before was known as All Hallows' Eve and later Halloween."
Over time, it evolved into a secular event. But today, people around the world continue to celebrate the transition from bountiful fall to dreary winter with lively gatherings, costumes—and best of all, treats!
Whether you're throwing a party with friends or staying in this holiday, these easy cocktail recipes will help you get in the spooky spirit. Add some wickedly delicious desserts (no baking necessary!) and your best DIY costume, and you'll be all set for celebrating when October 31 rolls around.
Blood Orange Morgue-a-Rita
Straight from the 1800 Tequila mixologists, this deathly delicious blood-red cocktail complete with a chili pepper garnish is a treacherous twist on an old classic.
Ingredients:  
Directions: Combine ingredients, serve over ice, and garnish with chili pepper.
Witches' Brew
Another recipe fresh from the shaker is this colorful Halloween sipper. Place a bright green basil garnish on this vibrant cocktail, and while it will look just like a pumpkin, it will taste like a tropical paradise.
Ingredients:
Directions: Add all ingredients to shaker. Shake and strain into highball glass. Garnish with basil sprig.
Strange Brew
Care for a brew-based elixir? This one is for you. Inspired by the mixology masterminds at NYC's speakeasy-era bar Death & Co., this classy cocktail is perfect for the sophisticated fright fest in your future.
Ingredients:
Directions: Shake all ingredients (except the IPA) with ice cubes, then strain into a tall glass filled with ice. Top with IPA, and garnish with mint.
Poison Apple
From the creatives over at Etsy, this Snow White–inspired "magic potion" is the perfect mixture of sweet and sour.
Ingredients:
Directions: Rim glasses with apple slices and black sugar. Add apple juice, Midori, and vodka in a cocktail shaker. Shake well with ice. Strain into the rimmed cocktail glass. Top with Chambord.
Orange Café Flip
The cocktail specialists at Hangar 1 hit a jack-o'-lantern jackpot with this one. This cozy fall concoction is a less lurid alternative for all the scaredy cats at your Halloween get-together. It reminds us of autumn pies with a spirited kick.
Ingredients:
Directions: Combine all ingredients in a cocktail shaker. Shake without any ice to emulsify the egg. Shake again with ice and strain into a chilled coupe glass. Garnish with freshly grated nutmeg.
Header Photo Credit: Alexa Fernando