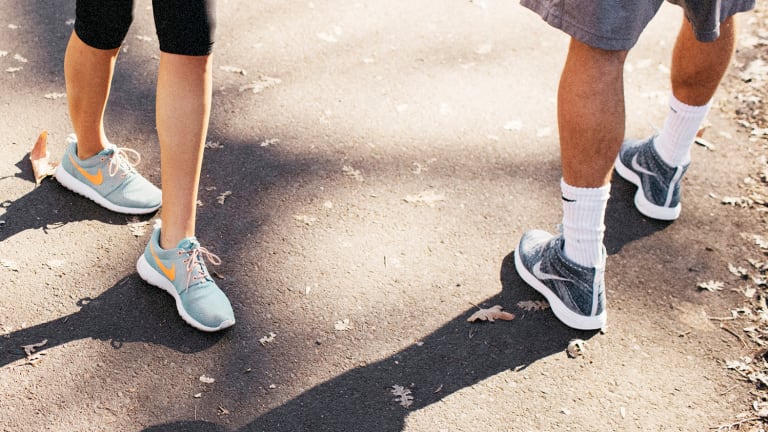 10 Reasons Quitting the Gym Could Be the Motivation You Need to Get Fit
There are so many benefits to working out from home or outside, so embrace the savings with us!
According to 2015 gym membership statistics in the U.S., about fifty-eight million people hold a gym or health club membership every year, yet a shocking 67 percent of them never use it. And those who do go to the gym only do so about twice a week. With memberships ranging from $20 to upward of $200 a month, that's no small wasted expense.
So this season, why not ditch the gym and make an effort to get fit somewhere else? It can be tempting to think you need a gym membership to motivate you, so we asked our fellow fit friends to share their favorite benefits of quitting the gym.
01. It's Free!
"I don't care to pay a monthly membership." "Working out for free." "The fact that it's free." "No membership fee." "Free, baby." Nearly everyone I interviewed mentioned that exercising for free is a huge plus. Fair enough!
02. Flexibility
Emily, Verily's social media manager, tells me, "I like working out at home (especially since I work from home) because I can do it whenever I feel my body needs it most without the hassle of having to transport myself somewhere." Teacher Christina Grace shares, "I now know how to workout anywhere, anytime—even when traveling." More than working out when and where you want, Matthew, creative director and TEDx speaker, says, "At home [I'm] able to multi-task (workout while listening to a podcast)," whereas at the gym one must bother with headphones, blasting music or chatty neighbors.
03. A Time-Saver
Speaking of multitasking, simply pop a chicken in the oven, and you'll have dinner ready when your workout is through! In all seriousness, saving time is a major perk. "No need to pack or drive—definite timesaver," says Cheryl, a physician associate and mom of two. John Jay Austria, fitness manager at 24-Hour Fitness, says, "You don't have to wait for machines or beating the crowd at rush hours when the gym is packed." Not waiting for people, equipment, or machines was a big plus for home trainers.
04. Cleanliness
Austria adds, "Gyms are one of the most unsanitary places." In fact, infectious disease specialist Dr. Bruce Hirsch tells NBC, you "can pick up a bug if an infected person at the gym wipes his mouth or nose, touches the treadmill or bench press." Saunas can cause rashes. Locker rooms are breeding grounds for bacteria. And showers "are notorious for carrying lots of germs like fungi that can cause athlete's foot," says podiatrist Jane Anderson. Gross.
05. Bringing Bebe
"I take stroller stride classes since I can do it with my son," says new mom, Courtney Ann. "I doubt gyms would let me workout with my baby due to liability." "I also take classes with my kids outside with the stroller, which I couldn't do in the gym, and I work out at home while my kids are sleeping or we have fun together," says Natalie, mom of two young ones. And for those without kiddos? "Working out with my dog next to me!" is a fun plus, says marketing and business development director, Priscilla.
06. Privacy
Lilly, Verily's style editor quips, "I like working out on my back porch area because when a really good Sia or Ariana Grande song comes on, I have to dance. Then I just make the dance part of my work out. I also like being able to do weird butt and inner thigh workouts without feeling like I look like a dog peeing on a fire hydrant." Been there, done that. As Matthew puts it, working out at home means "No judging eyes."
07. Healthy Body Image
Sophie, Verily's special projects manager, admits that when she's exercising at home or outdoors, "I feel so much less self-conscious than at a gym." Christina Grace mentions that "not having tons of mirrors to scrutinize myself in" and "not having other people around to compare myself to" are what she appreciates most. These ladies are onto something. Research shows that frequent exposure to unattainable or idealized body and beauty standards not only doesn't aid in weight loss, but actually results in weight gain.
08. Self-Empowerment
Melissa, and elementary school educator, shares, "[T]he challenge of maintaining the self discipline in working out is something I somewhat enjoy. . . . It almost builds a sense of self-confidence and thinking, 'Hey, I can do this without a gym!' I mean, it may not be as effective, but I'm satisfied."
09. Getting Outside
The overwhelming majority mentioned being in nature as one of their favorite things about exercising outside. "Love going to outdoor boot camps. Helps to get some sun in and a breath of fresh air," says Tana. Austria calls it a chance to get "sun exposure (vitamin D)," vital for curing seasonal affective disorder during colder months. Spending time in nature has also been proven to lower stress levels. Two birds, one stone.
10. The Gold Mine
"YOUTUBE!" exclaims Verily contributor Maria Walley, who personally curated a tried-and-true list of free workout videos to sample if you want to switch up your routine or retire an oft-unused gym membership.
In 2012, I gave up my $79/month NYC gym membership before moving to Europe where, ironically, there is not a health club in every neighborhood. I learned how to stay fit by exercising at home or outdoors, and I haven't looked back since (neither has my wallet).
Let's take advantage of the mild temps and beautiful seasonal changes by taking our workouts outside. The gym will still be around when it gets cold out, and so will our tips on how to get your tush there.
Photo Credit: Taylor McCutchan