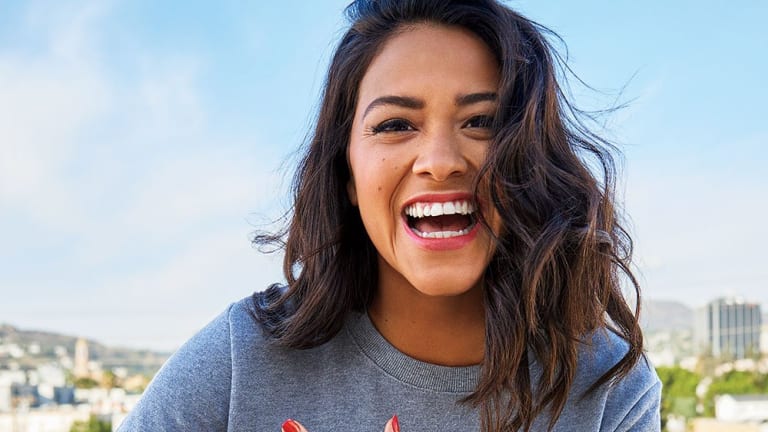 Gina Rodriguez Is a Refreshing Antidote to Objectifying and Narrow Beauty Standards
This Jane the Virgin star just gets it.
For actor Gina Rodriguez, the end of September brought not only the release of her new movie Deepwater Horizon but also her debut as one of Women's Health magazine's 2016 "Game Changers" for its October issue. In the interview, the Jane the Virgin star made important connections among being real, loving yourself, and being kind to others.
"If you love yourself there's absolutely no opportunity to hate anybody else. You actually can't," said Rodriguez, who lives with Hashimoto's disease, a thyroid condition that can cause chronic fatigue and weight gain. "If you are happy, you're not going to go around being like, 'You suck. You're terrible...' You don't do that. If you love yourself, you know nothing but love."
Earlier this year, Rodriguez, along with six other inspiring women, teamed up with Clinique for its Difference Maker campaign. As an advocate for women's empowerment and body confidence, her recent statements to Women's Health magazine only bolstered the message she's been preaching for some time now.
"We live in a society, a culture, where it says not all of you can make it—only one of you can. So we all are pushing each other to the side trying to be the one person that makes it. That's a false illusion. There's space for all of us," she said, echoing her vision for Clinique's campaign which inspires all young girls to be difference-makers.
In her powerful video introducing the campaign, in which she focuses on "turning education into empowerment," Rodriguez talked about all the factors she had to overcome as a young girl growing up in a gang-ridden Latino neighborhood of Chicago. "Kids got caught up in a cycle of can't and won't," she explained in the video. "I had a lot of things that I was up against—my skin color, my body type, where I came from."
With a boxing referee for a father, Rodriguez knows how to fight. She started boxing when she was three, and ever since then she's been knocking down all of life's limitations and challenges. Now at age 32, she embraces every imperfection and struggle as an essential part of her unique story—including the scars on her knuckles from boxing.
"Don't give up," she told Women's Health. "People will say no to you left and right. People will say you are not attractive. People will say you are not skinny enough, not tall enough, not thick enough, not curvy enough, not white enough, not brown enough, not this enough. Well, I really hope you don't feel that way about yourself, because then we're all screwed."
Motivated by a desire to push back against objectifying and narrow standards of beauty in media, Rodriguez also cofounded Naja, a lingerie company that is a refreshing antidote to hypersexualized and stick-thin advertisements of mainstream brands. This summer, Naja teamed up with Badger & Winters, the ad agency behind the #WomenNotObjects campaign, to debut its all-range-of-colors nude underwear line.
In May, she asked Women's Health a thought-provoking question: "What style would you have if it [were] your character that we could see?" And in her most recent interview, she explained that she loves when raw photos can capture her character and who she is—not just an actor, but an advocate, a philanthropist, and a champion.
"You know, in this day and age of Photoshopping and transforming oneself and filtering and filtering and filtering, it really feels good when a photo can capture my heart, my body, my spirit, without having to gloss over it," she said. These words echo Rodriguez' earlier comments about being successful in spite of her nonconformity to the "ideal" body type. "Let me keep my curves, you know? My birthmark. I want to look like myself."
Rodriguez is clearly a busy woman, taking on projects and lending her influence to worthy campaigns. And while it's not always simple to practice what Rodriguez preaches, it's true that loving ourselves means allowing for loving others, and that's a worthwhile goal for us all.
Photo Credit: Women's Health