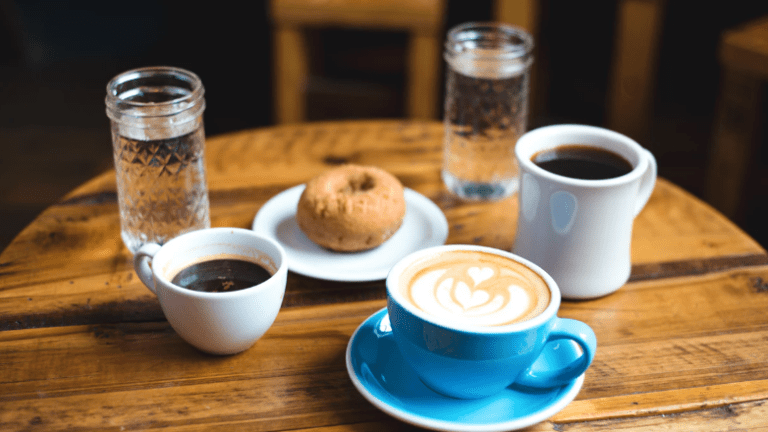 What Our Friendships Have to Do with Pumpkin Spice Lattes
It's proven that coming together over food strengthens your bond.
When it comes to friendship, I believe there is a strong bond that can be forged around food. I'm Italian, so I've always known this instinctively. But as an adult I can see even more clearly how shopping for food, making food, and enjoying a meal together, savoring the tastes and the company, can create the foundation for a friendship that lasts a lifetime.
Some people have sisterhoods of the traveling pants, and some have their sisterhoods of the pumpkin spice lattes.
The truth is, it's not just the Italians and PSL-crazed women who have a knack for turning flavor into friendship. Research shows that similar food consumption promotes trust and cooperation among strangers and separate research indicates that food sharing is a form of non-verbal communication that signifies intimacy. It seems sharing of food connects people and lays the foundation for trust, cooperation, and fosters intimacy, the essential ingredients to any thriving friendship.
As for me, I am thankful for the friendships I have in which we appreciate good food together. I have a lot of interests and activities that I like to do on my own or with friends, but for some reason, I feel that my friends who appreciate food really "get" me.
The first friendship that comes to mind, actually, is the one I have with my dad. I could go back to my preschool years when special one-on-one time with him involved lollipops bigger than my head and ice cream cones that ended up more on my face than in my mouth.
More recently we have both shared a love for coffee. On one spring day my senior year, in fact, I skipped school (and now as a teacher, I'm sure that karma will come back to me) to go into New York City with my dad. Armed with the interactive map of 101 Places to Find Great Coffee from the New York Times, we traipsed through the city sampling cups of joe. That stands out as one of the best days I spent with him, and there have been many like it since.
Our mutual affinity for caffè created a connection, which turned into tradition and created history in our relationship. The same has been true of my relationship with my girlfriends.
Jane Fonda and Lily Tomlin, a testament to lifelong friends, gave an interview in a TED talk about the significance and value that their relationship has had for them over the years. They discuss how female friendship, in particular, helped them with their families, careers, connections, and support networks. In fact, studies show that as we transition into adulthood, our friendships change—as do what we need from those relationships. In childhood, friends are your playmates. In adolescence, friends help you discover yourself slowly. And in adulthood, they become the social connections that sustain and define you.
But in an age where friendships are kept on life support by wishing people "happy birthday" on Facebook and commenting on Instagram posts or keeping up with each other's snap stories, there's something to be said for the shared meal. Even if it's only catching up over coffee for an hour or sampling a new spot during restaurant week, the ancient ritual deepens relationships in a way that other experiences can't. Friendships forged over food have layers to them that other relationships lack.
I'll never forget the day I invited a new friend to get froyo and discovered the power of food to forge intimacy. We ended up talking for more than two hours and began a beautiful friendship that has helped me to grow into a better person and woman in the years I have known her. And it all started with that simple gesture, which we still joke about today! But somehow, sharing that overpriced dessert together on a random weekday night, we broke down the barriers of acquaintances and became friends. The Spanish have a word for the conversation that flows after a meal—sobremesa. There's really no English equivalent, but that's how I would describe that first friend date with Sara.
When I took my current job, I knew almost no one living in the big city where I would be moving. I was nervous and unsure and a bit overwhelmed. Yet, when my friend, Jen, found a free T-shirt and donut deal, I found myself waking up at 5:30 a.m. on a Saturday to stand next to her in line during torrential downpour. Again, like with my dad, it wasn't so much the donuts that made me wait in that rain (thought they are incredible). It's the sobremesa, the adventure together, the unclocked hours chatting, the sanctity of sampling one another's appetizers or splitting a dessert.
For me, true friendship is found in the mornings-before-class-coffee ritual with my roommates and the late-night snacks I shared with my college dorm-mates. Somehow, in these moments of sharing, our own identities are found in our friends. These are the people we would wake up at 5:30 a.m. for just to get a free T-shirt and a fresh donut. The ones we drive an hour out of the way for to grab a cup of coffee. We go for our friends, for the moments together where we remember who we are.
Photo Credit: Vicky Gu