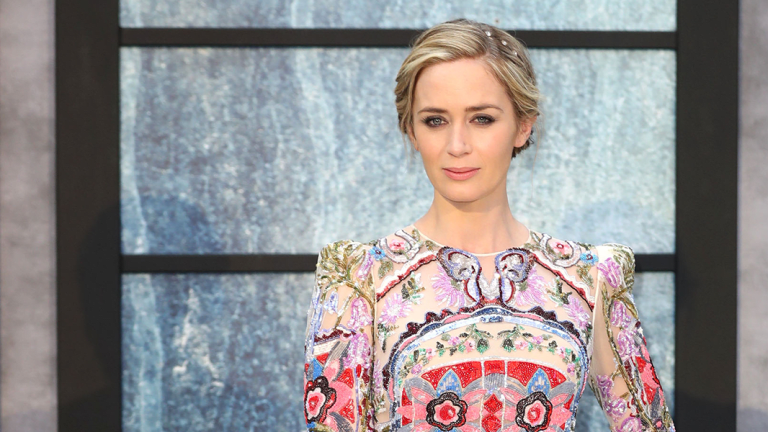 Emily Blunt's Most Beautiful Red Carpet Looks and How to Recreate Them Yourself
Aside from stunning in this month's blockbuster 'Girl on the Train,' Emily Blunt is giving us major style goals.
Emily Blunt is the actress we all wish we could simultaneously be and be friends with. She's hilarious, relatable, classy, and a fantastic actor (not to mention married to John Krasinski). With such a long list of admirable traits, learning that Blunt is a secret red carpet style queen probably doesn't surprise you one bit. The chameleonlike actress has an impressive history of gorgeous red carpet looks, and we've tallied up our very favorites.
Not Your Average Jumpsuit //
Of course Blunt can make a simple jumpsuit look regal! This navy blue number is the perfect balance of fancy and casual, allowing for it to be dressed up or down with the right accessories. For a more formal event, try glitzy earrings and shoes to take the look up a notch.
Super-Sleek Black and White //
Would we be surprised to find out Blunt was also a superhero? No. In fact, this caped outfit might just be proof of her secret life of defeating villains and saving innocent civilians. This 1940s retro dame-inspired look is enviable to say the least, and it's not even that hard to copy. The key to this look is the cape coat—wear it over a classy pencil dress and heels, and you'll be ready for an elegant dinner party (or fighting crime).
Colorful and Feminine Head to Toe //
Although Blunt comes across as more low-key on the red carpet, she's actually no stranger to edgier couture looks. Embroidered or beaded dresses have become a go-to for Blunt, who aces the look every time. The girlie girl in us swoons over this floor-length Alexander McQueen gown, and naturally we want to copy it for ourselves. It's ideal for standing out at any formal event, and we suggest toning down the accessories with nude shoes, a cream bag, and subtle earrings to allow the dress's details to shine.