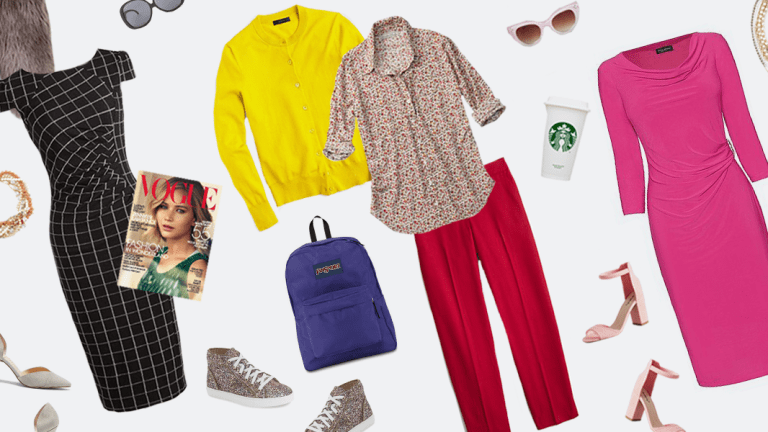 Empowering Women You Should Dress as This Halloween
For when the black cat costume just isn't cutting it
All Hallows' Eve is upon us, and as we frantically scour the pages of the Internet for some last-minute costume ideas, we can't help but feel that our options are (un)surprisingly low. If you aren't interested in being Harley Quinn from Suicide Squad or even the "classic" Sandy from Grease (post-transformation), we've got a few suggestions just for you.
Steer clear from any "I'm a mouse, duh!" moments and try dressing as one of the empowering women below.
Kimmy Schmidt
This bunker escapee stole our hearts last year with her wide-eyed excitement for life and perpetual positivity—not to mention her Crayola-colorful outfit choices. To don a Kimmy Schmidt–worthy ensemble this Halloween, you might need to take a trip to the kids' department or the thrift store for some bright yellow, pink, and purple items. 
Elle Woods
Elle Woods was the unlikely heroine that became one of the most iconic female film characters of the early 2000s. With her unceasing ability to power through difficult situations, Elle can be an inspiration to every woman who's been told she isn't smart enough to achieve her dreams. With an outfit of pink on pink, you'll be rocking that Legally Blonde look to a T.
Anna Wintour
Talk about inspirational. As one of the most powerful women in fashion today, Vogue's editor in chief, Anna Wintour, certainly has a trademark look that is distinct yet attainable (even for your Halloween costume). With a smart pencil dress, pearls, and an Anna Wintour wig, you'll so be ready to take over the helm at Vogue.
Belle
This animated Disney princess has been a role model for book worms everywhere, and with the up-and-coming Emma Watson remake, we're ready to get in touch with our inner child. Perhaps one of the easiest Disney princess costumes to replicate with real clothes, Belle's getup consists of a simple blue frock, a white blouse underneath, and an apron. No cheesy ball gown necessary!
Coco Chanel
The house of Chanel remains as one of the most (if not the most) influential designer brands of all time. Coco Chanel was a woman who broke rules and changed women's fashion forever. To pay homage to the woman who made girdles and corsets unpopular (thank goodness), don a simple black dress and pearls. To really amp up the iconic Chanel look, wear black-cap-toe flats and a quilted purse.