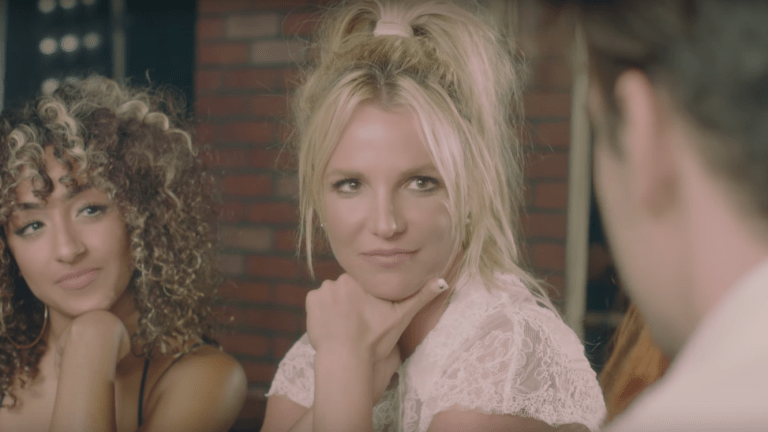 Britney Spears' Latest Album, 'Glory,' Confuses Sexiness with Empowerment
No one's earning a better seat at the table this way.
The veritable queen of comebacks, Britney Spears reemerged from near radio silence onto the pop music scene in August when she released her ninth studio album, Glory.
She said herself on Instagram that the album would be "a new era." And when Spears conducted an AMA (ask me anything) on her Tumblr and a fan asked about her upcoming music video for the album's lead single "Make Me," Spears responded, "There's lots of female empowerment. Lol."
It sounded like we might see a different side of Spears. The promo image that circulated for the new release, showing an impossibly svelte 34-year-old Spears strategically dressed in what looked like a bedsheet, suggested otherwise.
With the ambiguous "lol" tacked onto the end, it's hard to tell whether Spears meant what she said. Nonetheless, her words piqued the interest of feminists and empowerers of women for the simple reason that for the majority of her career, Spears has not wandered into the challenging and often controversial territory of empowering art. Seemingly content—determined, even—to remain America's sexy sweetheart, Spears has stuck to churning out catchy songs and sexy videos that, while often eyebrow-raising, rarely aspire to be anything more than just that.
At age 12, small-town Mississippi-born Spears came onto the scene in Disney's The Mickey Mouse Club, a now-defunct variety show. A few years later, at the crux of a new millennium, she released . . . Baby One More Time, a record whose impact is almost immeasurable. A perfect storm of conflicting ideals, Spears was branded as an innocent but consistently sold us a sexed-up image. At 18, she posed scantily clad for a Rolling Stone cover—and at the same time, proclaimed to her naysayers that she would abstain from sex until marriage.
In the years to follow, Spears continued to reign as the pop idol of her generation. Albums such as Oops! . . . I Did It Again, Britney, In the Zone, and more were accompanied by shocking VMA performances, an acting gig in Crossroads, marriages, annulments, divorces, children, and more. Her success was astounding, but it culminated in one of the most infamous mental breakdowns in pop culture history that played out between 2007 and 2008. Even post-meltdown, though, Spears continued to dominate the pop scene with more albums and a Las Vegas residency earning her millions.
All of this is to say that Spears' life has been a roller coaster. For all her hits, all her mistakes, all her moments—some enviable, others hard to watch—Spears appears to be impossibly enduring. What Vanessa Grigoriadis wrote for Rolling Stone in 2008 still rings true today: "A world without Britney . . . is hard to contemplate." Perhaps that's why, after a couple slow years for the artist, her new album Glory was the subject of much anticipation and speculation.
If there is anyone whose life arc would warrant a change of pace—a shift from "sex sells" to something (anything!) more—it's Spears'. Few survive what Spears has endured without a few scars. How wonderful would it be for her to harness the pain of her experience and channel it into an empowering message for other women?
You can imagine my disappointment when it turned out that "Make Me," as well as the rest of Glory, is nearly indistinguishable from Spears' previous work, almost unbelievably so.
In the words of Amanda Petrusich reviewing the album in the New Yorker, ". . . her work rarely betrays growth, nor does it bend to the zeitgeist. . . . It's almost as if the year 2000 were encased in amber and Spears alone figured out how to bust it open—how to successfully reanimate a lost era in which wearing a cocked fedora and singing the phrase 'raise my roof' feels germane to the cultural moment."
I'm inclined to agree.
To be fair, not everyone agrees with this take. Rolling Stone insisted that the album reflects the modern sounds of Selena Gomez and Justin Bieber (whom many would argue were copying Spears with their style anyway). People magazine called Glory Spears' "most adventurous" album of the past ten years. Vanity Fair labeled it "fresh and vibrant." Everyone's entitled to their opinions, but the fact of the matter is that Glory is filled with catchy songs, breathy vocals, and repetitive lyrics, the subject matter of which is almost exclusively sex.
So what gives? Is it us or Spears who's confused about the "new era"?
Objectification by Any Other Name
When Spears speaks of a new era but it sounds like more of the same, it's possible that she's referring to the shift we've seen to rebrand female sex appeal as a woman's choice and not as submitting to men's desires. Peggy Orenstein, author of the book Girls & Sex published earlier this year, explained this shift, citing that many girls today think female celebrities such as Spears "are taking control . . . of a hypersexualized industry that too often exploits women." But the only thing that's new, Orenstein notes, is that they "are being marketed as taking control."
Yes, a woman can deliver highly sexualized music and performances, and it appears to be her choice alone, but as Orenstein points out, "Those performers still work within a system that, for the most part, demands women look and present their bodies in a particular way in order to be heard, in order to be seen, in order to work." These performers are "spinning commodified sexuality as a choice, one that may be profitable," and the new trend is to call this empowering, but in reality, it's the same old, same old.
Consider "Make Me." The lyrics consist of two people partaking in a sexually aggressive conversation; Spears demanding that her sexual needs are satisfied, and rapper G-Eazy promising that he's up to the task. The accompanying video shows a series of men who appear to be auditioning for some unknown role, the scope of which apparently requires them to strip and dance. Spears and her friends gleefully objectify them one by one until Spears selects one and leads him to a hidden bedroom where they initiate sex while her friends watch them on camera.
Petrusich sums up Spears' sexual outlook nicely: "Many of Spears' best songs are about sex, an act she continues to view as purely transactional." In "Make Me," Spears is not a hopeless romantic looking for love in the arms of a man. On the contrary, she is an unflinchingly demanding buyer in the sexual exchange, making sure that she gets what she's paid for. It's a powerful idea, but I can't back the notion that this is really empowering anyone.
There is something intriguing about Spears' obvious role reversal. In the video fantasy, it is the men who must prove their worth, their appeal. In our modern, often male-centered hookup culture, seeing a woman insist that she be "taken care of" (sexually speaking) can be a refreshing change. But the Spears brand of empowerment is decidedly misleading.
Her depiction of the sexual exchange is almost criminally simplistic and incomplete. If sex is a transaction, it is not a purely physical one—even when we'd like it to be. Robert Weiss, LCSW, CSAT-S, wrote for Psychology Today that the research on casual sex has only just scratched the surface of what's really going on. He did say this, though: "Of the studies that look specifically at the relationship between casual sexual activity and psychological well-being, most hypothesize a negative correlation—as casual sex increases, psychological well-being decreases."
If sex is merely a transaction, it seems all well and good to encourage women to make the most of it. But if it's not, and you are not also warning them of the emotional costs of such a deal, you are not empowering them; you are deluding them.
The Alternative
Spears' get-what-you-want persona is one that, in a society in which the hookup culture increasingly pushes out the dating culture, many women have come to accept. Men are viewed with caution, as though they are untrustworthy salesmen who will cheat you if they've got the chance. While it's certainly something to encourage women to stand up for themselves, to be more assertive, to demand their just desserts, it is more empowering to inform them that they don't have to accept or partake in this bleak outlook at all. In a way, "Make Me" misses an opportunity to send an actual empowering message about sex: that it doesn't have to be a mere transaction in the first place.
Because as it so happens, it is absolutely possible to hold out for someone you trust, who is as interested in your well-being as you are, who cares not just for the satisfaction of your sexual desires but also for your needs as a whole person. In fact, not only is it possible, but it is also radically more fulfilling than the alternative.
Dr. Joe McIlhaney is an OB-GYN who coauthored the book Hooked: New Science on How Casual Sex Is Affecting Our Children. He says that the biochemical reaction humans have to sex is very powerful for both sexes but especially women. When sex happens, bonding happens. "Further, there is evidence that when this sex/bonding/breaking-up cycle is repeated a few or many times—even when the bonding was short-lived—damage is done to the important, built-in ability to develop significant and meaningful connection to other human beings," the authors report.
To pretend, even for entertainment's sake, that an intimate connection with one person to whom you're committed is not infinitely more satisfying and less emotionally taxing than the alternative, that it is not worth holding out for, that women and men do not deserve it—is not what I would call empowering. Viewing sex as nothing more than a transaction between two selfish parties isn't earning anyone a better seat at the table.
Perhaps this all comes back to this transactional spin on sex; maybe it's only this cheaper, easier view of sex that sells, not the priceless, intimate kind. Perhaps that's why those who've made a career on selling it struggle to express anything beyond this stunted view. Perhaps it's because real intimacy is something that by nature can't be mass-produced.
Last week, Glory had dipped to No. 138 on the charts, according to Forbes. As music analyst Hugh McIntyre pointed out, that's shockingly low for a six-week-old album made by an artist with two certified diamond albums (meaning they sold more than ten million copies) and the last name Spears. Maybe the numbers don't lie and instead present us with something much more telling: that even if Spears isn't ready for something more, the rest of us are.
Photo Credit: Britney Spears