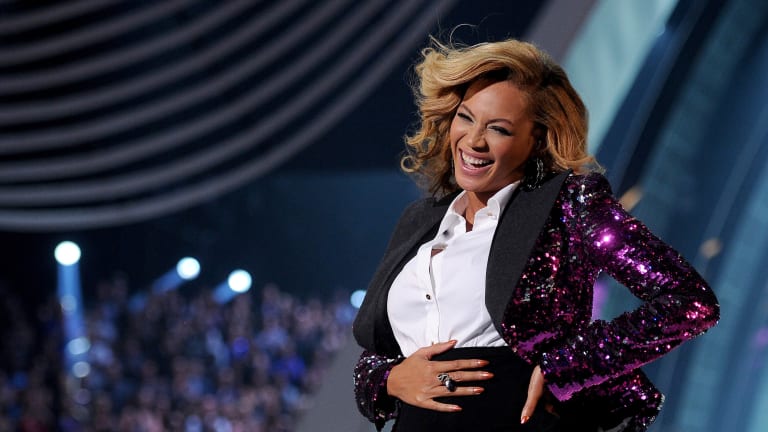 6 Celebrities Who Had a Refreshing Attitude About Their Baby Bumps
Here's to cultural attitude shifts about uniquely female traits such as pregnancy.
I've always thought there was something beautiful about the shape of a pregnant woman. Something about the audacity of new life, the anticipation of a new little person, the powerful, almost regal poise that pregnant women seem to exude. They don't call it "pregnancy glow" for nothing!
But for many pregnant women, the physical condition can be defeating and uncomfortable. It's not just the baby bump; thanks to amazing body-stretching hormones, pregnant women experience hip widening, leg swelling, and a range of enlarging action that's enough to make a woman think, "Mother Nature has it out to get me." 
Perhaps this is why many pregnant women try to cover up during pregnancy. To don a smock, grin, and bear it for nine months. But there's reason to believe this trend is changing. According to a recent New York Times article, when it comes to their large belly, "Some pregnant women want to—gasp—flaunt it."
"Now we see shoppers, maternity shoppers, who also say, 'You know, I'm showing off my body. I don't have to hide it, so I want it to be a fashion statement,'" said Wendy Liebmann, the chief executive at WSL Strategic Retail, a consulting firm.
"We're really working hard to overcome the old stigma that maternity clothes are not fashionable," Anthony M. Romano, chief executive of Destination Maternity, told the New York Times. "She really wants to dress in the same trends and fashion that she was dressing in before she got pregnant .... The millennials really like to show off the belly."
It's also a trend that's reflected in pop culture and entertainment. Over the past decade, a number of pregnant female celebrities have taken to the stage and, far from being ashamed of their shape, have flaunted it. Here's a few of the women making the baby bump cool.
Ali Wong
In her recent Netflix comedy special Baby Cobra, comedian Ali Wong is seven months pregnant. While her irreverent and sometimes raunchy humor may not be for everyone, it's awesome to see a female comic on the stage. This probably shouldn't be such a big deal, but as Wong notes, by and large female comics don't "get pregnant"... or at least their careers disappear shortly afterward. 
For the New Yorker, Ariel Levy noted that when Wong is asked how she does what she does as a female or as a mom, she says she prefers to see it as an advantage, despite people acting like it's a disadvantage: "You just shift your perspective and think, Wait a minute: I'm a woman! And most stand-up comics are male. You know what male comics can't do? They can't get pregnant. They can't perform pregnant. So my attitude is, just use all those differences. Don't think of it as you're oppressed. You're special."
Beyoncé
Possibly the most famous pregnant woman on stage was Queen Bey, herself, who broke Twitter records when she announced her pregnancy news to the world during the 2011 Video Music Awards. After an energetic performance, Beyoncé opened her sparkly blazer and rubbed her round tummy. Cameras flashed to proud dad Jay Z, and it was over. Internet broken.
Chrissy Teigen
This past year, model and Lip Sync Battle cohost Chrissy Teigen has been very open discussing her pregnancy in public. At last year's New York Fashion Week, Teigen explained to a reporter why she isn't rushing to get back to her pre-baby body. "I'm gonna try to knock out some babies here, so I might be pregnant for a long, long time, so there's really no point" to rush back to pre-baby weight, she said. In the February issue of Australia's InStyle, Teigen modeled in all her pregnant glory, which she said was much easier than her average modeling shoot, given she didn't need to suck in her tummy.
M.I.A.
M.I.A., who recently released what's anticipated to be her final album (with some good tunes on it), may be the most pregnant woman to ever be recorded in an onstage performance. Fully nine months pregnant, M.I.A. performed at the Grammys in 2009 exactly on her due date, and gave birth immediately following. Almost as delightful as seeing her jam alongside Jay Z and others to "Swagger Like Us" was seeing her interview on the red carpet beforehand, wearing a blue tutu-like dress over her proud baby bump. 
Blake Lively
Another celebrity who has not shied from public eye with her pregnancies of late is actress Blake Lively. She and husband Ryan Reynolds recently had their second child, and Lively spent a lot of her second pregnancy openly discussing her hopes for a large family (not something you hear in Hollywood everyday!) in media interviews. This makes Lively just one more stylish leading lady embracing motherhood on the public stage.
Natalie Portman
And lest we forget, Natalie Portman's 2011 speech upon receiving the Oscar for best actress in Black Swan. The pregnant actress thanked among everyone the father of her child, Benjamin Millepied, for giving her "the most important role of my life." Portman's word choice may have gotten some people riled up, but it was striking to me. It was beautiful to see a pregnant woman, in all her glory, embracing it on a public stage. 
The recent New York Times article noted, "As cultural attitudes about pregnancy have shifted, so, too, has the maternity aisle, which is rapidly looking more like a high-end boutique than the sheet section at Bed Bath & Beyond." 
Here's to cultural attitude shifts about uniquely female traits such as pregnancy. And here's to those ladies who own this large (literally) part of womanhood.
Photo Credit: MTV