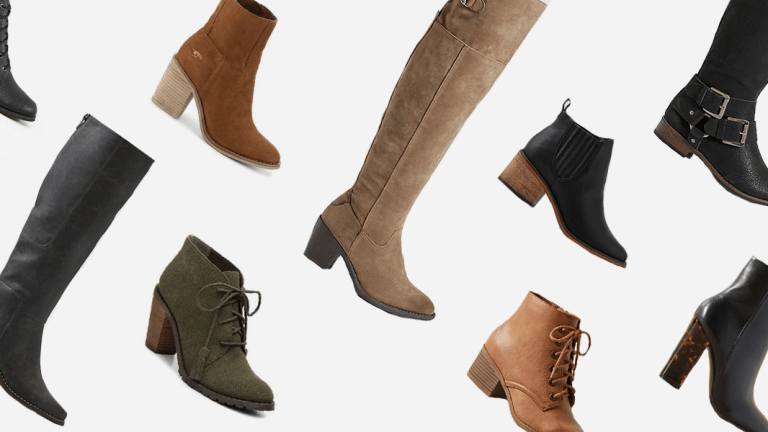 Our Favorite Fall Boots for Under $80
This trusty, versatile style staple doesn't have to break the bank.
As soon as the cooler weather hits, we start scrambling for our favorite fall shoe: the boot. Sturdy, versatile, and strong, the boot goes with 90 percent of our wardrobes and makes us feel like we can step into the new season with confidence. If you've been searching for an affordable new boot to get you through the fall, look no further.
Slip-On //
Ideal for wearing with jeans, the slip-on bootie will be your go-to for any casual occasions. With sleek lines and a flat or sturdy heel, these beauties are comfortable and versatile.
Lace-Up //
If you're inspired by the history of fashion, you'll especially love these little lace-up booties. This style of boot goes way back, but you might be able to recognize them from period films such as Little Women or Oliver Twist. Not surprisingly, this classic bootie has surpassed the test of time and still goes with nearly everything the modern woman wears.
Buckled //
For the gal who likes a little edge to her boots, buckles are your friend. They can complement your favorite pair of jeans or offer a playful contrast with a pleated skirt. The options are endless.
Dressy //
If you're not into stilettos, have no fear—there is a boot for you. Booties can easily be dressed up to work with your fancier attire. Whether it's this season's popular thigh-high boot, a black patent leather pair, or block-heeled booties, don't be afraid to wear them with your little black dresses and more.
Tall //
For those of you who are still in love with the equestrian-style boot, we've got a few looks for you. A taller boot can be worn with your jeans, dresses, or skirts—just be mindful of proportions.