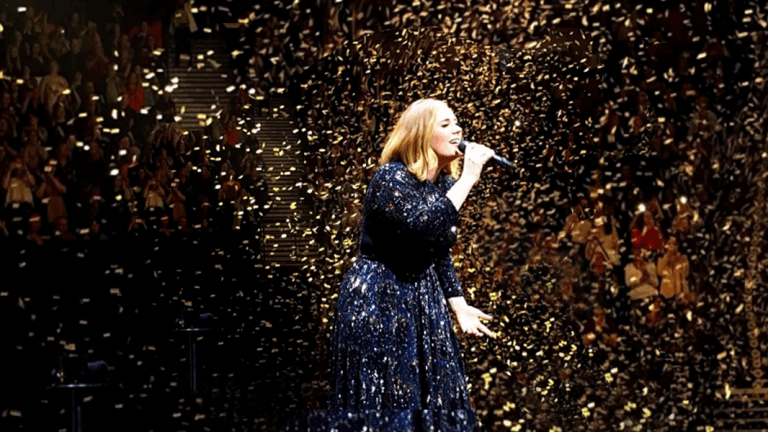 Adele Mastered the 5 Love Languages This Week, and You Can Too
If you want to show your partner some love, try these simple tips that speak to who he really is.
For months now we've been following Adele's world tour for 25 on Instagram. From her bold no-makeup post to her countless black-and-white snapshots from the road, the singer's 'gram is nothing short of inspiring. For powerhouse vocals, for authentic beauty, and for being a celebrity who seems to value privacy over notoriety, Adele has impressed us for most of her storied career thus far. 
But this past Sunday at her concert in Nashville, Adele—or more specifically, her longtime partner, Simon Konecki—went in a slightly unusual direction. 
In a very public display of affection, Simon showered Adele with loving affirmation like we've never seen before. Usually her show features falling white confetti graffitied with her lyrics, but for the couple's fifth anniversary, Simon sneakily replaced some of the standard paper slips with pink ones featuring handwritten love notes he wrote to her (yep, that's some PDA we can get down with). For this words of affirmation girl, talk about swoon-worthy!
We're not all famous singers with stages from which our man can profess his love for us. But we are all capable of putting the five love languages to use in simple but very meaningful ways in our own lives. 
Whether your guy responds best to Words of Affirmation, like Adele apparently does, or one of the other four languages, which include Acts of Service, Receiving Gifts, Physical Touch, and Quality Time, Dr. Gary Chapman's rules for showing your love are very effective. Here are some easy ways to follow in Adele's man's footsteps by showing your own S.O. how much you care. 
For the Acts of Service Man
Sometimes cooking dinner feels like a commonplace occurrence in a standard day. For a man who receives love best when it's shown through Acts of Service, however, you cooking him dinner could mean more than you realize. Next week, don't wait for the weekend to make meaningful time for each other. Plan a weeknight to spend time at home, relaxing with each other while you cook his favorite meal. Think you don't have time for an elaborate weeknight dinner? Think again. His appreciation and your own selflessness in cooking for him will actually feel energizing during the midweek slump.  
For the Receiving Gifts Man
Sometimes we feel selfish or materialistic admitting that our love language is Receiving Gifts, but that doesn't have to be the case. If your man feels really appreciated when you present him with a token of your love, you'll want to get creative. On Friday night, plan to stay in and watch a movie. On your way home, pick up a 6-pack of his favorite craft beer. You get the quality time you want; he feels a little boost of love because you a.) know his tastes and b.) brought him a little something to show you care. If beer isn't his thing, plan a movie night, but make the gift something he's into, like artisanal popcorn and candy. 
For the Physical Touch Man
If your love language isn't Physical Touch, it can be hard to understand how to give it in a way that isn't just about sex. But fear not, you can show some love to your Physical Touch guy in a myriad of ways. If your usual greeting when seeing each other is quick and routine, opt for something a little different next time. After a long day at work, embrace him with an extended hug, and make a point to ask about his day. It sounds too simple to be effective, but it's not. A longer-than-normal hug will feel special to him, and it will put him at ease after a full day at the office.
For the Quality Time Man
Ah, Quality Time. This is arguably the love language that's easiest to overlook in a relationship. We're dating, we spend plenty of time together, you might think. On the contrary, all time is not created equal, and being physically present versus mentally present can sometimes mean very different things. If your partner needs to feel like he has your full attention and dedicated time to have his love tank filled, you're going to need to be very intentional. You may not believe it, but reading together (meaning one book, not each of you reading to yourselves) is a very effective way to connect. As Lindsay Myers wrote for Verily, reading aloud to each other has many studied benefits such as triggering the release of oxytocin, the hormone known for bonding us to others. This week, pick a book, and spend twenty or so minutes each night reading it together.
For the Words of Affirmation Man
Adele is probably going to be reading and rereading those little love-filled notes for years to come. Similarly, a guy whose love language is Words of Affirmation needs to hear (or read) your words telling him the things you respect and admire in him. If you want to follow in the footsteps of Adele's man, slip a love note into his work bag, so he'll have a midday pick-me-up. Or plan a weeknight date night but preface it with an email earlier that day telling him one thing you love about him and that you can't wait to see him later. Nothing breaks up the stress or monotony of a workday like a reminder that someone is thinking of you and loves you. 
She may not have been the first to record it, but Adele wowed with "Make You Feel My Love." With a just a little forethought you, too, can make your S.O. have no doubt about your commitment to him by putting his love language to good use.
Photo Credit: Event Industry