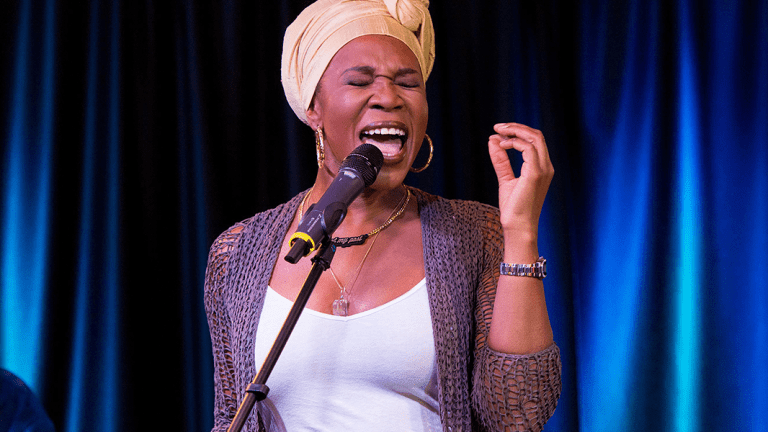 7 Awesome Female Covers of Some of Our Favorite Throwback Songs
Start off the cooler season with some chill songs.
It's fall. Time for chai lattes and hot teas, and breezy hikes through changing leaves. While much of fall reflects time passing, there's also a sense of newness that fall brings. The new school season. The harvest. In the spirit of the old and new, we've curated a list of oldie but goodie throwback songs, covered by fresh female voices, to create the perfect playlist of chillicious autumn tunes. Listen and love.
01. "Fields of Gold" by Eva Cassidy
If you haven't yet heard the songbird known as Eva Cassidy, I envy your musical encounter ahead. Cassidy grew up in Washington DC area playing music and singing for most of her childhood and grew in acclaim from there. But most of her popularity came after her untimely death at age 33 from melanoma. She reached global fame in great part for her striking cover of "Over the Rainbow"; less popular but no less beautiful is her cover of Sting's "Fields of Gold."
02. "Heart of the Matter" by India Arie
This song, which originally appeared on Don Henley's 1989 solo album The End of the Innocence, was reclaimed in 2006 by soul singer India Arie. Arie, whose voice has always had a strength behind its softness, is known for singing messages about looking beyond appearances and valuing what's within in such hit songs as "Video" and "I Am Not My Hair." It's no wonder "Heart of the Matter" comes so naturally to her voice.
03. "Fix You" by Carrie Underwood
For a VH1 special, Carrie Underwood surprised listeners with a cover she learned for a prior tour in Britain—Coldplay's "Fix You." And she surprised me when she hit it out of the park. "Lights will guide you home / And ignite your bones / And I will try to fix you." Underwood's voice adds a strength to the lyrics originally made famous by a soft-voiced Chris Martin. The video cannot be embedded so listen to it here.
04. "Lovesong" by Adele
On her hit album 21, Adele covered a song from British alternative band The Cure. In "Lovesong," Adele reminds us she can strike the melancholic, love-lorn notes just as effectively as Robert Smith, even if differently. This is why I love covers that switch from male to female; coming from the opposite sex, the song takes on a slightly different tone, even while singing the same notes.
05. "Overprotected" by Joan As Police Woman
Before releasing her 2014 album Classic, which we loved, Joan As Policewoman released a 2009 album of cover songs simply called Cover. Among those tunes was a catchy rendition of Britney Spears' song of yesteryear, "Overprotected." Take out Spears' naive-chic, waif-voiced sound, insert Joan Wasser's alt-rock velvet voice, and we have ourselves a strong cover to love. Fun fact: Wasser also does an excellent cover of T.I.'s "Whatever You Like" on the album.
06. "Babylon" by Nina Nesbitt
Nina Nesbitt is a singer, songwriter, and musician who hails from Scotland. Popular in the UK for such hit songs as "Stay Out" and "Boy," Nesbitt covered David Gray's famous tune "Babylon" for a live EP.  Adding to her intrigue, Nesbitt is the woman about whom Ed Sheeran says he wrote his song "Nina," and their long-distance relationship inspired his famous hit "Photograph." The two are no longer in a relationship, but listening to "Babylon," you just might find yourself reading into the lyrics, "The love that I was / giving you was / never in doubt." A beautiful rendition that makes one think this is a song that was meant to be sung by a woman.
07. "Across the Universe" by Fiona Apple
This song made famous by the Beatles was in 1999 reprised by Fiona Apple for the Gary Ross movie Pleasantville. Leave it to Apple to distill the lyrics to an almost meditative state of interior calm, as she repeats in the refrain, "Nothing's gonna change my world." The music video directed by Paul Thomas Anderson shows a zen-like Apple unfazed by violent looters all around her. Watch and repeat.
Photo Credit: India Arie