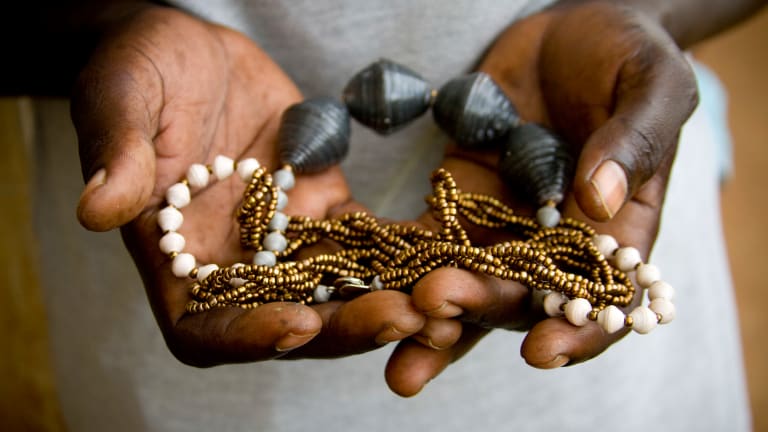 Ethical Brand 31 Bits Proves That Fast Fashion Isn't the Only Way
Excessive consumerism isn't good for anyone, and this inspiring company is out to prove it.
You may already be familiar with the inspiring company that is 31 Bits, an ethical fashion business that is improving the welfare of women in Uganda through the unusual approach of jewelry. The business is known for its versatile and timeless handcrafted pieces, as well as the life-changing impact it has on the artisans making them. Recently, 31 Bits has expanded their reach on both the jewelry industry and the world with their new Bali collection.
Rooted in the idea that jewelry could be so much more than an accessory, 31 Bits began working closely with a small group of women in Uganda in 2008. By opening up the global market to their handcrafted beaded pieces, the company grew and has radically transformed the lives of hundreds of women burdened by poverty.
The company has now expanded their philanthropic business model to Bali with a new jewelry line. The collection features stunning metal pieces done by Javanese artisans who spent years studying and perfecting the craft of making jewelry from brass. These men, who were accustomed to little pay and inconsistent work in factories, are now immersed in a completely different work environment. Jessie, the Brand Director of the company described the energy of the workshop from her recent trip to Bali:
"I was greeted by four artisans with ear-to-ear smiles and was instantly reminded why we do what we do. Joy and skill was overflowing from the room, and it felt like perfection."
Companies such as 31 Bits, and Nisolo, Ubuntu, and Everlane are part of a growing trend in the fashion industry to slow down after years of increasing consumption. A Cambridge University study found that from 2003 to 2006 consumers were buying, on average, one-third more clothes. The study also reports that the contents of a woman's closest is now four times larger than it was in 1980. We're buying more than ever; we're also tossing things aside at alarming rates. A reported 1.2 million tons of clothing was added to a landfills in 2005 by the UK alone.
The problems with fast fashion are multi-fold. Major brands went from producing two seasonal collections a year to upwards of 18. Much of that burden falls on the factory workers who are forced to keep up with drastically higher rates of output on much shorter timelines. 
31 Bits is doing its part to offer products that buck this trend. The 5-year program 31 Bits enacted implements total care not only financially, but also holistically for their company and artisans. The four main pillars are financial sustainability, physical/mental wellness, social support, and community. By fostering education, staff relations, financial understanding and weekly prayer, the lives of these men are improved far beyond the influence of a paycheck.
Jessie explained that the artisans told her their stories of working in corrupt factories, and how thankful they were to be in a place where they were treated with care and respect. Being part of 31 Bits has made them want to work harder and improve their skills. "At 31 Bits, we believe that the quality of our products will be better if the artisans are being cared for as individuals. Paying fair and sustainable wages to our artisans is just the beginning. We believe in providing safe and joyful working conditions, a family-like atmosphere, and an environment where every artisan feels known."
That personal knowing is more than just talk—the 31 Bits website dedicates an entire page to knowing their artisans. They put names and stories to all the smiling faces responsible for the pieces. Mahfud, the most experienced artisan on the team, made clear that he wants "customers to know they are buying good products that are good quality from happy people."
Jessie shared with Verily that "the opportunity to work in Bali goes hand-in-hand with the work we are doing in Uganda. Once again, we can challenge our customers to step back and ask themselves, 'Do my purchases reflect my values?'"
The new collection once again showcases that while their jewelry can transform an outfit, it has the exceptional ability to transform a life.
Photo Credit: 31 Bits