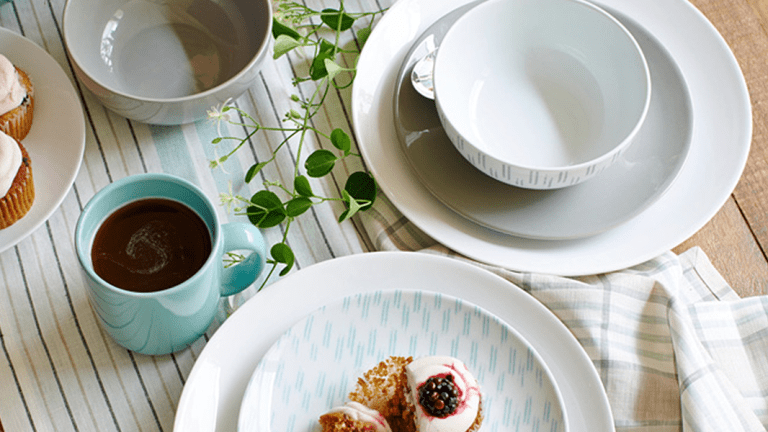 6 Ideas For Clever Wedding Gifts That Every Couple Needs for Their First Home
Putting together a gift registry? You need to read this first!
At Kerrie Kelly Design Lab, we've helped couples combine spaces for more than twenty years. We've seen it all—the battle of the styles, compact apartments, multiple pets, you name it. While a wedding registry is a traditional element in the process of getting married, some not-so-traditional items are now essential, especially for a pair of tiny-home dwellers. Here are six of our recommended must-haves.
01. Storage, Storage, Storage
Storage is key if you're moving into your first home together. However, if your first place with your spouse is an apartment, it is absolutely essential. When compiling your wedding registry, don't pass up the opportunity to ask for any and all items that allow you to use hidden storage spaces, like under-the-bed rolling bins, wall shelving, door hooks and tucked-in drawers. These items are affordable enough for any friend to get you, but it saves you the expense of having to acquire it all yourself! Even though many of our clients have been married for years, they always ask that we create more storage for their growing needs. Items like over-the-door hangers, closet organizers and labeled storage boxes are perfect solutions to a small space.
02. The Classics
Our design team can count on one hand the times we've had to pull out the "fancy" china set. Crystal, silver and heirloom serving dishes are always listed on "Top Registry Must-Have" lists, but seldom do they make an appearance in a modern couple's home, and even more rarely is there space in an apartment to safely stow a new set of china. That being said, ask your family and friends for a few key pieces like a serving tray, wine glasses, and a few linens to have on hand for dinner parties and holidays, and ditch the rest of the set. If you're expecting to host company often in your small space, we suggest having four or five exquisite pieces paired with classic but more approachable dishes, like white porcelain entrée plates and uniquely designed stemware. It's a beautiful setup that's sure to impress the in-laws without breaking anyone's budget.
03. Compact Everything
Now that more and more couples are deciding against purchasing a home and instead opting for smaller spaces like apartments and condos, it's easier to find everyday essential items that fit a downsized lifestyle. When creating your list, think about scaling down items like cleaning products, furnishings and decor. Our favorites? Compact vacuum cleaners, petite side tables and slim floor lamps. You may also want to consider putting a gift card or two on your registry. Rather than winding up with too many towels or extra sets of dishes, a gift card lets you pick out exactly what you have room for—and won't take up any space while you decide!
04. City-Ready Items
If you're moving into an apartment, chances are you're living in a city or close to a metropolitan area. Take advantage of your home together as a new couple by using your registry to ask for items that will allow you to explore your new area. A designer friend of ours was creating a space for two honeymooners headed to a big city and realized that they needed a place to stow an easy-to-pack tent for future camping trips, a pair of bicycles to head to their local coffee shop on, and more. These are great examples of things to register. If you and your partner are living in a buzzing city, you'll more than likely be out and about a good deal of the time, so why not create a registry that reflects your new hometown?
05. Date Night Arsenal
Just because two people are married doesn't mean date night evaporates! Now more than ever you'll want to spend time together as a new couple, so use your registry as a way to go to the restaurant you've been dying to eat at or get out of town to the bed and breakfast you've been researching. We have seen more and more newlyweds opt for experiences rather than items, so asking for a gift card to an eatery or a reservation to a fabulous hotel is equally acceptable to put on the registry as a set of knives or an area rug.
06. Surprising New Essentials
As generations continue to grow up, get jobs and usher in a new era, the needs of modern married couples evolve, too. While casserole pans and cake stands may have once been at the top of a registry list, they are quickly being replaced with pieces unique to modern-day couples. Some of the new essentials include subscription boxes, like whipping up dinners for a date night in, a contribution toward a favorite charity, or vouchers for activities they've always wanted to try, like cooking classes or comedy night.
Whether your home has already been established and is filled with your favorite things or you're starting out fresh, married life comes with essentials and things you didn't know were necessary until after you walked down the aisle. While an apartment is a smaller area to work with than a home in a cul-de-sac, the experience of combining your household with your new lifelong partner is thrilling, surprising, and totally worth it. Congratulations on married life—we can't wait to see what your new home looks like!