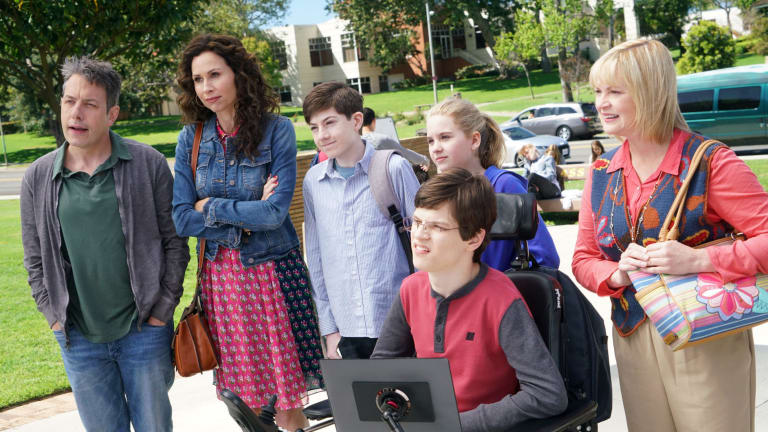 What Minnie Driver & 'Speechless' Get Right About Special Needs
As a mom to a special-needs kid, I was curious to see this new comedy series.
My son is on the autism spectrum. My best friend—whom I met in grammar school—is also the mother of a special-needs son. Sometimes, after we have shared our latest stories, which are often harrowing or infuriating at the time but quite funny after, I'll say: "We really should write a sitcom." So last night I was keen to see the premiere of Speechless, a new prime time comedy about a family with a special-needs child. In this case, son JJ (Micah Fowler) has cerebral palsy—he cannot walk or speak, though he can communicate by pointing out letters with a laser pointer and chart. The show has also ushered in the return of Minnie Driver, an actor I admire for her humor and candor (I was especially touched when she gave a shout out to special needs parents at the Emmys last weekend).
I'll admit that my high hopes felt dashed as I watched the opening scene. We are introduced to the Di Meo family when the mom, Mia, jumps into the driver's seat of their van with her family waiting, announcing that they have three minutes to get to the donut place before the discount coupon she has expires. Son Ray is immediately terrified she'll speed (we see he's been here before), but she merrily ignores him and does in fact speed away, with husband Jimmy (John Ross Bowie) and daughter Dylan (Kyla Kennedy) seemingly unperturbed. We are supposed to giggle as Mia narrowly avoids several collisions and then screeches to a halt in a handicapped space. This is where she lets the back of the van down, and we meet JJ for the first time. 
Funny? Not so much. I thought this was supposed to be a about a heroic special needs mother who fights for her child?
Well, it is, sort of, and she does fight. But Mia is also a bit nuts and obviously doesn't worry about car crashes—as a matter of fact, her speeding habit is a running joke. My teen daughter told me lots of prime time comedies think these "speeding scenes" are funny; they are "obligatory," she says. So I let it go and kept watching.
After the bumpy start, I did enjoy the rest of the first episode. The main characters are quite appealing, especially young Ray (played by the impressive Mason Cook) who is the heart of the episode. We see early on that he feels his mom usually puts his needs after his brother's. At one point Mia proudly says "JJ got the mom he needs" and Ray says, "And I didn't."
This resonates painfully with families like ours. Siblings of special needs children often do feel less "special." Their lives are arranged around the child with the disability, and the siblings are expected to conform without protest. But they have to deal with both worry about their sibling and feelings of guilt when they want more attention.
Mia herself is brash, rude, and overbearing, but also funny, loving, and on target. Her character is, as I see it, a revelation in the world of prime time. Every mom of a special-needs child I know has had her moments when she had to fight like a crazy person to protect her child—whether it be with school districts, teachers, bus drivers, or rude and clueless strangers. So while her feistiness is sort of a joke (her DMV-prescribed license plate reads "she nutz"), she's also the kind of mom we admire (OK, except for the driving). She is the mom we all need to be at times. And she is the imperfect mom who messes up, often, as we do.
JJ is delightful; Micah Fowler, a teenager who in real life has cerebral palsy, has a graceful charisma on screen and great comic timing. In this first episode, his new school gives JJ a woman with an awful screechy voice to be his aide, and he makes sure she quits. Then JJ himself chooses a new "voice," the school custodian Kenneth (Cedric Yarbough) whom we meet when he gives good-natured pushback to Mia's demands. JJ and Kenneth's rapport was fun to watch, and I think they are in for some adventures as the season goes on. 
Speechless was, as I could have expected from the comedy, a bit too much at times (and not in the right ways), but the whole cast is endearing, each in his or her own way. As one of the first shows to center around a special-needs character, let alone hire a special-needs actor, I look forward to what else they'll do with this unique platform.
What Speechless gets, at its heart, is something we all need hear: while some people have different abilities, mental or physical, they are no less human than the rest of us. Similarly, we learn that, while a mom like Mia is a tireless advocate for her child, she too is human. It is my strong belief that, when it comes to humanizing messages like these in pop culture—and in prime time, no less—our world can't have too much.
This mom will watch again.
Photo Credit: ABC