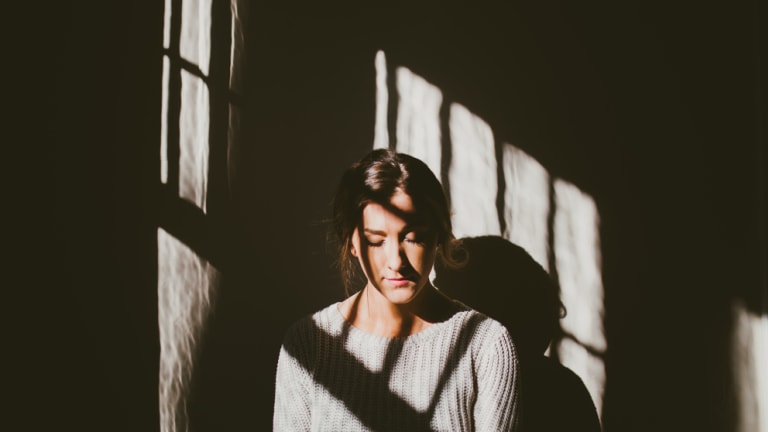 These Women's Stories of Recovery Prove There's Strength In Weakness
What better way to celebrate Recovery Month than by sharing these powerful stories?
As we start September, National Recovery Month, we at Verily thought now is a good time to re-read some powerful stories of recovery published here in the last few years. While each woman's story is very different, each shares common threads of discovery, resilience, and strength in overcoming the challenges they never expected to face. We invite you to share these stories and to offer encouragement to those in the thick of the struggles against addiction and whatever challenging forces we face in our lives. 
Alcoholism
A writer who goes by Erica T. shared with Verily last year her journey recovering from alcoholism and a stubborn case of denial. 
Erica was a twenty-something living in New York City, had a stable job and what she considered to be a normal life. She had 1-2 drinks after work to wind down at home, but on the weekends she had trouble keeping count. "Once out, one drink would turn into seven, eight, nine. I drank to celebrate, I drank to escape, I drank to manage the every day."
While on the surface, Erica projected a life as "a happy, successful young woman," in truth, she says, "drinking was making life unmanageable. In addition to the lost memories and embarrassment, the alcohol exacerbated my anxiety and depression. I was miserable on a soul level, despite my attempt to cover it up."
According to the National Council on Alcoholism and Drug Dependence, alcoholism affects 17.6 million people in the United States alone. And, according to research from the National Institute on Alcohol Abuse and Alcoholism, women encounter more alcohol-related problems than men at lower drinking levels for a variety of reasons. Women tend to weigh less than men and carry less water in their bodies pound for pound, so the blood alcohol concentration is higher with the same amount of drinks.
"At first I was hesitant to go join a recovery program," Erica wrote. "I didn't want to rearrange my schedule—how could I fit that into my already busy New York life?... What I found in the program, when I finally let go of my ego, were people of all types—men and women, young and old, Catholics, Muslims, agnostics, every race and size, rich and poor, stay-at-home mothers, Wall Street bankers, homeless people. There was a place for everyone. It even had a place for me—the woman who never felt like she fit in anywhere. I am still figuring it out. But now I am a person in recovery, and that has changed everything."
Eating Disorders
While recovery is most often associated with drugs or alcohol, it also applies to compulsive behaviors and mental health issues such as eating disorders. As Maggie Niemiec wrote for Verily, what started as a desire to eat healthier ultimately led her to develop a life-threatening eating disorder. "I had developed a sense of pride in my appearance. I had also developed a deep fear of losing it. The fears grew stronger and then the voice in my head changed from me wanting to be 'healthy,' to me wanting approval, to me wanting control."  
Research shows that 50 percent of teenage girls use unhealthy weight control measures, such as skipping meals, fasting, vomiting, and taking laxatives. And on into young adulthood, 25 percent of college women engage in bingeing and purging, and 91 percent of women surveyed on college campuses try to control their weight through dieting. For many women, an acute food focus becomes downright dangerous.  
By the time Maggie left for college, she says, "it was the perfect storm of factors: a desire to eat healthy, fear of failure, stress about my body, longing for affirmation, isolation from my friends, and a great memory for calories/nutritional information/diet tips. Before I knew it, 'healthy eating' became restriction and then full-blown anorexia nervosa." 
Untreated, Maggie's anorexia only continued to worsen. Three weeks into college, she had to withdraw due to poor health. "I was no longer stable enough to stay in school," she said. "Anorexia was destroying my life, and if I didn't do something serious (and soon), I was going to die. Eating disorders have the highest mortality rate of any mental illness. In fact, 5 to 20 percent of those who suffer from anorexia will die. That's upward of one in five."
Now, seven years later, Maggie says, "I am fully in recovery. I am happy and healthy. I meet with a counselor and nutritionist on a regular basis. I have an amazing community around me that watches out for me and that I can talk to when things get hard."
Abuse
Not unlike the mental health issues of alcoholism and eating disorders, people who have experienced abuse at the hands of others often face a lengthy recovery process to reclaim their lives—this time recovery from psychological trauma. Last year, Verily shared the story of a woman who suffered abuse at the hands of her husband.
Before she sought recovery, this woman thought she had "a happy marriage marked by a few 'bad episodes.' We were working on it; things were getting better, I told myself. After I finally sought help and got to know other people like me, I discovered that my blind spots were common."   
"People don't think of themselves as statistics; they see their stories in their fullness. The very fullness of that vision—falling in love, cherished times of vulnerability and laughter, apologies, and resolutions—creates a terrifying blind spot that obscures a realistic comprehension of abuse and violence," she said.
"I was in a fog of trauma for several months after his escalation into violence. Survival mode shuts down emotions and what would be considered 'normal' reactions. I went to work and outwardly functioned like myself, but there are a few months I can scarcely remember," she wrote. 
This woman's story ends with hope, though. She finally sought the help she needed in a domestic violence support group, saw that her husband was not getting better, and removed herself from the abusive environment. While previously she had become "convinced that the person I was before the abuse was gone forever," after getting help, she realized this is nonsense. "When you finally accept the reality of your situation and work toward recovery, you will rediscover everything that you thought you had lost. In addition, you can gain even greater depths of compassion for others and confidence in yourself." 
Porn Addiction
Internet porn consumption for some can become compulsive to the point of being an addiction. For one female writer who shared her story with Verily, "porn was something I'd file in the same mental category as my desire to drink and do recreational drugs"—something to help her cover up real things that were bothering her. "For someone who felt numb to practically everything, this was divine... It became a compulsive habit. I didn't even think twice about it. I'd feel lonely and reach for my fix. Each time, I'd feel a rush. When it dissipated, though, I felt lonelier than before." 
Another woman shared with Verily how her husband was a porn addict and how she got drawn into keeping up his habit. "I bought into the societal notion that sex between a married couple gets boring after a while and that to keep my husband interested in me, I had to up the ante. I embraced pornography as a part of marriage and encouraged it when I thought my husband's interest was waning. I never dreamed that pornography would become an addiction and eventually tear my life apart. But sure enough, pornography was the drug, and I was the pusher." 
After years of watching things escalate into more and more extreme behavior, one day she had a wake up call. Something made her recall her childhood self, and "decided to stop doing what I was doing. I decided to go in search of the little girl I used to be. I wanted to hold her, comfort her, and tell her that I would always keep her safe. I needed to start by ending my relationship with pornography and encouraging my husband to do the same." 

What followed was not an easy path; indeed, no recovery is. Ultimately her husband admitted that he was unable to stop himself from not only watching pornography but also to stop objectifying women. He sought the help of Sexaholics Anonymous, a twelve-step program for people addicted to sex and pornography. "How do we know his relationship with porn was an addiction and not just some erotic hobby?" she asked. "He answered yes to almost all of the self-test questions found on the Sexaholics Anonymous website."
Eventually she sought help from her own twelve-step program (S-Anon) to deal with her codependency issues. "I was able to take the focus off my husband's addiction and turn the focus back onto myself so that I could work on the twelve steps and my recovery from the upheaval that the porn addiction brought to our relationship. With the help of these programs and the people who supported us throughout the process, we were able to heal and forge a new marriage out of the ashes of the old one."
Her husband progressed in his recovery too. Ultimately, she says, "being married to someone addicted to pornography isn't easy...The discovery can be traumatic, and it takes a lot of work to heal from the betrayal and trust again. It's an undeniable part of my life now. But not only has it led to a richer relationship with my husband, it has also helped me grow and heal immeasurably as a person."
Alcoholism, eating disorders, abuse, and porn addiction can bring with them great pain and challenge, but they can also bring—with a dedication to recovery—great opportunity for growth. As Erica wrote about her recovery from alcoholism, "being sober doesn't mean that everything in life is perfect; I still experience the ups and the downs, the heartbreaks and the celebrations. But it means that I am able to be in the present and to embrace the emotions that come. In sobriety, I grow through the wonder and the struggle each day. My recovery has taught me an easier, softer way." 
These are lessons we can gain from no matter what we're going through—lessons to take on whatever challenges life may bring us, be present, embrace the emotions that come, and with them, the opportunity to grow. We also have the opportunity to grow in compassion toward those in the thick of the struggle.
Photo Credit: Erynn Christine Photography