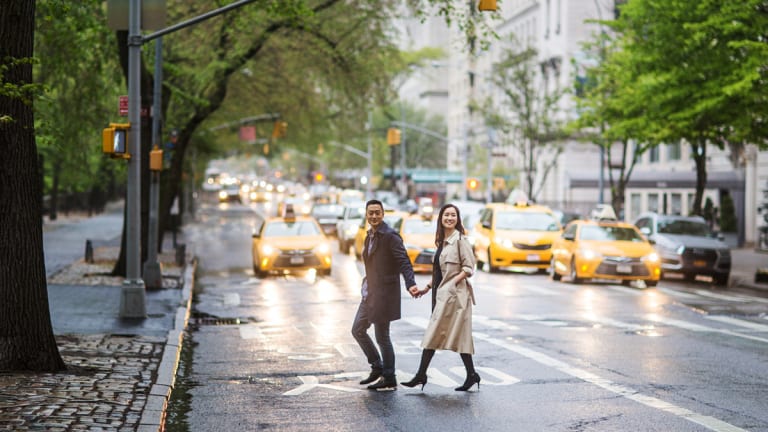 Simple Ways to Make Room For Quality Time In a Busy Marriage
These tips will help you make the "honeymoon phase" last.
Marriage is amazing, but it's also hard work! After the wedding planning haze settles, reality kicks in—two full-time jobs, family events, weddings, and all the ongoing events life throws at us. It can get a bit crazy. Heck, I can barely get dinner on the table most weeks! 
My husband and I were married the fall after I graduated from college and, although we took marriage preparation classes, we never learned anything about how living together would be. We took personality classes and heard about Fertility Awareness Methods (FAM) but never covered anything about working on our marriage in real-time or the logistics of combining schedules.
When the "honeymoon phase" began to dwindle, we knew we had to get smart about how we organized our new life together. Anything to help simplify our schedule and make our time meaningful was worth a try amidst the hustle and bustle of daily life. I'm sure we all wish quality time could come spontaneously, but it just doesn't.
Here are five practical examples that continually impact the way my husband and I communicate more effectively, manage the house, and spend quality time with each other. I know this may come easy to some, but it took me a few years to get in the groove of keeping up with life. And each day, we continue to learn something new.
01. Sync your digital calendars 
As a dedicated user of Post-It Notes and paper planners, I admit that making the switch to digital calendars was the best (and most difficult) decision I made. When it comes to managing expectation in marriage, shared calendars are essential. Sharing my Google Calendar with my husband clears confusion about event details and eliminates questioning a given day's agenda. No more double booking activities or inquiring if a work meeting is still happening. We can also reference the schedule anywhere from our phones, which saves space and time. Find a platform that works for you, and let a digital calendar ease your life.
02. Schedule date nights, and keep them sacred. 
When your schedule is hectic with family obligations and your separate careers, it's important to protect date night. One way to prevent date night from being trumped by other obligations is to make it a ritual. As marriage counselor Peter McFadden proves, holding fast to rituals keeps you from taking your spouse for granted. We recently started to block out specific weekday evenings in the calendar to hang out and catch up. Whether that means watching a movie or sitting on the couch with a glass of wine, it is time for each other. For you, maybe it's a special dinner once a week. Consider blocking out times in your calendar if you seem to be always on the go.
03. Discuss and divide household duties. 
Having an open and honest conversation about household duties is important. In fact, marriage researcher Dr. John Gottman says that housework is one of the six most common sources of marital conflict. But, as Gottman-certified marriage counselor Zach Brittle explains, household duties don't have to be divided 50/50 to maintain harmony. What is most important, explains Brittle, is that both partners agree about who does what and when. As I mentioned, my biggest struggle sometimes is getting meals on the table! But when my husband takes out the trash and does the dishes after dinner, I feel less stressed about managing the groceries each week. It's important to have a game plan about who can take the reins on different parts of taking care of the home (but also to be flexible to pitch in whenever needed).
04. Set goals, and don't forget them. 
This past year, my husband and I started writing out "goals" for the year. Discussing what we wanted to accomplish within a given time frame—dream vacations to go on, hobbies we want to foster, or even budgets to stick to. Not only does this activity open up a time for communication and quality time with your spouse, it also creates shared meaning in your relationship. Brittle explains that shared meaning is a friendship based on common values, goals, and dreams. According to Dr. Gottman, shared meaning is the top level of Dr. John Gottman's Sound Relationship House, a model for comprehensive relationship health. Make time to set goals with your spouse. And of course, the goals should be referenced frequently so you don't forget about them (I set reminders in my Google Calendar to review them!).
05. Set biweekly or monthly "meetings". 
Touching base on a biweekly or monthly basis is key to stay in sync with your spouse and discuss finances, work, upcoming decisions, events, etc. Most couples avoid this kind of interaction because it involves discussions of finances and scheduling, which can cause tension, but as Brittle explains, the more frequently you touch base on these matters the easier it will get. My parents, despite the business of raising ten children, never failed to go out to breakfast on Sunday mornings to plan the upcoming weeks. This is something I try to implement in my own life as the weeks go by so quickly! If you can head to a coffee shop for an early-morning chat or if sitting at home suits you, all the better!
Consider finding systems of organization and communication that work for you and your husband to take the stress out of planning and to better enjoy each day. It's worth the conversation.
Sometimes you just need to slow down and simply be together. These practices will allow for that, you'll see.
Photo Credit: Bom Photography