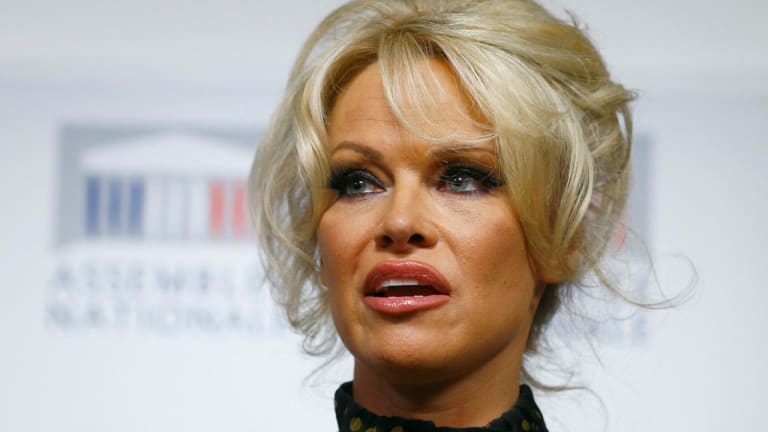 Why Pamela Anderson's Stance On Porn Isn't As Surprising As You Think
The woman made famous for sex appeal isn't ignoring the issues at hand.
Last week the New York Post broke the news of Anthony Weiner's latest sexting scandal. The next day Weiner's wife, top Hillary Clinton advisor Huma Abedin, released a statement saying, "After long and painful consideration and work on my marriage, I have made the decision to separate from my husband."
In a years-long saga that has confused many, the separation of Weiner and Abedin seems like the logical end. What was entirely unexpected though was that Weiner's case would become the launching pad of Pamela Anderson—yes, that Pamela Anderson—as an anti-porn advocate.
The actress and Playboy model found the occasion of Weiner's latest scandal an apt moment to highlight the problem of porn addiction and the harm it causes for relationships and families. In an op-ed co-authored alongside rabbi counselor Shmuley Boteach in the Wall Street Journal titled "Take the Pledge: No More Indulging Porn," Anderson and Boteach cite data provided by the American Psychological Association, revealing that "porn consumption rates are 50 percent to 99 percent among men, and 30 percent to 86 percent among women, with the former group often reporting less satisfactory intimate lives with their wives or girlfriends as a result of the consumption." What's more, nine percent of porn users said they had tried unsuccessfully to stop, which they cite as "an indication of addiction which is all the more startling when you consider that the dependency rate among people who try marijuana is the same—9 percent—and not much higher among those who try cocaine (15 percent), according to the National Center for Biotechnology Information."
In the piece, Anderson and Boteach further explain that, "whereas drug dependency data are mostly stable, the incidence of porn addiction will only spiral as the children now being raised in an environment of wall-to-wall, digitized sexual images become adults inured to intimacy and in need of even greater graphic stimulation. They are the crack babies of porn." No mincing words, here.
Anderson is an unlikely advocate against pornography. Having been featured in Playboy 14 times, including earlier in 2016, many were quick to dismiss the piece as an attempt to "stay relevant" or to call Anderson "hypocritical." A response piece in The Independent quoted adult film stars' and filmmakers' calling the piece "ridiculous"—as if those currently making money from porn are speaking as unbiased parties on the subject. Amy Zimmerman of The Daily Beast dissed the piece as nothing more than "backward, unsubstantiated opinions on pornography," an odd choice of words considering the piece cites statistics on porn consumption from the APA.
But if you're willing to ignore those knee-jerk reactions, I say we'd be wise to consider that Anderson is actually a great voice against the porn industry. First, like any other complex human being in the world, Pamela Anderson is allowed to have a change of heart on a topic and speak on it. Second, I think her close involvement makes her more qualified to speak critically on the topic, not less so. "I speak with both experience and authority about the damaging effects of easy access pornography," Anderson later wrote on her website, "and I am committed to raising this fundamental awareness and protecting the vulnerable enslaved in the sex industry and abusive relationships."
And she does genuinely seem committed to the topic. Among the organizations Anderson supports and promotes on her site are the anti-sex-trafficking group Rights4Girls and LoveIsRespect.org, a site dedicated to help young people get out of abusive relationships. It sounds to me like Anderson may have some closeness to these topics from personal experience, whether directly or indirectly. And it wouldn't be the first time women who were connected with Playboy or the porn industry spoke out about abuses they witness or experienced. Indeed just last year, Holly Madison's book Down the Rabbit Hole and the amateur porn documentary Hot Girls Wanted both showed some seedy similarities to straight-up trafficking.
Rather than dismiss such claims outright, I'd say we need to look more closely at them. If we've learned anything from crimes against women, it's that they have a tendency to stay hushed up by the many societal pressures and people who want them to stay that way. You would think that by now, between Roger Ailes and Bill Cosby, we would have learned that making snap judgments and attacks on women who speak out doesn't exactly help us bring sex crimes to light or solve them. Indeed especially with crimes relating to sexual assault, victims are not only intimidated from reporting out of fear of others' judgment, hearing such judgment frequently adds to the psychological trauma of the victim. 
Certainly, there other nuanced discussions we should also be having about porn. Some of the most reasonable critiques of the op-ed relate more to a question of whether porn is the chicken or the egg when it comes to the death of intimacy. As Cindy Gallop of Make Love Not Porn told the Independent, "it's a classic example of the fact that many things are laid at porn's door that should be laid instead at society's. The issue isn't porn. The issue is the complete absence in our society of an open, healthy, honest conversation around sex in the real world."
Is porn the source of all family dysfunction? Of course not. At the end of the day, every person is responsible for his or her own actions. Which brings me back to Pamela Anderson. Many are rightly pointing out that this is a surprising change of tune for her, and perhaps fairly wondering if this is a publicity stunt or real contrition. I for one am inclined to believe that she is seeing the havoc that the porn industry has wrought for what it is. 
Photo Credit: AP