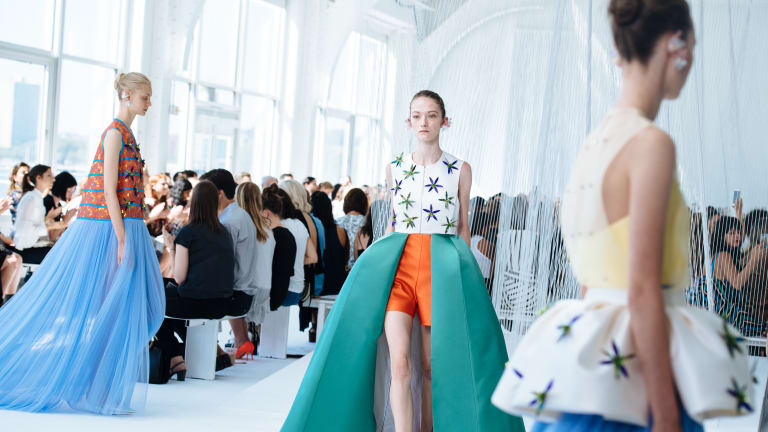 New York Fashion Week Is Heralding a New Chapter for Style, and I Love It
Is this the end of minimalism as we know it?
Any time we experience an extreme, chances are the pendulum is going to swing back with full force. Thankfully, this is precisely what is happening in the fashion world. After what seemed like eons of androgynously minimal styles of boxy fits and neutral color palettes, life has finally been breathed back into designers' collections, as seen over the past couple weeks during New York Fashion Week.
In previous seasons, the streamlined look was in and the statement outfit was, well, really out. No over-the-top Carrie Bradshaws here—the minimalists had taken center stage.
It seems, however, that designers are reconnecting again with real women, and the shows of S/S NYFW 2017 certainly represent this new chapter in fashion. As one woman commented on an Altuzarra look, "This looks like street style! Like a woman actually put this together."
In pursuit of my own style, I too have been on a similar roller coaster with fashion. You might recall when I shared with you my own stint with minimalism—a time I do not miss. But I woke up from my monochrome nightmare and realized that individuality is what I craved, what made me—and each of us—unique.
I mean, how long were we to endure camel-colored culottes, Stan Smith sneakers, and oversize tunics with side slits? With every Kardashian-worthy white crop top and pencil skirt set, the challenge of creating an outfit that represented personal taste was no longer.
I'll never forget leaving one particular fashion show last year. After watching a herd of models stomp angrily down the runway in what literally looked like garbage bags, I discovered that the real fashion show was beyond the exit doors. As the editors, style bloggers, and chic women of the industry left the show to catch their Ubers, a frenzy of street style photographers clamored to capture the exquisitely curated outfits of these real women. "So this is where style has been hiding," I thought to myself.
So why the disconnect between the women on the runway and the women in the audience and the streets nearby—the women who, thanks to their high-level media jobs, have quite an influence on fashion at large? What happened to the designers who mastered the art of matching contrasting prints, layering, or experimenting with the way contrasting colors interact?
This got me thinking: Does style come from the designers or the women who wear their designs? Is there harmony or dissonance between these two equally powerful forces in fashion?
Last year I would have said dissonance, no doubt. This year, however, I'm thrilled to say that the fashion power worlds seem unified once again.
We're finally seeing clothing that reflects the complex style choices and creative vision that real women make when dressing themselves, not simply "pieces" that have been sanitized to the point of uniformity. New York Fashion Week exploded with unconventional color combinations, fearless prints, boldly feminine silhouettes, and personal touches that make the fashion real. Whether it was Altuzarra's unexpected denim skirts adorned with embroidered lemons, Delpozo's larger-than-life statement earrings, Tome's intricately layered silhouettes, Carolina Herrera's Marie Antoinette–worthy florals, or Anna Sui's parade of 1960s mod meets wild, wild west—it looked like the rebirth of authentic fashion.
The runway is starting to embody the spirit of the truly stylish women behind the clothing. With a promising start in New York, I'm looking forward to what the rest of fashion month will bring.
Photo Credit: Getty Images