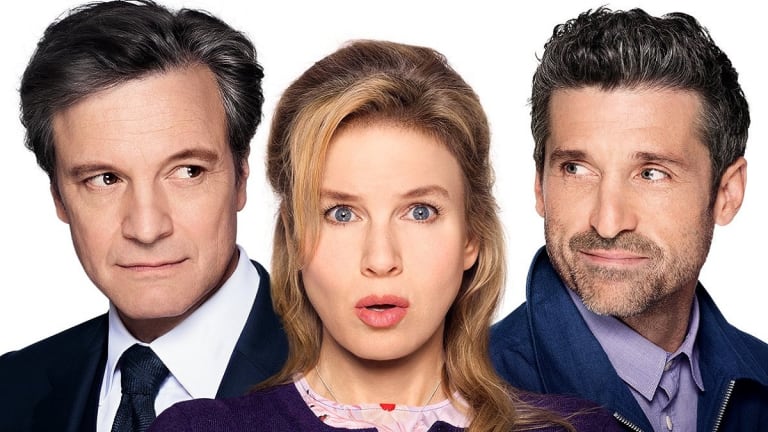 Why the New Bridget Jones Movie Is My Favorite of the Series
Bridget Jones is back, and this time motherhood is involved.
For me, it seems that the more films a franchise makes, the worse they get. Star Wars definitely had some bumps. Even the Harry Potter films hit a couple rough patches in a decade-long run in theaters. After a definite sophomore slump (twelve years ago!), I worried that Bridget Jones might have sealed its fate in the sequel graveyard and that any attempt to revive it would be in vain.
But lest you think Bridget's saga (and her occasional comically bad decisions) only lives on in your nostalgic memory, hold tight. The third and highly anticipated installment of the story, Bridget Jones's Baby, which opens today, is quite possibly the best one yet.
We first met the delightfully quirky Bridget Jones on the big screen in 2001. Renée Zellweger's character was, at that time, a 32-year-old woman in the midst of a life crisis relating to love, work, her self-esteem—all the things every woman struggles with from time to time. Bridge (we're friendly enough for nicknames, right?) had a complicated, and sometimes hysterical, life. She starts a diary after hearing herself described as "a verbally incontinent spinster who smokes like a chimney, drinks like a fish, and dresses like her mother"—and she realized that's not who she wanted to be. So she starts on a journey to lose weight, quit smoking, and find Mr. Right.
We can't say all (or even most) of her decisions were great, but Bridget was a humble, honest woman who taught us all a thing or two about taking life in stride and trying to live it better. Viewers will be happy to hear that at the start of this film, Bridget has finally accomplished two of her three goals: She's now at her ideal weight, and she's off the cigarettes. But, as the film picks up, she's also single again. She and Mark Darcy's (Colin Firth) relationship has disintegrated again, and it's looking grim. In her effort to let loose and buck up, the now 43-year-old TV news producer attends a music festival where she meets Jack (Patrick Dempsey), and, well, you can guess what happens after that. Suddenly, Bridget finds herself pregnant but wondering, "Who's the father?"
If you're thinking the plot sounds a little vapid, you're right. But the greatest thing about the Bridget Jones films is how honest they are, as far as chick flicks go. Bridget once said, "It is a truth universally acknowledged that when one part of your life starts going OK, another falls spectacularly to pieces." We've all had a moment like that. I think this is what draws so many women to it.
Clearly Bridget's pregnancy circumstances are not ideal, and the film acknowledges this. But, for all her bumbling mishaps, Bridget faces the challenge with an accepting heart as an opportunity to grow as a woman and welcome her child into the world. When Bridget first sees her baby in the ultrasound—one of the more powerful moments in the movie— she says, "You're the best thing I've ever seen," with tears in her eyes. "You just stay safe and snug in there while I sort all this out." Bridget's life has been changed, and now her first priority is as Mom.
While the film certainly ups the cray factor, the truth remains that life is messy and imperfect, and it's often our attitude that dictates how our story ends. As it happens, unplanned pregnancies are fairly common occurrences, and in this film we learn how Bridget would respond to it: readily and devotedly. The who's-the-daddy drama may make up most of the ridiculous moments in the film, but as Jack says later to squelch an argument between the dueling dads, "The most important thing is the baby." Later, Mark says in a heartfelt scene to Bridget, "You turn disaster into triumph." No matter how cringeworthy and unwise some of Bridget's decisions may be, it's hard to disagree with these words.
In Bridget Jones's Baby, you'll see some marked differences from the other films. As we all know, Renée Zellweger does not look the same. In fact, it took me about thirty minutes in to get used to the new Bridget. That being said, we don't need to dwell on her looks. Zellweger is so vibrant in the film, and she is most definitely still the Bridget we adore so much.
Another point of departure is the leading men. A lot of people were bummed that Hugh Grant would not return in the third movie, myself included. In the end, I didn't miss him at all. Dempsey was a welcome new cast member, adding a fresh spark to Bridget's trademark love triangle. Between him and Firth's reprisal, you won't be left wanting. The film definitely keeps you guessing until the very end.
If you're like the rest of us, The Edge of Reason had you questioning the reasons you paid for that movie ticket, but fear not. This latest foray into Jones' life is quite entertaining. You get the ever-endearing Bridget Jones on her quest for self-improvement. You get a hilarious story line that's part cautionary tale, part joy ride. And you get a baby—a living, breathing triumph after a disaster of poor decisions. What more could a woman want?
Photo Credit: Universal Pictures