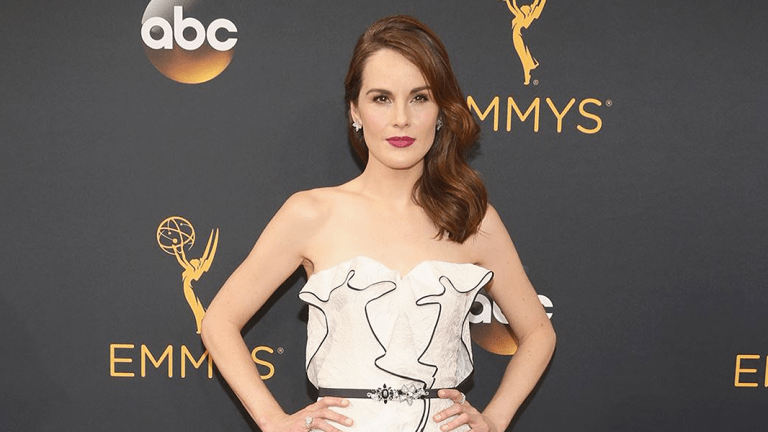 Michelle Dockery and Others Brought Modern Elegance to the Emmys Last Night
No need for a 'Best Dressed' when so many stood out!
Last night, the 2016 Emmy Awards brought television's finest out to the red carpet, celebrating the best of this year's small-screen entertainment. The Hollywood starlets shined in designer creations, setting the tone for a night of glamour and elegance. We think a few stunners stood out from the rest, but which one is your favorite?
Sarah Hyland //
Amidst the sea of swishing skirts, Sarah Hyland's unique look certainly took us by surprise—in a good way. The Monique Lhuillier ensemble includes skinny black cropped trousers and a stunning embroidered bodice that cascades down into a more modern interpretation of a train. We love that Hyland's refreshing look maintains a flattering silhouette while updating the classic red carpet gown.
Michelle Dockery //
Our beloved British style queen reigns supreme as she took to the carpet in a white tiered Oscar de la Renta gown. The traditional silhouette received a couture update with bountiful ruffles and black lining. Dockery kept it glamorous with a bold red lip and soft barrel curls—a look we're ready to copy ASAP.
Felicity Huffman //
We're getting all the vintage glamour feels from this American Crime actress. The high neck of her white-and-cream lace Tony Ward gown reminds us of the exquisite silhouettes of yesteryear, a fitting look for the Hollywood red carpet.
Tori Kelly //
Although she's not an actress on the small screen, Tori Kelly performed a stunning rendition of "Hallelujah" for the memoriam segment. She also stunned on the red carpet in a classic black Paule Ka gown, standing out for her simple yet glamorous look.
Padma Lakshmi //
You wouldn't believe it was 109 degrees in Hollywood last night by the composed look on Padma Lakshmi's face. While other starlets struggled to keep their cool, Lakshmi donned a long-sleeve metallic Naeem Khan gown. The breathtaking silvery fabric moved like water around Lakshmi, and we are still in awe of her elegance.
Julianne Hough //
Julianne Hough knows a thing or two about flattering her skin tone. The bright coral pink gown has the Dancing with the Stars mainstay glowing from head to toe. The simple draping of the dress and her natural makeup remind us of just how powerful the right color can be.
Taraji P. Henson //
Bright color was the theme of the night, as Taraji P. Henson so gracefully exhibits. This canary yellow Vera Wang dress offers a simple silhouette but is a knockout nonetheless. We also loved Henson's casual beachy hair and subtle makeup—this Empire star needs no extra glitz to look positively glamorous.
Maura Tierney //
Maura Tierney brought us back to the fifties in this tea-length, floral brocade Christian Siriano number. The A-line silhouette and color are perfectly flattering, while the length gives it a fun retro flair.
So, which one is your favorite?
Photo Credit: Getty Images