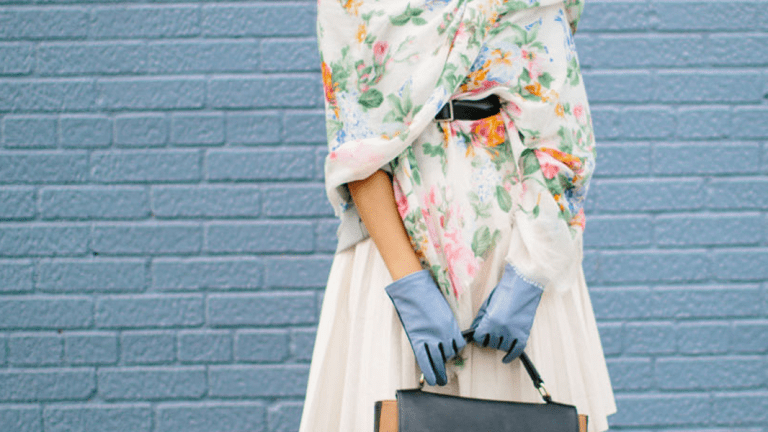 3 Simple Ways to Wear Your Favorite Summer Midi Skirts This Fall
With a little innovative thinking, you can make your summer style staples last so much longer.
We all have a midi or two (or 5) in our closets, and for many of us, these breezy a-line beauties were the only things keeping us cool (yet put-together) all summer! Parting from our life-saving midis is such sweet sorrow, but who says we have to pack them up till next year? 
As the cool weather starts rolling, stretch your favorite wardrobe staple into the new season with some styling tweaks. Whether it's breezy and lightweight or an airy eyelet, you can easily take your summer midi into the fall! Just follow these simple tips below. 
01. Layering // 
When it comes to being fall-ready, it's all about the layering. To master the midi layering look, be sure to keep your waist in mind by choosing a jacket that is fitted or cropped. Longer jackets will overlap onto your skirt too much and hide your shape. We love a fitted leather jacket for its versatility. It will even go with your uber feminine midi skirt! The contrast between soft and rugged creates a street style worthy juxtaposition, and who couldn't use a little urban flair in their outfit lineup? To really elevate this look and balance out the masculinity of the jacket, wear a pair of heeled booties, a clutch, and a statement necklace. 
02. Chunky Knits //
Thought you would have to kiss your chiffon skirt goodbye this fall? Think again! Complement your flowy midi with an equally soft knit sweater. If you're wearing a pullover, keep the sweater above hip level to maintain your silhouette and if you're wearing a button-down, make sure it's loosely tucked in. We're definitely feeling inspired by the 1990s vibes this September, so embrace the grunge throwback with a feminine twist. A pair of cute heeled booties beat a pair of Doc Martens any day, and a lovely bow choker will keep you true to your ladylike style. 
03. Innovative Accessorizing // 
With dropping temperatures it's time to get creative with layering and accessorizing! If you're just as excited as we are to flaunt your favorite scarf, then you'll love trying this look. Start by draping the scarf behind your shoulders, then take the right end, and cross it over your torso, tucking it under your left arm. Then take the left end of the scarf, and toss it over your right shoulder. Fasten a belt at your waist to secure the look. The scarf will create a fun peplum after you belt it, and you'll look glamorous in every way!