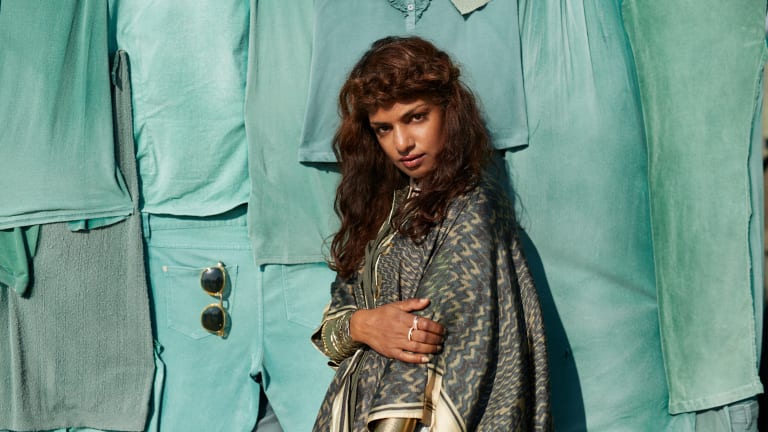 4 Uplifting (and Challenging) Messages from M.I.A.'s New Album, AIM
This artist is rapping to the beat of her own drum.
Rapper, singer-songwriter, and all-around artist Mathangi Arulpragasam entered the music scene under the stage name M.I.A. in 2004 to immediate acclaim with hit songs "Galang" and "Sunshowers." But most of the public knows her from her 2008 hit "Paper Planes" or her moment on stage with Madonna at the 2012 Super Bowl. This month, M.I.A. released AIM, an album she says is her last. While the album is receiving mixed reviews, the rapper's fans aren't deterred, as AIM currently sits in the No. 1 spot on Billboard's top dance/electronic albums list.
As with all of M.I.A.'s music, you're guaranteed to find an eclectic mix of sounds and contagious Eastern beats. You'll also find in this latest album some uplifting, and at times challenging, messages.
01. A Reminder to Self-Examine
If there's one thing consistent about M.I.A. and her music, it's her dedication to social causes across the globe. Originally born in Sri Lanka and transplanted as a child to the United Kingdom as a refugee, M.I.A. has always felt called to highlight the plight of refugees in her work, even before the refugee crisis was making headlines. While M.I.A.'s coverage of the topic is nothing new, her incorporation of these themes into her work is no less striking, and some important things in life bear reminding.
In the song "Borders," the lyrics feature a litany of concepts followed by the repetitive phrase "what's up with that"—things ranging from "egos" to "your values" to "breaking internet" all are followed by the the same question: "What's up with that?" As opposed to being a meaningless refrain, in my view, the song offers listeners an invitation to question their world and their views with an ever-sharp consideration.
The music video that accompanies the song features M.I.A. singing simply alongside numerous people seeking refuge from poverty, whether in lines along fences or crammed in escape boats. M.I.A. stoically sings among a sea of blank-faced refugees whose eyes appear to have seen more sorrow than anyone should. Politics aside, in my view the video chooses to focus on the humanness of people living in such conditions. Is the thought of living in such extreme destitution that you'd consider leaving your homeland a far cry from your day-to-day thoughts? M.I.A.'s great service to mankind is to put it right up-close in view. Now people streaming her tunes and living in more fortunate circumstances can't pretend they didn't see it.
02. A Sweet Jam with Zayn
Another special thing listeners can find in AIM is an unexpected collaboration with singer Zayn—that is, Zayn Malik of One Direction fame. Well maybe it's less random when you consider that Malik was raised in a working class neighborhood of England with a British Pakistani dad. In the song "Freedun," M.I.A. balances a boast of confidence in her talent with her love of, you guessed it, freedom.
"I don't need any audition / I just got my own little mission / A crew bigger than a politician / Yeah, history is just a competition / Do you wanna sign my petition? It's for the people with dedication," M.I.A. raps like she does.
Then Zayn enters the refrain, "All the stars are still shining / But you're the only one I see / I can feel when your heart beats, yeah / But you can't keep your eyes off me."
The romantic in me likes to think he's actually singing his lines about freedom.
03. A Quietly Powerful Pep Talk
Then there's "Survivor," which may be my favorite song on the album. For a song with that title, people might expect a Gloria Gaynor level of "I will survive" feistiness or at least a Destiny's Child level of willpower. Not here. This song on survival is most powerful in its vulnerability.
"Survivor," M.I.A. sings in a softer voice than usual, "It starts when you ready." What exactly has  been survived is left ambiguous: "Trying not to remember / My time in the fire." But what rings as universal and human is the refrain that combines strength with weakness: "Survivor / Who said it was easy? / Survivor, survivor / They can never stop we."
What I love about this track is its tone of peaceful acceptance—really it's the only one that evokes a sense of peace, not war. I think that's because the song speaks to something interior as opposed to exterior.
04. A Reminder to Get Your Self-Care On
In another song on the album, things slow down to get a less complicated message across. With a nod to the Michael Jackson tune, "Ali R U OK" features M.I.A. pleading with a friend to take a break from work at least one day of the year, to not make one's work or money the god in her life.
"All work and no play / think we need a holiday / All work and no play / Tell em it's your birthday / All your best days are given to your boss way / Tell em you're working on us today / Do you wanna be running after money / Or be home hanging with your honey."
While one gets the sense the song is aimed for a friend who works in a third-world factory and actually needs the money, the song certainly carries a message for the workaholic American as well. It's good to have a profession and a living, of course; but if you don't take some time for leisure, you're missing the point of everything, including your work. Here's that theme again—that reminder she likes to give to reevaluate what you're doing and why you're doing it.
Like M.I.A.'s latest album or not, the cool thing is that no one can doubt that M.I.A., who pushes us all to look as seriously at issues of the world as in the mirror, isn't answering her own questions. This is one artist who exudes an almost offensive level of dedication to living an examined life. M.I.A. is rapping to the beat of her own drum, and no one who hears her sound can doubt it.
Photo Credit: H&M