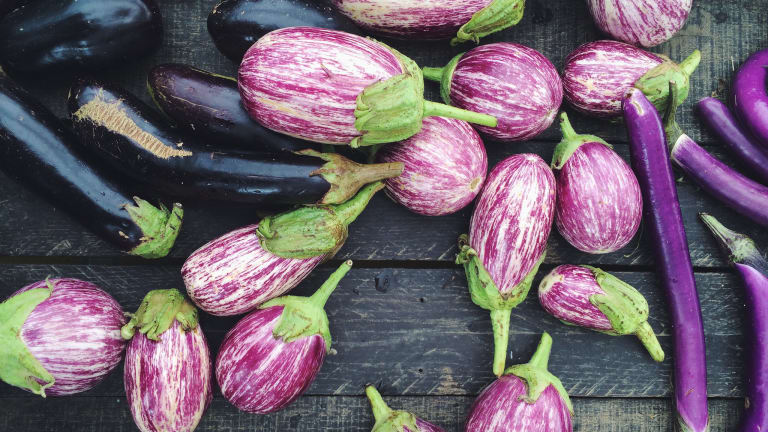 5 Awesome Perks of Shopping at a Farmers Market (That You Can't Get Anywhere Else)
Sourcing your ingredients locally can actually save you money.
For years, I was mostly ambivalent about the farmers market—too expensive, too pretentious, too many vegetables. Then one day, I tagged along with a friend. I carried home a pint of gooseberries, devoured this book (a vivid account of one family's year-long local eating experiment), and stopped rolling my eyes at the whole thing. The gradual and unexpected but firm impact those initial local eating forays had on my quality of life led me to start a meal-planning website dedicated to seasonal cooking and living—Huckle & Goose.
Several months after launch, my family and I moved from city to country. Between the longer drives to civilization, adjusting to our new home, and juggling a start-up full time with two kids under 3, we lost our usual Saturday morning farmers market tradition. Instead, we joined a CSA a few miles down the road and shopped at our local co-op. These are both highly recommended ways to source good food, but it wasn't quite the same. The mindful habits I (subconsciously) developed started slipping. 
If you really want your kitchen habits, routine, and cooking to be changed forever, you can be mindful at the grocery store 'til you're blue in the face, but it won't have the same effect as shopping at a farmers' market. Huckle & Goose subscribers write us all the time saying they had no idea what a difference it would make—as if they finally unlocked a secret code (which is the way I felt). Don't be fooled into thinking markets are only a warm weather thing. Most cities and towns with summer outposts also have an indoor winter market. Just check their website or Facebook page (or ask someone when you go!). If you have access to a farmers market but you think, "I don't have time," here's why you should make time to pay as many visits as you can.
It's almost impossible to fall into a cooking rut. Instead, you'll fall into a great kitchen (and life) rhythm.
Buying food for the week while outside makes a more profound impact on our health than we realize. According to Psychology Today, our circadian clock keeps track of the seasons. Feeling the wind shift as we select our vegetables for the week at a farmers market—breathing in the scent of summer heirloom tomatoes or selecting the first gourds of autumn—helps sync our natural rhythm.
Eating only what grows near us, when it's actually supposed to grow, naturally limits our choices too. When we're not bombarded with asparagus in December, we don't feel as overwhelmed with what to buy as we might be in a fully stocked store. Shopping at a farmers market is the closest we can get to replicating the effects of gardening in our backyard. We're compelled to pay attention, be in the moment. And it informs how we cook, eat, and live. At Huckle & Goose, we make this shopping easier by building weekly menus based on what's in season. One user, Kelsey, says she relies on it like she relies on her alarm clock or coffee to wake her up. "It has forced me and my family to utilize local farmers markets, and believe it or not, we will be planting our own garden this year."
Food will taste better, and you'll treat it with more care.
Getting a CSA box and shopping at a co-op is as farm to table as you can get outside of the market, yet even that wasn't quite the same for me. A morning at the farmers market immerses us in significant details about our ingredients and infuses them with stories that we'd otherwise miss. Baking a peach cobbler with farmers market peaches in early September, for instance, means knowing that this might be our last until next summer. The savor-every-last-crumb factor is strong.
And when you chat with a farmer who tells you his broccoli crop was nearly devastated by an insect, but the few stalks he brought that day actually survived…letting it wilt in your crisper is not an option. You start grasping the lifespan of a plant (short and finicky), and the labor required to grow it (back-pain inducing and arduous). You find a way to honor the effort and hardship in a delicious way. If that same broccoli showed up on your doorstep, plastic-wrapped inside a cardboard box, would it have the same effect?
You'll spend less money.
It's a common misconception that the farmers market is expensive. But because the food is nutritionally rich and keeps you fuller longer, you don't snack as much. Apart from avoiding the snack aisle, grocery shopping becomes more purposeful; you're on a mission to complement your farmers market finds, less likely to veer off your shopping list, and more likely to honor your budget. And because you know the amount of work and care that went into your food, you're motivated to eat every last bit of what you buy, letting nothing go to waste, while placing less calls to your neighborhood pizza place.
You're more motivated to eat healthy.
All this naturally keeps good eating habits in check. You feel healthier and more energized without quitting certain food groups (like sugar or gluten) completely. You'll eat more green veggies because they are irresistible in those wooden crates. And when you do indulge in a slice of bread or cake, your tastebuds have learned to be discerning, so you'll only settle for the best. Saying no to office donuts is painless because you'd rather wait for homemade pie incorporating those heirloom apples the farmer recommended. Your food culture changes.
One of the reasons we started Huckle & Goose was because we realized there were really bad recipes out there that made people (including myself) think they were bad cooks or bakers. But really, it's mostly the recipe's fault. Once you actually use good recipes, you realize, "Holy cow! I can make better stuff at home than 80 percent of the restaurants and bakeries I go to." Since local food tastes better, it makes the food you cook even better. And at home, you know you're using good ingredients—who knows what they put in your food when you eat out. Having a repertoire of the best recipes means being confident that you can make a killer dish and being more reluctant to eat out.
This is why people start to realize they're losing weight on H&G. Now, I can already tell by looking through the display case of a coffee shop if the scone is bland and mealy. So I just wait to make a batch at home (why waste calories on something that's not as good?). And because making scones is a time-consuming endeavor in the course of a normal week, you make (and eat) them less frequently. Yet you truly savor them when you do. It's like author Michael Pollan's food Rule #45: Eat all the junk food you want as long as you cook it yourself.
Connect with others through your food.
Produce-wise, a farmers market habit keeps us connected and in the know (like having the inside scoop on the first strawberry harvest). But beyond that, we form a deeper understanding and appreciation for the farmer's work in providing for the community. After all, we're reminded regularly that they are growing the stuff we put into our bodies. Connecting with the root of our food supply in this way sets a chain reaction—we suddenly feel more plugged into a cycle we'd otherwise take for granted.
The most beautifully human thing I found, though, is how much it inspires us to share our food and our hearts with others. When you're chopping six different colored peppers and zebra-striped purple eggplant for dinner (that you bought from good people with dirt under their nails) and no one is chatting with you about how they came to be or what you did with them, it's like watching a really good show and having no one to discuss it with. So sending a "Hey, come over for ratatouille!" text becomes second nature. Catching the hospitality bug, a rarity these days, is one of the best parts about shopping at the farmers market.
Foster connectedness by going to the farmers market with a friend or making it a family outing, hosting a potluck with friends, or meal planning with a conscious community like Huckle & Goose. 
If you've never gone to a farmers market and you're fortunate to have access to one, go this week. Don't buy anything if you're not ready; just walk through. Do the same thing the following week. After three weeks, I dare you to resist the pull. You'll be one step closer to cooking better, feeling your best, saving money, and having everyone over at your place. As for me, I'll be working hard to make it part of my routine again, too.
Photo Credit: Christine Lucaciu