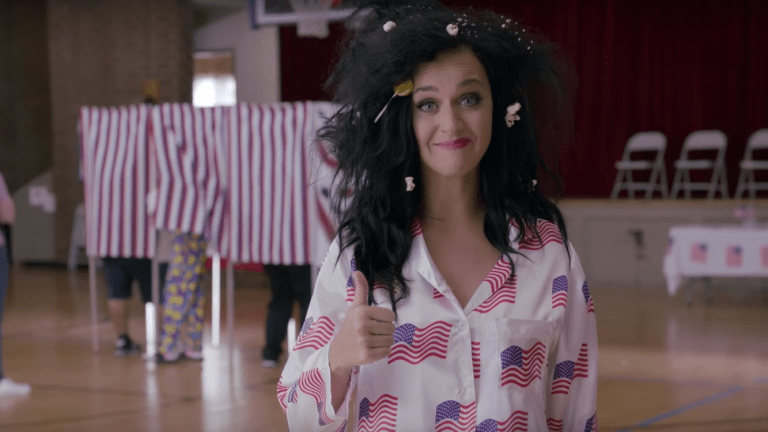 Katy Perry Didn't Have to Get Naked to Encourage Us to Vote
As political messages flooded in this week, Perry's naked appeal fell short.
This week was a big one for politics. The first presidential debate between Hillary Clinton and Donald Trump took place on Monday night, and Tuesday was National Voter Registration Day. Needless to say, political propaganda is alive and well in America right now. And it seems everyone is pushing for the vote. 
Some of the most notable were the campaigns appealing to millennials. Car service Uber and delivery food giant Seamless (yes, Seamless offered a discount on Monday night using promo codes 'IM WITH HER' or 'IM WITH HIM') joined in. And MTV riffed on their classic show Total Request Live (or TRL) with an event in Times Square on Tuesday called Total Registration Live, which boasted media and model maven Kendall Jenner as a host. But it was Katy Perry, singer of the current chart-topping pop hit "Rise," who really made a statement.
"TOMORROW, I USE MY BODY AS CLICK BAIT TO HELP CHANGE THE WORLD," Perry posted on Instagram Monday. She was promoting a video she made for comedy site Funny or Die. In the spoof reel, Perry appeals to voters by assuring them you don't have to look put together at the polls. You can arrive in whatever state you woke up in, she assured viewers. And, as her own sleeping preference is being naked, Perry stripped down. After being promptly arrested for baring all in public, Perry ended the piece saying, "scratch that, gotta wear clothes." 
The whole thing was, of course, a joke—a comic attempt to win over a tricky audience. Pew research shows millennials have surpassed baby boomers as the largest living generation. That means people ages 18 to 35 wield a lot of power in our politics, but is that power practiced? Pew says as of April 2016, 69.2 million millennials were U.S citizens of legal voting age, "roughly 31 percent of the voting-eligible population." But eligibility does not equal activity—Pew shows that in 2008 only 50 percent of eligible millennials voted. In 2012 only 46 percent say they voted. So while the need to motivate voters is there, the means, in Perry's case, seems problematic. 
There's something that gives me pause when one suggests "using their body" for quantifiable gain. The simplest reason is because bodies are not meant to be used, really. Our bodies embody us as people and are deserving of human respect. This may sound a little basic, but Perry's skit reminds me how easily we can forget it and try to treat our bodies as tools, or for bargaining, instead of as something uniquely our own. When we do this, we literally objectify ourselves—we treat ourselves as objects instead of persons. (This is not a good thing for women's equality, BTW.)
Another reason "using bodies" isn't a good idea is because of where this thinking leads. The thinking that it's okay to use our bodies as a means toward some end justifies all range of activities that exploit women. The sex industry employs women's bodies in exchange for monetary gain, to the extreme. Many women who pose in Playboy or porn, hoping to help jumpstart a career or make some quick cash, find it hurts them in ways they didn't expect. And some of the most powerful women in media find that playing sexualized roles is essential to their staying relevant. As Peggy Orenstein pointed out in her book Girls & Sex earlier this year, many of today's female "performers still work within a system that, for the most part, demands women look and present their bodies in a particular way in order to be heard, in order to be seen, in order to work." These performers are "spinning commodified sexuality as a choice, one that may be profitable but is no less constraining."
This is why when women in media strip down—whether to bring awareness for a cause, for popularity, or simply for monetary gain—I don't see it as a good tactic, even if it succeeds in reaching its desired goal. Yes, even if that goal is as praiseworthy as voting.
Perry's video has been viewed more than one million times on YouTube and liked over 20,000 times on Twitter. Madonna has since posted a topless photo of herself on social media, encouraging others to vote and post similarly. While this post from Madonna came after Perry's video, she's not copycatting. Madonna participated in arguably the first undress-and-vote campaigns back in 1990 when Rock the Vote was founded. At that time, Madonna made headlines for draping the American flag over her bikini-clad body in a short video drive.
Since then, Rock the Vote has become the voter registration initiative most familiar to millennials due to its success merging pop culture with politics. During the 2008 election cycle, RTV ran the largest to-date nonpartisan voter registration drive, which resulted in 2.6 million new young voters. RTV has been criticized for many things, but there's no denying that it made everyone realize the power of the young adult voter base.
Using pop culture, something that naturally appeals to a lot of millennials, to encourage voting is smart and can even be inspiring. But let's appeal to the intelligence of this rising generation and the real issues at hand, rather than employing the age-old notion that "sex sells" to promote something as important as voting for our nation's leaders. Because while women undressing has always and will always gain attention, the spread of objectifying imagery doesn't help us in the equality department, no matter who we end up voting for.
Photo Credit: Funny Or Die