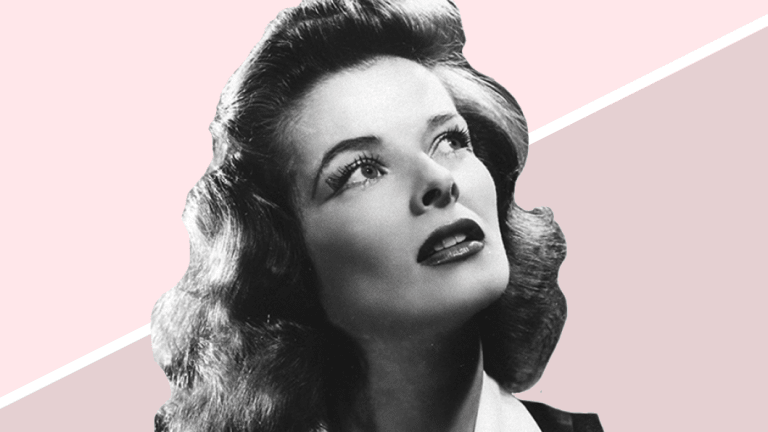 Lessons from Classic Beauty Icons: How to Get Katharine Hepburn's Defined Cheekbones
Learn how to highlight your beautiful bone structure with a little subtle contouring.
Katharine Hepburn's cheekbones are as sharp as her wit. While we may never be as clever as this cunning hollywood dame, we're taking her lead by highlighting our bone structures. Hepburn's leading role in Philadelphia Story made an impact on the fashion world, and her beauty certainly did not go unnoticed. Strong cheekbones create a symmetrical angularity to the face, so why not highlight them?
Step 1
To copy Hepburn's strong bone structure, begin by applying an overall tinted moisturizer for an even skin tone. If your skin type is greasy, consider using a primer base.
Step 2
Apply blush, or the blush tone of a contour palette such as Tarte, to the apples of your cheeks for a healthy glow.
Step 3
To find your cheekbone, press your fingers into your face until you find the ridge. You can also suck in your cheeks to find your natural cheekbone line. The trick to highlighting cheekbones is to apply a darker tone underneath the bone.
Step 4
Begin applying the dark tone of a contour palette with a flat contour brush under your cheekbones. Rather than applying in strokes that go toward your mouth, direct your strokes toward your hairline. This may look really intense at first, but you will be blending it out later.
Step 5
Tap the dark powder out of your brush and start blending to fade the stark lines. Feel free to blend more into your hairline and around your temples. Keep blending until your look becomes less severe and more natural.
Step 6
To make your cheekbones extra-defined, create a three-dimensional look by applying the lighter tones on the highest part of your cheekbones and on the tops of the apples of your cheeks. To really copy that chiseled Katharine Hepburn look, apply the lighter powder or illuminator pen in the shallow of your cheeks, blending it underneath the dark cheekbone contouring and to the tops of your your brow bone.