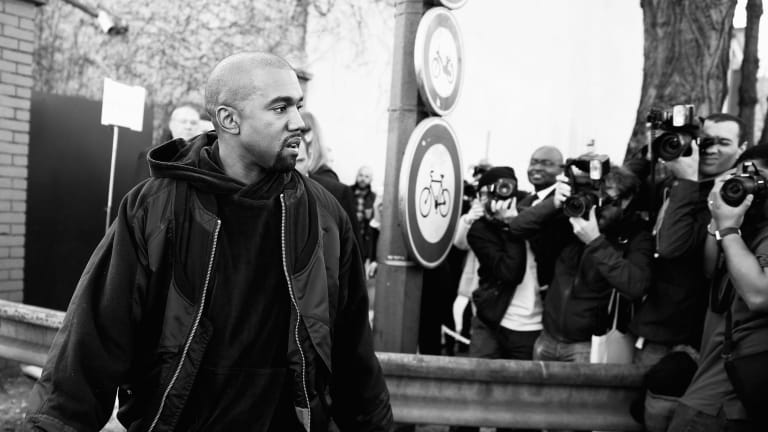 Women Are Not Objects, As Kanye's Fashion Week Wake-Up Call Reminds Us
Mr. West went too far this time.
Fashion week news usually stays exclusive to the industry itself, and unless you're actively seeking out runway updates, you might have not even known that New York's kicked off this past Wednesday. But one show in particular is making headlines, and not in a good way. Kanye West, popular culture man of the year, royally bombed during his Yeezy SS17 collection. 
The public outcry against Kanye's ostentatious and impractical show began almost immediately upon the guests' arrival. Stella Bugbee, Editorial Director of New York Magazine's fashion sister site, The Cut, let out a fire stream of tweets and ultimately penned a reflective op-ed. In both she documented the disastrous show from the stifling bus ride [to Roosevelt Island where the exhibition took place], to being yelled at by security, to standing in line for two hours, to eventually watching models literally faint from standing in the sun for four hours. To give you a sense of things, it was roughly 90 degrees in Manhattan yesterday, and these women were standing in direct sun—on display. This is where the real issue began. 
Reports from the show state that models were visibly collapsing from what was interpreted as heat exhaustion and did not receive help from the Yeezy team. The scene was so shocking that many attendees thought the models' behavior was actually part of the show, uncertain of whether Kanye was making another one of his "metaphysical" overarching statements on the maltreatment of people within the industry (he's been known to do that in past shows). But after one of the production members finally assisted a collapsing model and then a man in the front row offered his own water to a model, the audience realized it wasn't all an act and that the women were actually dangerously ill. Many editors reportedly fled the scene; some attendees, however, stayed to tweet out Yeezy boycotts.
After Kanye West's history of outrageously narcissistic comments and pretentious claims to being "A God," we can't help but feel as though Kanye deserves what he got. A closer look into the event at hand, however, tells a sadder story and reveals the ugliest side of the fashion industry.
It's important to note that the women on display for those long, hot hours were not professional models. These women, clad in skin-tone Lycra and arranged according to skin color, were what's known as "street cast." As Bugbee reported, "There was a stark contrast between the street-cast models silently falling before our eyes and their agency-repped counterparts, who were not standing naked in the sun until it was time for them to walk."
"Watching a model fall or faint is always upsetting, calling to mind the grueling physical nature of their work, the starvation, the expectations that they walk in clothing that hobbles them," she said. "This felt worse than usual because these women were not professionals." 
Kanye's creative collaborator, Vanessa Beecroft, who was not present at the show, has responded to the outrage saying she thinks the models' lengthly wait in the heat was planned by West, saying he, "wanted the audience to get into this state of having to observe and having to stay." She even went so far as to claim the atmosphere was "meditative." Beecroft also claimed that any reactions from models must have been emotional—a result of being looked at—not physical. 
The Kanye show is a powerful example of the objectification of women within the industry. We often associate the word "objectification" with "sexualization," but the Yeezy SS17 show was even sadder—it seemed to truly forget that these women, professionally rep'ed or not, are human beings. As much as I would like a demonize Kanye West, I'm sure it wasn't his or his team's mission to put the models in danger. The problem is that they didn't even think of the possible outcome of standing for hours in the sun. And they didn't seem to react until things got dire. These models were mere props to his brand image. That is, until everything went south. 
Whether women are being exploited for their sexuality or left to collapse from heat exhaustion in the name of art, objectification continues to be the prevailing malady of the fashion industry. As part of the fashion world, myself, I'm truly saddened by this display of pomp and affectlessness, and I hope more attendees, such as Bugbee, will use their platforms to help prevent something like this from happening again.