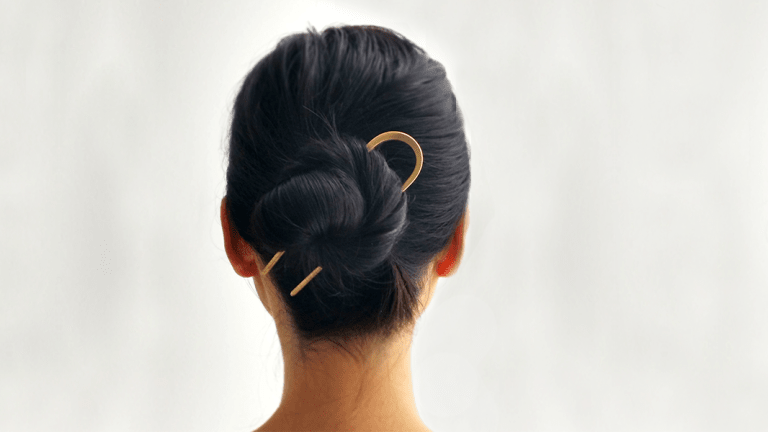 Your Favorite Childhood Hair Accessories Just Got a Grownup Update
Nostalgia alert!
It's been a hot second since we've thought about the butterfly hair clips of our youth (please take a moment to recover from that flashback). After years of Katniss-inspired braids, chignon buns, top knots, and more, we're finally seeing the return of hair accessories that would fill our 10-year-old selves with glee. Yes, our Klutz days are officially back, and we've decided to embrace the nostalgia for some pretty rad hairdos. 
The Headband //
Blair Waldorf may have majorly revived the headband back in 2012, but let's not confuse this 1980s original with recent preppy fashions. We're talking about the cushioned headbands that give you an extra inch in height, the metal comb headbands that scrape your scalp, and the knotted turban bands that are fashionable and effective. We'll take all of these. 
The Barrette //
You'll soon be making a few Goodie purchases at your local Walgreens because these barrette beauties are what 1990s nostalgia is made of—with a more grown-up twist for 2016. They keep back pesky stray hairs while perfectly adorning your hair with a school-girl flair. Yes and yes. 
The Bunholder //
Now, it may have been your older sister rocking this sophisticated style, but we think you're finally mature enough to make this look your own. The bun holder is the epitome of effortless elegance with it's, "Oh, I just threw this spike in my hair" casual appeal. Wait...maybe we're still not cool enough for this hairdo. 
The Ribbon //
1980s-inspired indeed with a side of Anne of Green Gables (an 80s classic). The ribbon is the understated accessory that is truly timeless. You can wear it as a headband a la Zooey Deschanel in 500 Days of Summer or in your ponytail for a romantic Victorian era look.