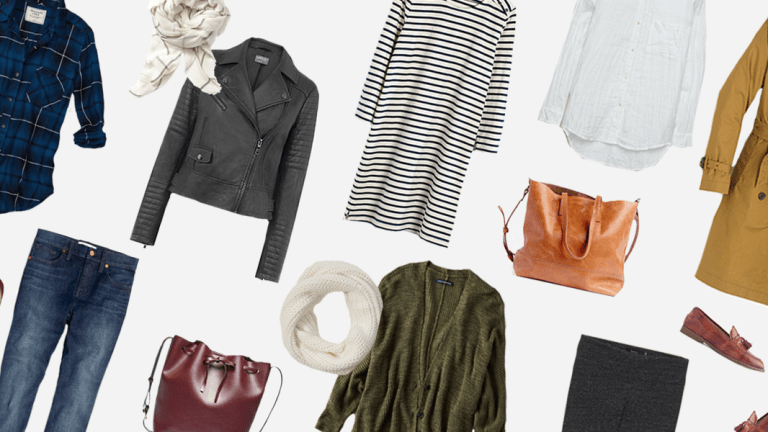 Cozy Fall Outfits We're Secretly Excited to Wear
Why hello there, old friends!
The end of summer can leave even the most optimistic person feeling a little blue, but we can't help but feel a tingle of excitement when looking forward to our favorite fall fashions: chunky knits, colorful tights, infinity scarves, and booties (especially booties). Fall is undoubtedly one of the best seasons for fashion. 
So, even though we're bemoaning the end of summer in the sun, we're secretly looking forward to piling on the layers and embracing the cozy. 
Knits on Knits //
If you've been checking your weather app to see if it's cold enough to bust out the knitted sweaters, this outfit is just for you. Knitted leggings, sweater, sweater dress, and scarf? Why not. These incognito jammies will fool everyone into thinking your outfit has been carefully planned. Bring on the comfort.  
Cool Girl Statement Leather //
Jackets have been a no-go all summer long, so naturally, we're dying to bust out the edgy leather. The iconic leather jacket has a way of making any girl feel street style cool. Throw it on to stay warm or just to make your laid-back outfit look more intentional—either way, this is a piece to invest in!
All About The Booties //
It's not a secret that we're looking forward to finally rocking boots again. This is an outfit that revolves solely around the beloved fall bootie. To give your ankle-hugging shoes some extra attention, try wearing a pair of knitted socks and bunch them around the top of the boot. Wear a warm-hued skirt and knitted turtleneck for an outfit that boldly announces the arrival of fall.
Academic Classics //
September brings a certain air of professionalism, reminding us to pull ourselves together and get serious! As we face the new season, why not let the classics give us some motivation with it's polished wardrobe staples. The loafer, trench coat, white button-up, and satchel bag is enough to get us down to work!