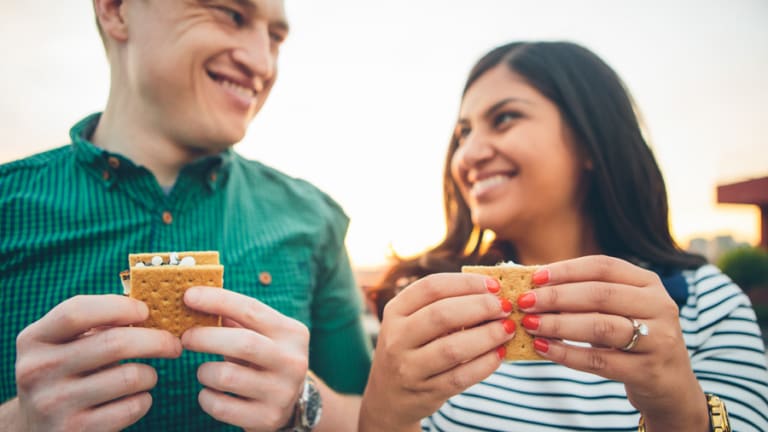 10 Cozy Fall Date Ideas to Keep That Summer Flame Burning
Embrace the romance of the season with these cute date ideas.
Fall is so fleeting; it's like if you blink, you will miss it. All the pumpkin and spice and everything nice is nature's way of reengaging us and refusing to be taken for granted. I like to respond to nature's bid for attention by grabbing my man's hand and soaking up all the colorful leaves and brisk breezes together. Here are ten date ideas that will get you outside and keep quality time at the center of your relationship.
01. Get cozy at a private outdoor movie.
I have always loved outdoor movies but never really enjoyed the crowds much. Turns out there is a way you can enjoy a romantic movie night in your own backyard (or his). I found this portable projector that you can use with your iPhone (only $35), and there are several other options on Amazon that are relatively inexpensive as well. Create a cozy setup, and pick a movie that you both like (or let it be a real treat and let him pick this time).
02. Roast s'mores around a bonfire.
This cozy fall activity can really be tacked on to the end of any date—it's a great way to relax after a day of adventure or even just to decompress after a busy workday. A bonfire creates instant ambiance and functional warmth. Oh, and remember Scary Stories to Tell in the Dark? This is a great childhood throwback to break out while waiting for your 'mallow to perfectly puff, or just make up some scary stories of your own to tell. If you don't have a yard for a bonfire, you could also roast marshmallows over the stove.
03. Visit a wine festival.
Pumpkin spice is not the only thing in season, you know—the autumn months are actually harvest time for most vineyards in the northern hemisphere. Checking out a local wine festival is a great way to savor the season. Getting to know one another in between swish and spit (or sip) is easy, and it's fun to learn about local wines.
04. Go on a romantic horseback ride.
I love hiking, but I think it would be awesome to take a jaunt through the woods on a horse to switch things up a bit. Sure, you probably won't have the wind in your hair (and probably will be led by a safety-conscious guide), but spending a day horseback riding is a fun way to enjoy the fall foliage and do something out of the ordinary. Bonus: It's way more of a workout than you might anticipate.
05. Tour a brewery.
Thanks to all our hipster friends, you don't have to travel to Wisconsin to sample craft beer—most of us can now find a craft brewery in our own neighborhood. If you and your man are beer-lovers, there is nothing like a tour of where the magic happens. Treat yourself to a flight of the season's specialty brews, and test your palate—you may like dark beers more than you think.
06. Take an outdoorsy class.
What better way to enjoy the fall season with your significant other than to learn some new outdoorsy skills? REI Learn has tons of great classes you can take, from camping and kayaking to photography to classes that teach you how to navigate cross-country with just a map and a compass (I definitely want to sign up for this one!). REI isn't the only place to find a class—check Yelp or Meetup for local outdoorsy classes and groups. Your guy will thank you for the hands-on bonding—and the chance to show off.
07. Sign up for a Hot Chocolate 5K or Dead Zombie 5K.
Whether a 5K is a challenge for you or not, a festive race is a fun project to take on together. Train together beforehand for some extra goal-setting bonding, and afterward you are both bound to feel great.
08. Host a fall-themed wine pairing party.
If you are a couple who likes to host, this is one idea I have been dying to try. Make a three-course meal that includes everything that is quintessentially fall. What about a creamy pumpkin soup for a starter, pork chops in a seasonally spiced glaze, and apple pie to finish? The extra layer of fun is researching the right wines for each dish and playing sommelier as you pour each glass.
09. Create festive fall care packages for the homeless.
You know he is a keeper when he helps you to be the best version of yourself. If he's down for a little do-gooding or—better yet—encourages you to be more generous with your time, then things are on the right track. Collect and pack a fall care package, with things such as sandwiches, seasonal treats, and snacks, and deliver it to someone in need.
10. Forage for a centerpiece.
Who says you can't mix business with pleasure? Do a little foraging for the perfect accents for your home this fall—and tell your man you need his keen eyes. My mom always loved to incorporate nature into her home decor, and I remember one of my favorite chores was to go out and gather pinecones for her to spray paint gold and adorn our mantel. This fall, bring nature indoors for a homey touch. Pack a thermos of spiced apple cider, grab your guy, and hunt around for beautiful leaves to press and frame (you can follow a how-to here). Whether you are collecting leaves to press or acorns to spray paint, you will have plenty of time to flirt and crunch about in the leaves together—and that definitely counts for a date.
Photo Credit: Cynthia Chung Photography