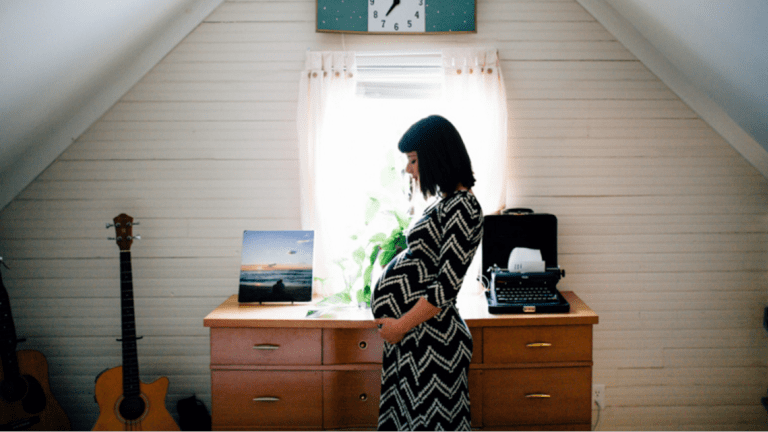 The Most Important Habit to Prepare Your Body for a Healthy Pregnancy
You're a lot stronger than you think, especially when you're pregnant.
Whether pregnancy is something you hope for or find yourself in the midst of, there's something you should know about your health.
In the past, doctors and well-meaning family members have discouraged pregnant women from exercise or, if your parents are like mine, doing any physical activity at all. A recent study published in the American Journal of Obstetrics & Gynecology sought to find a link between exercising while pregnant and risk of preterm birth.
"The thinking was that exercise releases norepinephrine in the body, which is a chemical that can stimulate contractions of the uterus and thus lead to preterm birth," says Vincenzo Berghella, M.D., Director of Maternal Fetal Medicine and Professor at the Sidney Kimmel Medical College at Thomas Jefferson University and the senior author of the study. "But numerous studies, including this new meta-analysis, have since shown that exercise does not harm the baby." In fact, it indicated several benefits for mama and baby.
Researchers found that, of the 2,059 pregnant women included in the study, there was no significant increase in preterm birth for women who exercised versus those who didn't. Women in the exercise group were carrying a single baby, started at a normal weight, and didn't have known health conditions that would prevent them from exercising while pregnant. They exercised anywhere from thirty-five to ninety minutes three to four times per week for ten weeks or up until their delivery.
For exercising moms, 73 percent gave birth vaginally versus 67 percent of those who didn't exercise. There was a lower incidence of C-sections: Seventeen percent of exercising women had a C-section versus 22 percent of those who did not exercise. There was also a lower incidence of gestational diabetes and a lower rate of high blood pressure in the exercising group.
This is all to say that, of course, regular exercise is part of most healthy lifestyles. And if your pre-pregnancy self enjoys working out, there's no reason to fear it if or when you become pregnant. And if you aren't already exercising, it's a good idea to keep up the habit now, especially if you plan on having kids someday.
Dr. Berghella notes, "The results of this analysis support current guidelines from the American Congress of Obstetricians and Gynecologists (ACOG), which sets the recommendations for our field. However, there are many reasons women pull back on exercise during pregnancy—discomfort, an increase in tiredness, and feeling winded by low-level exertion. This paper reinforces that exercise is good for the mom and the baby and does not hold any increased risk preterm birth."
If that's not convincing enough, the ACOG also lists reduction in back pain, promotion of healthy weight gain, and help in weight loss after baby is born as other keys ways exercise benefits pregnancy.
Studies done on pregnant mice indicate remarkable benefits that could apply to humans, too. The official journal of the Federation of American Societies for Experimental Biology published the first study of its kind earlier this year showing that adult offspring were more physically active and had greater fat loss long-term if their mothers were physically active during pregnancy.
Exercise is also indicated in reducing the chances of the baby developing neurodegenerative diseases, such as Alzheimer's, later in life. A 2011 study, also published in the FASEB journal, shows that mice bred to develop a disease similar to Alzheimer's showed fewer disease symptoms—such as protein plaque size and inflammation—and greater brain plasticity later in life when their mothers exercised regularly than those whose mothers didn't exercise.
The ACOG recommends 150 minutes of moderate-intensity aerobic activity each week. This could include brisk walking, gardening, swimming or other water workouts, stationary bicycling, and modified yoga or Pilates broken up into thirty-minute workouts five days a week or into smaller ten-minute workouts throughout each day. If you're active before pregnancy, the ACOG says you can continue your routine with your doctor's approval.
If you're worried about exercising while trying to get pregnant or once you are, we recommend talking to your doctor about what's best for your specific needs. But hearing about these benefits has us thinking that next time we see someone tell a pregnant woman to sit down and kick her feet up, you can bet we'll be inviting her to power walk with us instead.
Photo Credit: The Mullers