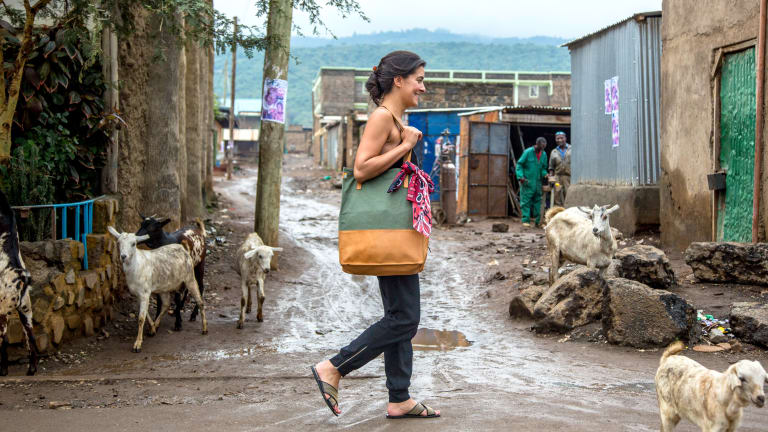 We're Swooning for Ubuntu Made's Ethically Made Bags
Feel-good fashion is always in season.
A new ethical brand has burst onto the growing scene of responsibly made fashion, making their official debut with a stunning collection of luxurious olive and brown leather bags, colorful scarves, as well as canvas and leather journals.
The brand is Ubuntu Made, and a quick Google search defines the term ubuntu as "a quality that includes the essential human virtues; compassion and humanity." A fitting definition for a non-profit company that exists to celebrate the artisan workers in Kenya and advance the ethical fashion movement. 
But a deeper reading of the African term reveals the core mission of the brand, "I am because we are." Zane Wilemon, founder and executive director of Ubuntu Made, echoes this mission when describing the impact of the fast-fashion industry. "The reality is that someone, somewhere is paying the price for the value of that good." Wilemon reminds us that every item we buy comes from a person; it exists because somewhere, somebody made it. 
They don't just make pretty bags though. Based in the Maai Mahiu community in Kenya, Ubuntu Made has driven sustainable revenue to Ubuntu's Foundation and other on-the-ground programs, which specialize in the much needed health and education philanthropic programs in the developing community. Their Ubuntu School specializes in offering therapy, education, and vocational training to youth with special needs, believing that every child should have the ability to lead a life with dignity. In a community of over 60,000 Ubuntu has become the biggest employer in the region they serve and have continued to build thriving clinics and schools.
Ubuntu Made partnered with Zazzle to create customizable, but ethical fashion pieces. Zane explained the inspiration behind the collection saying that he wanted to capture the colors of the Kenyan landscape with the earthly olive and brown tones while using surprising pops of blue and orange beading to represent the native Kenyans walking in the distance. Each bag has a 36-degree line stitch to represent the longitude of their factory, celebrating the scars that cut through the Rift Valley.
Gorgeous bags and a mission to improve lives? Now that's a brand we can get behind. 
Photo Credit: Georgina Goodwin