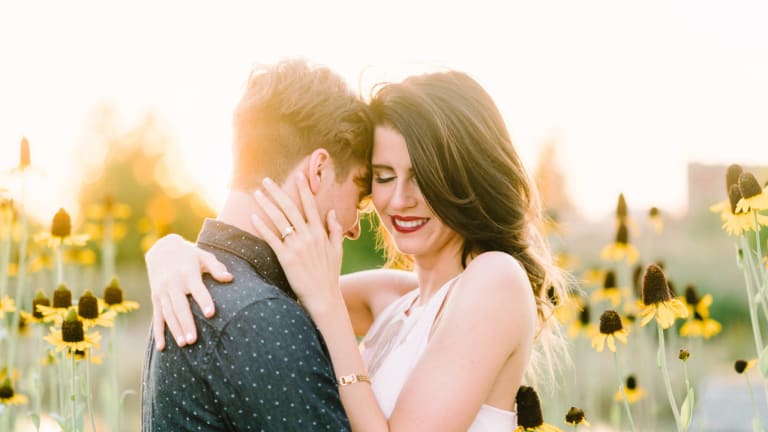 Have You Considered This Important Factor About Your Diamond Jewelry?
Carats and cuts aren't the only thing you need in a ring.

Labor Day is over, and that means, like it or not, we're barreling straight into the holiday season. Thanksgiving will be here before you know it, and it's all a snowball effect from there. But other than lots of food and family time, there's one other thing synonymous with this impending time of year: engagements. 
About one-third of all proposals happen between Thanksgiving and New Year's Day, which means soon enough your social feeds will be full of sparkling diamond rings.  
Cuts, precious metals, and embellishments aside, there's one factor about the ever-illustrious engagement ring that often isn't top priority, but you probably should consider it. And that is the social quality of your diamond. The diamond has been a symbol of inimitable beauty and prominence for centuries. But casting a shadow over the intriguing ancient lore of the radiant gem is the challenging social and ethical ramifications that became synonymous with the diamond industry. We've all heard the stories, seen the films. 
Partially because of the bad reputation and partially because of shifting financial priorities, many Millennials are foregoing diamonds altogether. But according to one study of 3,484 participants, two-thirds said they still want a diamond for their engagement ring. That same study revealed that 80 percent of Millennials said ethical sourcing was important to them when it comes to engagement rings. 
By digging a little deeper you can make sure your diamond is more than just your favorite accessory—it's one you can feel really good about wearing. The Diamond Empowerment Fund is a global nonprofit with a mission to make sure diamonds empower—not hurt—people in the areas where they are mined. Check out these remarkable stories of diamonds doing good, and hopefully, you'll be inspired to find a ring you can treasure even more knowing that it helped a third-world entrepreneur have a better life.
Committing to Communities in Russia //
One of the world's biggest diamond companies is the Russian-based ALROSA. The company has made strides to ensure that they combat the social tragedies associated with diamond mining and that they also improve the lives of their employees and the communities they do business in. As part of their promise, ALROSA says, "we see social policy as core to our operations." The company sees itself as a not just being part of its community but actually building it. "By improving the quality of life of our employees and their families, we have a more efficient workforce. We also protect our own long-term interests by contributing to the sustainable development of the regions where we operate." 
One of their efforts is based in Mirny, home to 35,000. ALROSA is the benefactor behind a thriving sports center there. More than 2,000 children participate in dozens of sports programs offered through the state-of-the-art ALROSA Cultural and Sports Complex, providing opportunities for the community's youngsters that go beyond the status quo.
The company also maintains strong ties with the Living Diamonds of Yakutia Natural Park to conserve biodiversity in the area. ALROSA is certainly committed to business practices that shine bright (like a diamond).
Giving Fresh Water in India //
What if a clean cup of water brought you visibly improved health, helped you make money, made you smile every time you drank it, boosted your self-confidence, and relieved your stress? Sometimes we forget just how impacting clean water can be in our lives, but this is a reality not escaped upon the villagers from Madhya Pradesh, 311 miles southeast of Delhi, India's capital.
All of this has been made possible by the new diamond project in India, backed by Rio Tinto Group, one of the world's largest diamond producers. Determined to do more than construct a mine site, the company is committed to sustainable development to improve the lives of those who live in the area. The goal? To help the villagers become healthier, happier, and more prosperous.
Rio Tinto Group joined forces with Haritika, a local non-government organization to transform the water supply of individual homes in the 15 core villages around the mining site (about 860 households containing close to 4,700 people.) Working with the villagers, the employees of Rio Tinto Group allowed for a clean water source going directly to their homes.
Funding Sustainable Business in South Africa //
You know the iconic phrase "A Diamond Is Forever"? Well De Beers, the world's leading diamond company, is responsible for that, and it's defined the diamond industry for nearly 70 years. But De Beers isn't just any old diamond manufacturer. Take for instance their entrepreneur endeavors in South Africa. The initiative is called "Zimele," the Nguni word that means to "stand on your own feet."
One of Zimele's best success stories is a woman named Mercy Sithagu who lives in a South African diamond community. She's the 51-year-old owner of Sithagu Farm which she founded in 2007. Thanks to a $12,000 loan from De Beers' Zimele organization, Sithagu was able to take her struggling 2-person-manned agriculture business and turn it into a prosperous community mainstay. She now owns a tractor, which she loans out to nearby farmers, and she repaid both that loan and second one in less time than expected. 
In 2012 her municipality named her "Female Farmer of the Year." She told the Diamond Empowerment Fund: "I was very excited. Since I never went to school, it felt like it was my graduation day." 
Thanks to efforts like these a diamond ring can mean more than just forever—it can mean helping someone less fortunate than us have a way to a better life.
Photo Credit: Cathrine Taylor Photography