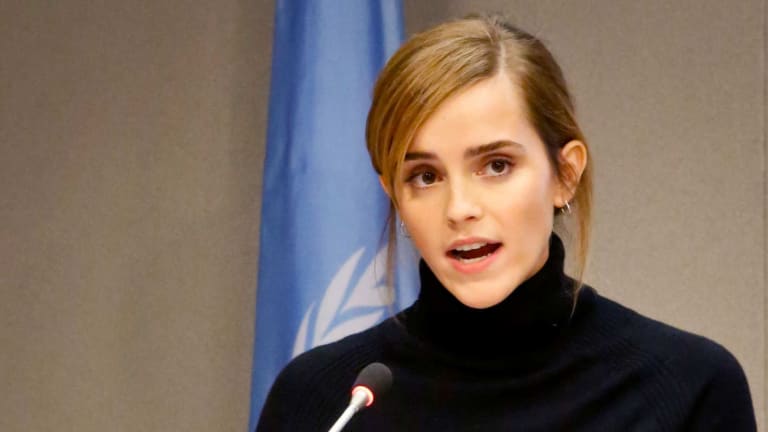 Emma Watson Made a Very Good Point About Sexual Assault In Her Latest UN Speech
What do you think about the actor's latest comments?
Earlier this week, actor come activist and Goodwill Ambassador for the UN, Emma Watson, gave another powerful speech on behalf of her HeForShe foundation at the United Nations General Assembly. Watson's speech was an occasion for her to unveil the first HeForShe IMPACT 10x10x10 University Parity Report, which involves 10 major university leaders (with places like Georgetown and Oxford Universities in the group) who have committed to making their respective institutions better examples of gender parity.
The beloved Harry Potter alum and star of the upcoming Beauty and The Beast live-action remake used her speech to highlight an important concern among campus environments—that of sexual violence.
As Watson stood before a room full of media and male leaders of major academic systems, she spoke of her own college years at Brown, the Rhode Island-based Ivy League institution. She urged listeners that "universities have the power to be a vital catalyst for change," saying that her own college experience shaped her in terms of work, community, politics, and more.
She pointed out that some universities, through their actions, seem to feed a narrative "that sexual violence isn't actually a form of violence." And she called upon all schools to "make it clear that the safety of women, minorities, and anyone who may be vulnerable, is a right, not a privilege," and to recognize that "when one person's safety is violated, everyone feels their own safety is violated."
Some may have seen the speech about sexual assault and safety as a bit of a departure from the contents of the actual report, which seem to focus mostly on achieving gender parity amid higher-ed administration, student bodies, representation, and more. But for some time now binge drinking and sexual violence—whether related or not—on campuses has become impossible to ignore, and a cause for discussion, which makes Watson's words not so unexpected.
In just the past year, we've seen countless stories of how serious this issue is. In January famed journalist Jon Krakauer released his harrowing book Missoula. The book was widely discussed and gave a prominent platform to the climate of sexual assault on campuses. Then there was the story of Stanford swimmer Brock Turner, whose short six-month sentence after being convicted of sexually assaulting a woman on campus sparked public outrage and a change to assault legislation in California. And how could we forget the story of the UNC Chapel Hill student who said police laughed at her account of being raped by a football player Allen Artis and treated her like a suspect? 
We also saw just this month, when colleges called their fall semesters to session, reports about a party invitation that went viral at the University of Pennsylvania. An email with the subject line "Wild Wednesday" was sent by an off-campus fraternity to an undisclosed group of people and offered a very creepy party announcement. The email contained a poem that said things such as, "Wednesday nights will get you going / With bankers flowing all night / Tonight is your first showing / So please wear something tight." The invitation also clearly invited "teases" to stay home. In response, female students printed the "poem" with the decree, "This is what rape culture looks like," and scattered hundreds of them around campus.
And these are just a few of the stories that became national headlines in 2016.
It's difficult to know what exactly it will take to truly impact change. We have seen some steps in the right direction. Many schools adopted new or updated programs this year that required freshman to participate in training or seminars about sexual violence, Penn State and Harvard among them. And people, like survivors of the horrible acts and those with celebrity platforms such as Watson, continue to herald this as an issue that affects us all.
According to the UN the universities who have partnered with the 10x10x10 plan share the common goals to: "1) Institutionalize zero-tolerance policies on sexual assault; 2) Provide campus-wide training and briefings for all faculty, administration, and students."
The UN reports, "One in three women worldwide is known to experience some form of physical or sexual violence in their lifetime. Many more victims remain silent due to shame, guilt, or fear." While public debate continues about whether figures like these are conflated—lumping all range of contact in their definition of violence—we can acknowledge that while we recognize there is a problem, it one that's particularly hard to track. The truth is if we want to combat sexual assault, we have to acknowledge it as a reality and try to understand what the victims go through. Julia Hogan addressed this when she wrote for Verily, "the best thing you can do for her is be her ally and advocate."
Advocates can come in many forms, and universities can be very powerful examples. As Watson and the UN hope to prove, "With more than half of the world's population under 30 and university graduation rates rising, universities have an unprecedented opportunity to make a difference." 
Photo Credit: Emma Watson