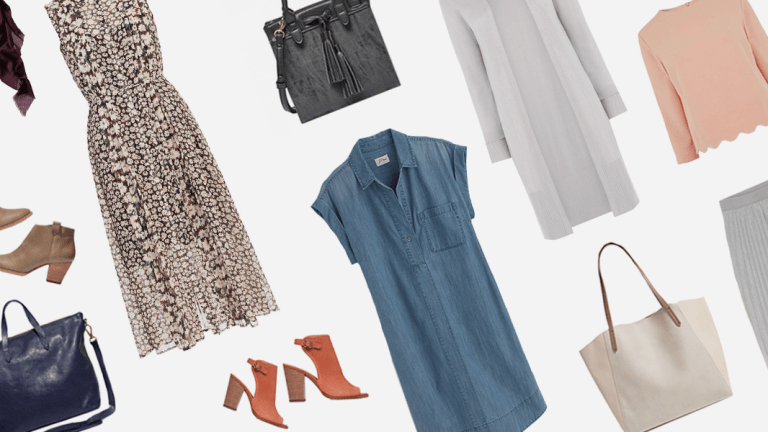 These 5 Wardrobe Staples Will Save Your Style During This Tricky Weather
No matter where you live, chances are the weather gets wacky this time of year. Here's how to combat it in style.
Summer is officially over, but for many of us, that means a forecast of confusing weather worthy of Katy Perry's "Hot N Cold" lyrics. Without a doubt, dressing during this transitional time period is tricky; one minute we're chilly and the next we're sweating. Putting together an outfit in the morning is no easy task, but a few key pieces can prepare you for an unpredictable day while carrying you into the cooler season ahead.
The Anorak //
Get ready to introduce a new jacket into your fall lineup. The anorak is perfect for dealing with hot and cold weather as its fabric is typically breathable cotton. Once the temperature really cools off, the anorak jacket will layer nicely over sweaters, and the drawstrings will help give you shape even when you're bundled up.
The Shirtdress //
The shirtdress that has been your trusty go-to this summer can help you transition with a single smart, longline cardigan. But if the weather heats up suddenly, you can easily take off this cardigan and throw it in your oversize handbag. When the biting winds of November come, you can layer up even further with a turtleneck under the shirtdress and tights or leggings.
The Pleated Skirt //
You know the pleated skirt that's been popular since last summer? Well, it's still very much a thing. Ideal for those who want to stretch their wardrobe, the pleated skirt proves its versatility when fall approaches. Instead of wearing it with your light and breezy tanks, wear a long-sleeve blouse to transition it into colder weather. As you start adding more and more layers as the month goes on, swap your sandals for ballet flats, and don't be afraid to add colorful tights. The pleated skirt you wore all summer will be the standout piece of even your most fall-appropriate outfits.
The Flare Jean //
The seventies are back in style, and that bohemian flare is breezy enough to keep you cool during the warmer days of fall and have your back when October hits. This doesn't mean you should be dressing up for Halloween early—keep the styling modern when it comes to this laid-back look. A delicate gold chain and autumnal bag will take this look out of the past, while a crisp white summer blouse will give you a minimalist edge. Forgo the wedges and throw on a pair of strappy heels for a day-to-night ensemble. When the wind picks up, try a stacked-heel bootie.
The Bootie //
Speaking of booties, these ever-popular kicks are one of the most cost-effective pairs of shoes you can own. Why? You can wear them all year long, and they go with almost every outfit. A printed dress, jeans, skirts, tights, etc.—they all look good with a bootie. Slip them on with a long dress to give your legs a little coverage from fall chills, wrap a scarf around your neck, and go.