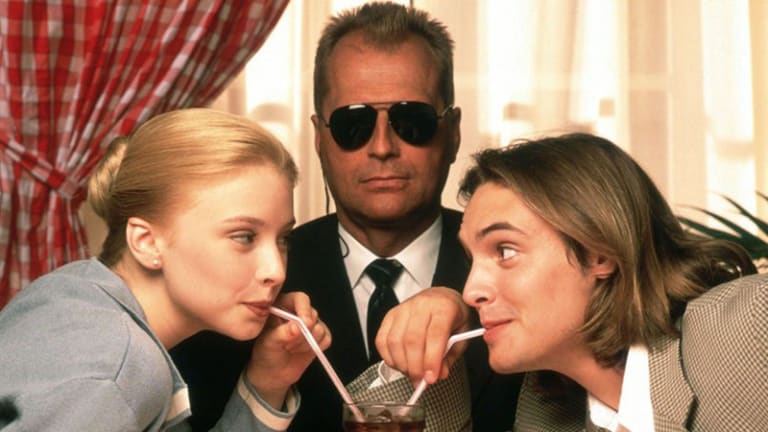 'Chasing Liberty' and Other Throwback Rom-Coms to Watch After the Presidential Debate Tonight
Because we'll need some lighthearted relief
The first official presidential debate is tonight, and it's sure to be lively. But amid all the he said, she said political happenings of late, sometimes we just want to think about the more lighthearted side of politics. What better way to do that than to look back at some of the best (if cheesiest) teen rom-coms that made holding political office look pretty darn appealing? As the real-life candidates take center stage, these fictional presidents, princesses, and otherwise political plotlines remind us of the simpler things in life.
Chasing Liberty //
Last week Mandy Moore returned to our screens for the first time in what felt like forever in the much-anticipated premiere of This Is Us on NBC. But flash back to 2004, and you'll remember Moore as Anna Foster, first daughter of the United States, in Chasing Liberty. In the movie Anna is frustrated by her over-protected public life, so she runs off to a music festival in Europe. Along the way she falls for a charming Brit named Ben (Matthew Goode), who turns out to have been an undercover security agent all along. Young love with a patriotic twist? Sure, why not.
The Princess Diaries //
OK, so this classic teen drama isn't about a presidency or even the American government, but it is about a young girl accepting her role as a princess, so we'll count it as politics. Trade the White House for a fictional European castle and monarchy, and boom, you've got a political plot for the ages. Anne Hathaway has never been so lovable as when she played Mia Thermopolis, frumpy schoolgirl turned poised leader of a nation.
What a Girl Wants //
While we're on the subject of European politics, who could ignore this gem that features Amanda Bynes at her prime. A girl from a humble New York City life finds out that her estranged father is a British Lord running for office. The best part is that this movie has two equally enticing romances—Daphne's (Bynes) and that of her father Lord Henry Dashwood, played by Colin Firth, who wins our vote every day of the year.
First Daughter //
After she was Joey Potter but before she married Tom Cruise, Katie Holmes played a small role as Samantha McKenzie, college-bound daughter of the president of the United States. Much like Chasing Liberty, First Daughter has Samantha fighting for normalcy while falling for an undercover agent as she navigates freshman year. By the way, Forest Whitaker directed this forgotten teen romance, so it might be worth revisiting.
My Date with the President's Daughter //
In keeping with the ever-so-popular president's daughter theme, this movie throws a little action into the mix as the commander in chief's daughter and her crush attempt to make it to a high school dance. Spoiler: They never do. But the civilian suitor does end up winning over the president's favor. Any Boy Meets World fan should remember this film fondly, as it starred Eric Matthews (aka Will Friedle). Sadly, there's no Cory or Topanga.
OK, now back to the real politics at hand.