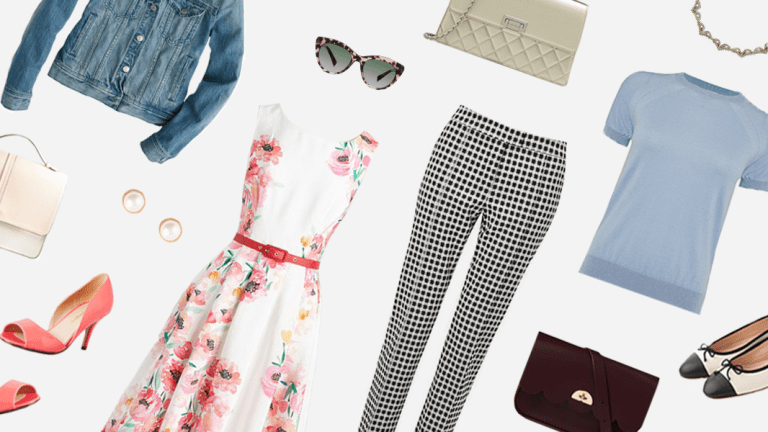 Watching the Movie Brooklyn Reminded Me of These 3 Simple Style Rules
You know you've seen it at least twice by now!
It's not often that a period film comes along with instantly copy-worthy fashions. Such is the case with this year's coming-of-age story, Brooklyn (which was just released on HBO streaming platforms). The story follows the journey of Eilis, a young Irish immigrant who is forced to grow up quickly as she faces a new life in Brooklyn, NY, in the 1950s. Eilis overcomes grief, falls in love, and ultimately finds herself. Unsurprisingly, Eilis' wardrobe similarly depicts her internal maturation and self-discovery. 
A few style lessons can be gleaned from this inspiring film, and we've taken some notes! (Warning: spoilers ahead!)
01. Find Your Color & Your Confidence //
The beginning of Brooklyn shows Eilis wearing darker, muted colors. The somber tones continue as she struggles with homesickness, but as Eilis adjusts to life in New York and falls in love with Tony, her wardrobe begins to brighten. Eilis starts wearing cheery yellow, pink, and blue. These colors complement Eilis' fair skin tone and bring out her eyes. As she returns to her home town in Ireland, she wears a bright blue dress that marks her newfound identity and her development into a woman. 
Eilis' sky-blue dress is a perfect example of how the right color can make all the difference. Figure out which colors flatter your skin tone, and pull them into your daily rotation!
02. Don't Be Afraid To Flatter Your Womanly Shape //
Brooklyn is very much a story of a girl becoming a woman, and this is most noticeable when Eilis returns to Ireland and everyone is noticing how much she's changed. Gone are the frumpy fits and dowdy dresses—Eilis is conscious of her figure and dresses to flatter it. In one particular scene, she wears a stunning blue fitted sweater that is far from drab.
In a modern era full of boxy, androgynous fits, it's easy to forget to grab items flatter our natural body shapes. Eilis proves that a flattered figure is timeless and a celebration of being a woman.
03. Have Fun & Try Bold Prints  //
How could we leave out the ending scene? Eilis' bold floral skirt stands out as the most memorable outfit in the film, contrasting her outfit from the beginning of the movie and ultimately representing her growth. 
Eilis' printed skirt reminds us to have fun with fashion and to not always take our style so seriously. Have fun and add a little print and color in to your life!