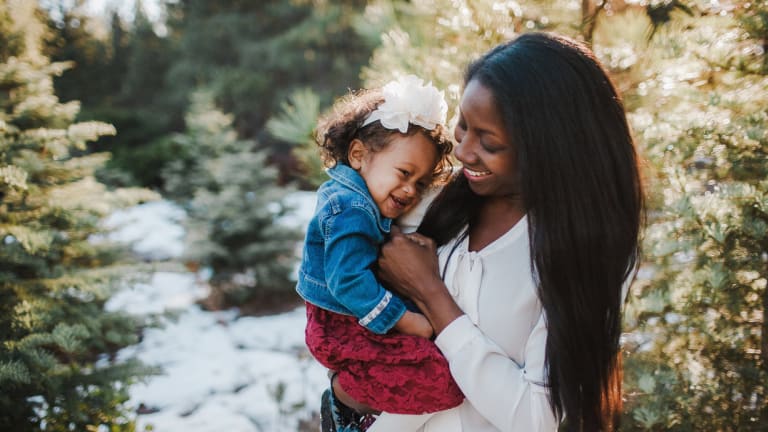 6 Daily Habits to Show Our Daughters (and Ourselves) We Respect Our Bodies
Because we deserve so much more.
At Verily, we're always striving to be the best version of ourselves. When it comes to fitness and healthy living, we know this means balance not blame and grace over guilt. 
But somewhere in the back of our minds, there's often a tiny voice whispering that we're still not good enough. We aren't thin, toned, or taught enough. We're not disciplined enough. Or maybe we messed up, so what's the point in trying?
These thoughts are bad enough when kept to ourselves, but they become even more problematic if we rub off on others—especially our daughters.
Earlier this year, Girls actress Zosia Mamet made waves when she wrote that she inherited many of her body image issues from her mother, an actress and dancer:
"She struggled, so I struggled," the 28-year-old says of the relationship among herself, her mother, and the body issue demons that afflicted them both. Mamet reports that her mother was "always on some sort of diet, and everything I was fed was nonfat or sugar-free. When I was hungry, her first response was, 'Are you sure?'"
Angela Mader, founder and CEO of fitlosophy, is trying to change this by putting the power of self-love back into our hands. Mader creates products that promote having a healthy body image and reaching wellness goals in a positive way. She shares:
"After struggling with body image issues for many years—starting when I was around 14 and through college—it was through the process of journaling that I overcame a 7-year battle with eating disorders. Journaling allowed me to regain some sense of control, but also be able to plan and work toward goals without counting calories or obsessing. It was powerful for me and I knew if it helped me, then it could help others as well." 
Her experience inspired her to help other women and start her own fitness and nutrition journal, fitbook™. Here are Mader's tips on how to show our daughters (and ourselves) to love our bodies, one healthy habit at a time.
01. Prioritize mindfulness every morning.
"Before you start your day, be mindful and set intentions. Mindfulness can take many forms, whether it be meditation, prayer, or journaling, but for me I spend 10-15 minutes each morning in prayer, reading my devotional, and journaling gratitude. Then, I make a list of the 3 things I'm going to accomplish so I can be intentional in how I approach the day." Your intentions make up your overall plan for the day. Mader says that achieving them should boost your confidence and make you feel good about yourself. This is a practice you can involve your children in as you encourage them to be reflective and intentional too.
02. Set smaller health goals.
After setting your goals, break them down into smaller, achievable goals on a weekly basis, and then track your progress each day. Mader says that this process allows her fitbook users "to think big, push themselves to accomplish a goal, and then remind them to reflect on the process and reward themselves along the way."
So instead of saying, "I'm going to exercise today," commit to taking a 10-minute walk during your lunch break. Instead of saying, "I'll eat healthy today," say, "I will only have one afternoon snack and I won't eat after 9 p.m." Small steps reap big changes. And when your daughter sees you engage in simple healthy behaviors rather than reactionary extreme ones, she'll mirror the same. 
03. Thank your body out loud.
I'm not pregnant, but, as Jennifer Garner said on Ellen in 2014, "I have had three kids, and there is a bump. From now on, ladies, I will have a bump, and it will be my baby bump. And let's just all settle in and get used to it. It's not going anywhere. Sometimes my daughters pat my bump and ask, 'Do you have a baby belly, Mommy?' Instead of snorting, 'Pfff, no,' I place our hands on my stomach and say, 'Yes, I have a baby belly because this is where I carried you when you were babies. Let's say thank you, baby belly!' They chime, 'Thank you, baby belly!' It makes me grateful for my body's role in creating our family.
Mader fosters this same posture of gratitude through her work. "The fitspiration journal, which is more of a gratitude-meets-fitness guided format, asks you to jot down three things you're grateful for each day, set one goal daily to live life fit, and then asks you to reflect on one thing you appreciate about your strong bod." While it does include space to track food, movement, and mood, and features tips and inspiration, the intention is to promote a positive mindset, encourage journaling thoughts, and inspire a grateful heart. 
Research shows that grateful people report higher levels of happiness, are more physically active, sleep more soundly, and have lower levels of depression. One study of 1,035 high school students found that students who logged gratitude had more friends and higher GPAs. An attitude of gratitude goes beyond just making you happy—it positively influences those around you too!"
So thank your arms for lifting the groceries, your legs for a good spin session, your heart for pumping your blood, and your belly for nourishing your body. You'll be happier, and healthier, for it.
04. Steer clear of "fitspo."
"I believe that women especially are consistently bombarded with images of an unattainable, idealistic, yet idolized standard of what beauty is," says Mader. "My goal is to redefine this concept of 'fitspiration' entirely. The fitness industry has a goal of helping others get healthy, but their approach is not working. Research actually shows that frequent exposure to images of models for 'thinspo' not only doesn't aid in weight loss, but actually results in weight gain. Think about it: how good do you feel about yourself when you see someone's 6-pack abs and you're over there just trying not to die during your boot camp class?"
"We need to stop glorifying the half-naked fitness models/celebrities (which also objectify women), put some clothes on, eat healthy, and move more. Girls need role models that exemplify health; role models who communicate that your body does not determine your worth," says Mader. "Healthy living is a balance of physical, mental, emotional, and spiritual wellness–not just how hot you rock an itty bitty bikini." (Slow. Clap.)
05. Put an end to body-shaming.
Fat talk and body shaming don't encourage healthier choices. According to this New York Times article, such language does the opposite—it makes women less likely to take care of their bodies.
"Improving body image is an intentional effort," Mader reminds us, "so for that I specifically encourage women to be aware of how they talk about their body (no negative self-talk!), be selective with who you surround yourself with (are they positive or negative in how they talk about themselves?), and take a stand on what media you expose yourself to (key word: 'unfollow'). When you realize that your self-perception is within your control, it gives you a sense of power and that in itself is highly valuable."
06. Tweak your week one healthy habit at a time.
There are four health "tweaks" that Mader swears by in fitbook lite, a fitness + nutrition journal to kickstart your goals to lose five or more pounds in six weeks. "This isn't a quick fix—it's a lifestyle," says Mader.
The four tweaks are "#move30 (whether it's a walk or killer workout, just move for 30 minutes per day), #sip8 (drink your water to stay hydrated and healthy), #eat5 (servings of fruits and veggies, simple yet most people don't) and #stopby9 (which means don't aimlessly eat your way through the kitchen at night—go to bed and try to get 7 hours of sleep. These are all research-backed habits that are proven to work!"
So whether it's just for yourself or for the health of your whole family (and even your friends) practice healthier ways to care for your body and pass them on to others!
Photo Credit: Taylor McCutchan