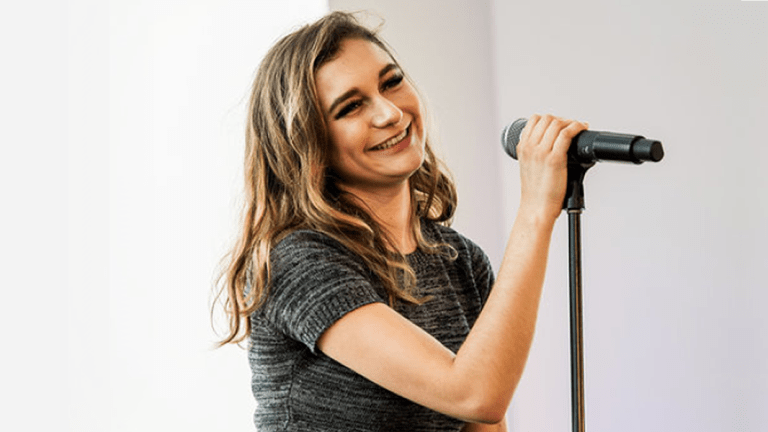 4 Chart-Topping Songs with Messages About Real Female Empowerment
Looking for a new gym playlist? Here it is!
Sometimes radio airwaves can be a depressing land of lyrics when it comes to women. It can seem like all of them involve some element of objectifying content, painting pictures of women as less than we're worth. But every once in a while, you hear a song where a female vocalist pushes back. Right now, there are four of these among the Top 40 in the U.S., and they all sing like anthems celebrating authenticity. Let's give them a listen, shall we?
Sia's 'Bird Set Free'
By now we all know that Sia is playing the game much differently than most. She's been open about her desire to be known for her music instead of her face. She's also shown refreshing candor when it comes to the anxieties and insecurities we all face but often don't relate to when we think about celebs.
In her power ballad "Bird Set Free," Sia professes, "And I don't care if I sing off-key / I find myself in my melodies / I sing for love, I sing for me / I shout it out like a bird set free."
The notion that you should do something you love for your own fulfillment rather than something to be judged by others is certainly an idea we should all embrace. She says, "But there's a scream inside that we all try to hide." Sound familiar? We've all been there. Feeling like no one gets us. But there's a way through it, and Sia is here to guide us. Get ready to play this on repeat while singing at the top of your lungs.
Daya's 'Sit Still Look Pretty'
Going by the name Daya, Grace Martine Tandon is a 17-year-old girl from Pittsburgh whose song "Sit Still Look Pretty" is her third entry into the Top 40. It's especially refreshing to hear such young voices move up in the music industry, challenging the roadblocks women in entertainment face. Daya sings:
"I'm never gonna be that girl / Who's living in a Barbie world / Could wake up, in makeup, and play dumb / Pretending that I need a boy / Who's gonna treat me like a toy / I know the other girlies wanna wear expensive things and diamond rings / But I don't wanna be the puppet that you're playing on a string . . ."
Three cheers for writing our own stories!
Not only does Daya's song capture a sense of letting go of others' expectations, but it also provides a healthy dose of self-confidence.
"This gal right here's gonna rule the world / Yeah, that is where I'm gonna be because I wanna be / No, I don't wanna sit still, look pretty."
Pink's 'Just Like Fire'
Also touching on a similar theme of embracing authenticity and boosting self-confidence is Pink's current hit "Just Like Fire." Last year Pink famously criticized the VMAs after she found nearly all of the performances highly sexualized and devoid of inspiration. "Music is supposed to inspire," she posted on social media. "It saved my life. This trash won't save any kid's life. In a world that is even scarier and with lives still worth saving, who will stand up and have soul? Disenfranchised to say the least. Let down by my industry and peers."
Surely Pink's disappointment in the current music offerings played a role in inspiring her to deliver her latest hit. In it, she touches on the messiness of the world along with the uniqueness of each person.
"Just like fire, burning out the way / If I can light the world up for just one day / Watch this madness, colorful charade / No one can be just like me anyway."
In addition to each person being unique, Pink highlights the importance of each person standing up to pressures to be the same. "See, I would rather we just go our different way than play the game," she sings. "Just 'cause nobody's done it / Y'all don't think I can run it / But look, I've been here, I've done it / Impossible? Please watch, I do it with ease."
Easily one of the catchiest and most empowering ballads on the radio right now.
Katy Perry's 'Rise'
Lastly, Katy Perry's song "Rise" is moving up on the charts. While it may not have the spark of past anthems like "Firework" and comes off more subtle, it contains a depth that rings of walking a road of authenticity even if that means changing one's course. "I won't just survive / Oh, you will see me thrive," Perry sings. "I won't just conform / No matter how you shake my core / 'Cause my roots—they run deep . . . / Victory is in my veins." In addition to singing of confidence, Perry suggests it requires not submitting to others if it means losing oneself: "I will not negotiate / I'll fight it."
Perry culminates in her refrain, "When the fire's at my feet again / And the vultures all start circling / They're whispering, 'You're out of time' / But still I rise." Nothing like an anthem of reinvention to refresh one's week.
Here's hoping authenticity anthems continue to populate airwaves. While they may be outnumbered by less positive messages in songs today, the powerful message of these drowns out the others any day.