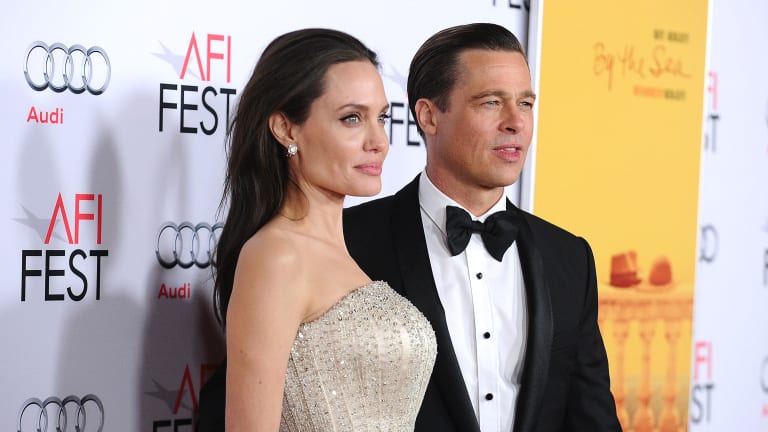 3 Conversations to Have Before Marriage to Avoid Irreconcilable Differences With Your S.O.
Our hearts go out to Angelina Jolie and Brad Pitt, but there's a lesson here for the rest of us.
As of September 20, the empire of Brangelina has officially come to an end. 
Sigh. As jaded as I am about celebrity marriages, I am saddened to hear the news that Angelina Jolie filed for divorce from her husband of two years and partner of 12 years, Brad Pitt. But what strikes me about this sad business is that there is, at least, a learning opportunity for all those who are hoping their relationship will last.
The divorce papers filed by Jolie on Monday cite irreconcilable differences, which sources have partially attributed to differences in how they wish to parent. The couple share six children together, and Jolie has petitioned for physical custody of them. 
We don't want to speculate (because who ever really knows), but if this is the reason behind the Brangelina divorce we should all take hope in knowing that this kind of marital chasm can be avoided. Things happen, and no one can predict the future; But setting your marriage up for success starts with those important conversations before you say "I do" to make sure you are on the same page. 

Here are three essential conversations to have while dating so you don't find yourself three years in and facing differences that threaten to tear a family apart. 
01. Do we share the same faith and values?
Maybe you share the same spiritual beliefs or maybe you don't, but that's not the end of the conversation when it comes to getting ready for marriage. So much of how we view the world, what we aspire to, and how we make day to day decisions is influenced by a person's faith or sense of spirituality. In marriage, big decisions are going to need to be made together, and having a shared system of values and beliefs will ensure you have a strong sense of solidarity or "we-ness". Ask your S.O. how important his faith beliefs are to him and how he sees that playing a role in his life when he has a family one day. His answer will be illuminating and will help get on the same page if possible.
02. What are your thoughts on raising children?
The Jolie-Pitts have a family dynamic far from ordinary. Not the least of their eccentricities being that their legal marriage actually seemed like a bit of an afterthought in the grand scheme of things. For most of us, marriage is a huge milestone and one that comes before children. It may feel weird when you are just dating and kids seem far off, but the conversation of how you want to raise your kids will have a huge impact on your marital satisfaction. 
Keep in mind, it's not just a question of "Do you want them?" and what girl and boy names you prefer (although that is fun game to play sometimes!). You and your guy should discuss how many kids you would be open to having, and your thoughts on family planning. How important is it to you that you have children? Are you open to adoption? How will you handle it if you face fertility challenges? And once children come, what methods will you use to parent them? Discipline them? Teach them? How were you raised? Do you imagine parenting your children the same way? Disagreement on any one of these questions has the potential to cause serious distress and unhappiness in your marriage, so it's important to tackle this topic before you tie the knot.
03. What is your relationship with money?
I know nobody likes to talk about their money problems, least of all with their partner. It's easy to push tension over money to the far corners of your relationship when you are dating, but less so when you have shared bank accounts as husband and wife. Money is one of the most common stressors in marriage and frequently listed as one of those "perennial" problems—but according to marriage researcher Dr. John Gottman, unresolved differences in monetary matters are not necessarily a deal-breaker. Meaning, just because you like to be thrifty and he's more laid-back doesn't spell doom for your marriage. That being said, money matters must be handled well, and it helps to be clear about one another's expectations and dispositions regarding money ahead of time.
One of the most important, and illuminating questions to ask your partner about money is: What is your relationship with money? Here you can have a conversation about what scares you about dealing with money and how you have dealt with it in the past. Then there are other questions like: In reality, where do you spend your money? Do you like checking in with your budget regularly or do you update your Mint account once a year and then forget about it? What are your savings goals? Work on a budget now, before you are married, and itemize your expenditures by priority.
Let's hope for the best for Brad Pitt and Angelina Jolie and their kids and use this as an opportunity to have some productive discussions before we get carried away by the fantasy of being Mr. and Mrs. Smith. 
Photo Credit: Getty