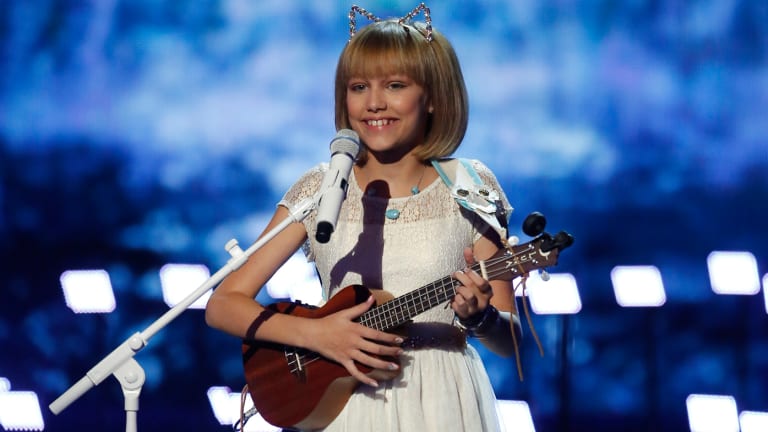 This 12-Year-Old 'America's Got Talent' Winner Has So Much to Tell the Modern Woman
With a beautiful voice and powerfully true lyrics, she's a star to watch.
Grace VanderWaal, a 12-year-old ukulele player, singer, and songwriter, has been captivating viewers since she sang her first note on the latest season of America's Got Talent. In that first performance she earned the coveted "golden buzzer" from judge Howie Mandel. And this past Friday she received a bouquet of flowers from Taylor Swift after winning AGT. Cute story, right?
Well, yes. But this isn't your typical case of cute-kid-beats-the adults. VanderWaal is legit. Like, "I had no idea that was a 12-year-old" kind of legit. She has a remarkable, unique voice—Ingrid Michaelson meets Sia meets I don't know what. What's even more surprising than her voice is that VanderWaal's lyrics offer a mature and heartfelt insight into the mind of a modern young woman. Her songs strike truths about common insecurities women face—and their strengths.
'I Don't Know My Name'
In this debut performance for a national audience, VanderWaal performs "I Don't Know My Name," a vulnerable tune that rings of a young girl's quest for self-discovery. VanderWaal sounds wise beyond her years when she expresses at the start that she's not quite sure who she is, and she's OK with that. "I don't know my name / I don't play by the rules of the game," she sings in an almost sheepish voice. But the honest vulnerability in her voice ends up being what makes the song—and her performance—so powerful.
'Light the Sky'
In another performance during the season, VanderWaal sings "Light the Sky," an us-against-the-world ballad of friendship. "The stars are dull when they're compared to you and I / And if people don't like it, then they can close their eyes / 'Cause we're not the same and we don't have to try / We're brighter than fireflies, we're gonna light the sky." Not only does her song sound like it was written by an established pop star, but after a listen it also becomes quickly apparent that she's living out the very meaning of the words she's singing. #CanIbuyyouralbumalready?
'Clay'
In the finals, VanderWaal sings another momentous number called "Clay." "Your silly words," she sings, "I won't live inside your world / Because your punches and your names / All your jokes and stupid games / They don't work / They don't hurt / Watch them go right through me / Because they mean nothing to me." The song culminates to a refrain that screams of the well-ordered confidence that makes one impenetrable to the immature attempts of others to bring one down. "Try to change my shape / But baby, I'm not clay," she belts. 
In a world where the media, advertisements, and messaging all over music and pop culture seem to be particularly narrow for women, we know there are forces out there trying to change our "shape," so to speak. In this context, VanderWaal's young voice and fresh lyrics couldn't be more beautiful music to my ears. 
Photo Credit: NBC