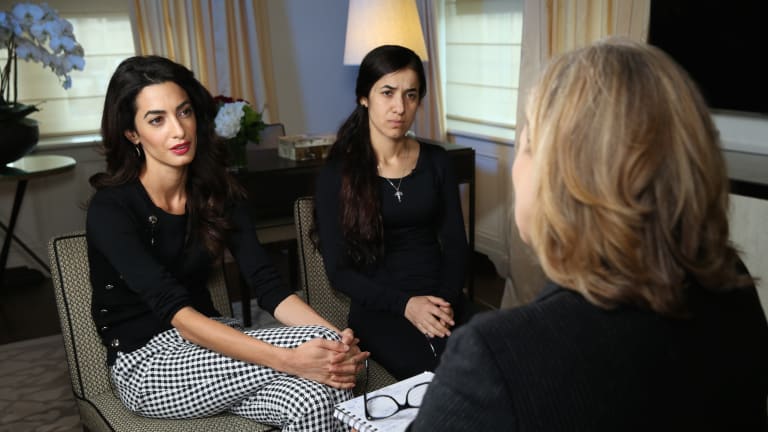 Amal Clooney Takes on ISIS and Proves It's Always Worth It To Do What's Right
This talented human rights lawyer is standing up to one of the world's biggest evils.
Fred Rogers (aka Mister Rogers) used to say, we should "look to the helpers" for reminders of hope. With news headlines so depressing—especially with explosions in New York this week—these are precisely the times we need to look to the people helping to make the world a better place. Which is why human rights lawyer Amal Clooney and trafficking survivor Nadia Murad caught our eye.
We've already come to love Amal Clooney for her accomplishments (and her style). She's also proven capable of marching to the beat of her own drum in the face of critics who'd suggest she needs to keep her maiden name to be feminist. But right now Clooney's showing herself to be nothing short of a real-life heroine—using her experience and expertise to stand up to arguably the largest force for ill in the world today, ISIS.
As NBC reported yesterday, Clooney is spending her time lately traveling the world and gathering testimony from survivors of abuses at the hands of ISIS in order to encourage world leaders to stand up to the violence and gross injustices.
At a UN assembly in New York on Saturday, Clooney exclaimed, "I wish I could say that I was proud to be here. But I am not. I am ashamed, as a supporter of the UN, that states are failing to prevent or even punish genocide, because they find that their own interests get in the way. I am ashamed, as a lawyer, that there is no justice being done and barely a complaint being made about it. I am ashamed, as a woman, that girls like Nadia can have their bodies sold and used as battlefields. I am ashamed as a human being that we ignore their cries for help."
In the NBC interview with Cynthia McFadden, Clooney emphasized that bombing ISIS "is not enough. You can't kill an idea that way. I think one of the ways to take action against that is to expose that brutality and that corruption, and one way you can do that, partly, is through trials."
"I believe in international justice," Clooney adds. "I believe it's important that you don't just turn the page without people being held to account."
It's hard to deny it. The Nuremberg trials were without doubt instrumental in making a worldwide statement of solidarity against the evils of Nazism. Clooney's goal is to do the same for ISIS, and given the confusion in conflict areas like Syria, those touched by ISIS' abuses are calling Clooney "their only hope."
According to reports from the United Nations, 5,000 Yazidi people have been killed at the hands of ISIS thus far, and 3,200 more remain captive. Numerous women and girls are being trafficked into sex slavery, boys are being captured to be trained into jihadis, and many more are brutally killed.
The accounts echo the reports from Verily published in October and December last year, detailing the horrific violence women and girls face in Syria and Iraq including sanctioned sex slavery of Yazidis like Clooney's client Nadia Murad.
Murad, who was named a UN Goodwill Ambassador on September 19, lives a remarkable story of resilience and courage. After her brothers and mother were killed, she was taken into captivity by an ISIS general and gang-raped. She managed to escape and now risks her life to fight for those still in captivity. "Yes I put my own life at risk," Murad said in the NBC interview, "but I don't have a life without giving hope to other victims."
Yesterday at the UN, Murad spoke convicting words: "If beheadings and child rape doesn't move you to act, when will you?"
Since giving a previous UN testimony in December last year, Murad said, "I have been on an international campaign to raise awareness about the Yazidi genocide, the plight of Yazidi women and girls, and speaking against ISIS, a group that continue to threaten the entire world."
After meeting Murad, Clooney solidified her dedication to the cause. When NBC's McFadden asked Clooney how she made the decision to represent Murad legally, Clooney replied, gesturing toward Murad, "she made me make the decision, because I met her and I just thought, I can't walk away from this."
"I can't imagine any worse things being done by one human to another," Clooney added. While Murad experienced brutality at the hands of ISIS, she has experienced compassion and support from Clooney. That's where we find hope. Hope in Murad's bravery to speak out and fight for the captives to be freed. Hope in Clooney's resolve and dedication to the cause. Hope in two women standing together to fight an enemy few else in the world would dare. It's that hope that reminds us all that we, too, in our own capacities, can be inspired to change the world for the better, as well.
Photo Credit: NBC