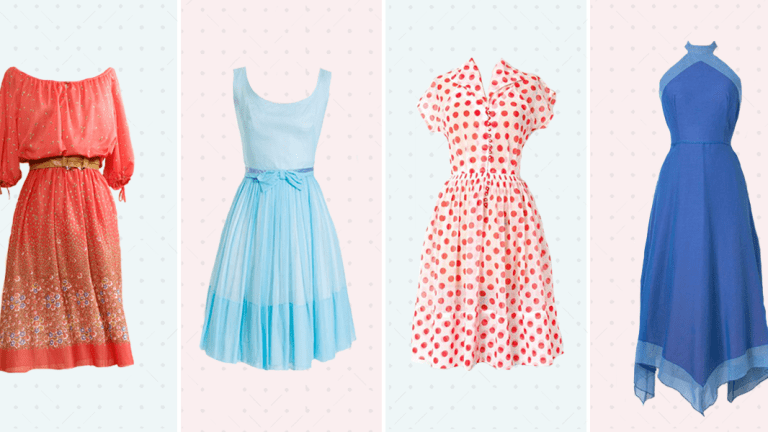 The Best Etsy Shops For Pretty Vintage Dresses
Forties, fifties, sixties, seventies, or eighties—which decade has your favorite style?
There's nothing quite like a one-of-a-kind vintage score to make a girl extra-proud of her wardrobe. Perhaps it's the pure victory of the discovery, truly a treasure hunt in its own right. Or maybe it's simply knowing that you possess a little piece of history and that a woman from the past has passed down her favorite dress to you. You might just be a sucker for quality items with precise stitching, lining, and materials (we don't blame you!).
Whatever your reasons are for being a vintage-lover, we've searched high and low for the best vintage dresses—just for you.
1940s // 
A sure way to identify a 1940s dress is by its squared-off shoulders, quarter sleeves, and high neckline. These Lauren Bacall–worthy dresses cinch in at the waist and gracefully lie in a subtle A-line silhouette. They offer a more mature, refined vintage look that harks back to the days of the dame, and we couldn't be more inspired.
1950s // 
The iconic fit-and-flare dress hails from the 1950s, so of course these are our faves of the bunch. With full circle skirts and flatteringly fitted bodices, who couldn't love this romantic silhouette? Dresses from this decade focused on the little details we just don't see in modern dresses, such as unique prints, unexpected embellishments, darling buttons, ribbons, and vibrant colors.
1960s // 
The 1960s brought in a more modern silhouette with the pencil dress. Form-fitting throughout, the "mod" dress has a boxier fit with a higher neck and is often sleeveless. Although fitted, the material for these dresses is not skintight or stretchy. You will most commonly find these styles in sturdy fabrics such as tweed, jacquard, and satin brocade.
1970s // 
The seventies were all about being comfortable in your daily ensemble, introducing breezy bohemian cotton frocks and lightweight gauzy dresses. The fashions of the seventies also experimented with new necklines and silhouettes. The halter and off-the-shoulder looks reigned, while the maxi dress became a wardrobe staple and floral prints a must.
1980s // 
The 1980s certainly knew how to experiment with shapes and colors. Known for its extremes, the eighties produced puffy sleeves galore, oversize silhouettes, and the punchiest of prints. When approaching fashion of this time with a tasteful eye, it is possible (believe it or not) to find a gem that you can incorporate into your everyday wardrobe.