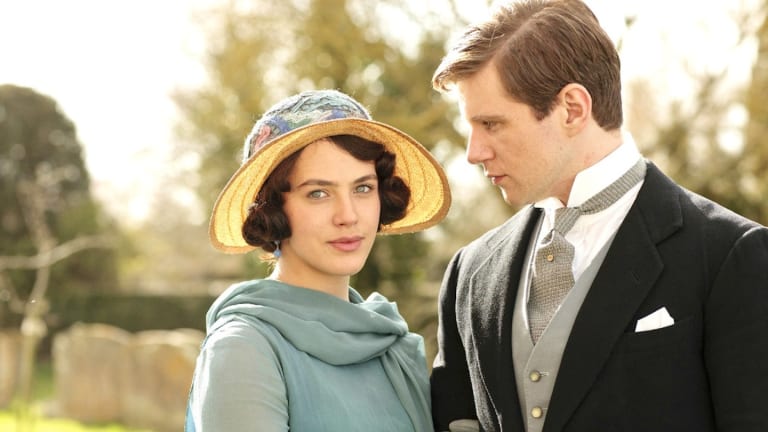 Does Your Relationship Look Like One of These On-Screen Romances?
Why these on-screen relationships work in real life, too.
Have you ever sat there and wondered what it is exactly that makes your favorite on-screen couple so likable? Aside from the fact that their relationships are totally pretend, there are actually a few couples whose romance dynamics are good templates for the rest of us.
You see, there are signature characteristics of happy and lasting relationships that are easy to pick up in your favorite on-screen duo—and even in your own relationship, for that matter.
Dr. John Gottman, a marriage researcher who has studied married couples extensively—both what works and what doesn't—discovered that happy couples tend to have specific identifiable characteristics. According to Dr. Gottman, happy–stable couples (that is, couples who are both happy and likely to stay together) can be identified in three categories: The Conflict Avoiders, The Validating Couples, or The Volatile Couples.
I know some of those may have you thinking, "Wait, what?" How can a "volatile" couple be happy? But each of the types has defining characteristics that make the relationship happy for them and likely to stand the test of time. Let's look at some of our favorite pop culture examples.
Jim & Pam (The Office): The Conflict Avoiders
For the Jims and Pams of the world, pretty much all the tension in their romantic lives is a result of avoiding confrontation—and looking confusedly at the camera instead. Conflict avoiders, such as Jim and Pam, would rather live with the discomfort of problems than express their needs in the relationship. Generally their relationship is happy, and that suits them fine. Take, for example, how long it took Jim to tell Pam how he felt about her. Then of course, there was all the tension that built up around their feelings concerning Jim's aspiration for a new job with Athlead, which ended up leading them to couples counseling.
What makes them work?
Despite being quite independent with separate interests and passions (e.g., Pam with art and Jim with sports), Conflict Avoiders easily find points of interdependence where they show caring and connection. Think of the way Pam and Jim use their love of office pranking and teasing Dwight to come together and the way they support one another in their dreams for something more beyond Dunder Mifflin. Thanks to this balance, Conflict Avoiders tend to maintain Dr. Gottman's magic 5:1 ratio—that is, five positive exchanges for every one negative interaction—that keeps happy couples, well, happy.
Sybil & Tom (Downton Abbey): Validating Couple
Validating Couples, such as Sybil and Tom, tend to be highly competitive, and said competition can easily become a power struggle. Sybil and Tom, both passionate about politics, often found themselves at odds with one another while stubbornly insisting on doing something dangerous to prove a point. Sybil would be among dangerous throngs of voters, and Tom would throw himself into tenuous schemes to upset the ranks of the upper class. In fact, their whole relationship could arguably be centered around a struggle for power—Sybil to have power over her own life and Tom, similarly, to break free from the bonds of classism.
What makes them work?
The secret ingredient for Validating Couples is their ability to understand one another and accept the influence of the other. Throughout Sybil and Tom's love story, they were constantly striving to understand one another's worldview and inspired the other to be better. The best example of Sybil accepting Tom's influence was in the very beginning, when Tom challenged her to choose the design of her dress for herself, and she came home with a daring pair of harem pants instead. Dr. Gottman points out that accepting one another's influence like this is an important quality of a happy–stable couple.
Noah & Allie (The Notebook): Volatile Couple
At first glance, the story of Noah and Allie seems doomed for failure. Allie's life of wealth and privilege seemed at odds with Noah's humble, working-class background. To make matters worse, they fought like cats and dogs. Unlike the Pams and Jims of the world, Noah and Allie are intensely emotional and thrive off of debate. A prime example was the famous "What do you want?" argument when Noah demands that Allie make up her mind at the end.
What makes them work?
It's not just emotional highs and passionate fights that define the Volatile Couple. Noah and Allie also prove to have a good sense of humor; they love to tease one another and have fun. Additionally, while they tend to argue a lot, the focus of their fights is on connection and communication rather than contempt. When balanced with connection, communication, and humor, Volatile Couples can be both happy and stable and have twice the fun.
As you can see, happy–stable couples all have one thing in common: They are able to maintain a 5:1 positive to negative ratio. Whether it's difficulty expressing needs in the relationship, power struggles, or fighting, each of these couples counterbalance all of that with connection, caring, and laughter. Relationship-strengthening qualities come more naturally to some than to others, but all of these can be worked on and intentionally practiced to help your romance be happy and stable, too.
Photo Credit: PBS