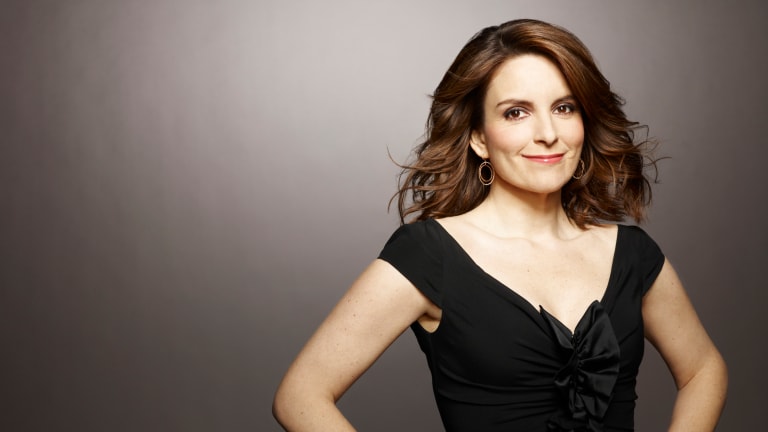 Jokes Aside, Here Are 3 Things Tina Fey Gets Right
This comedian made some striking points in a recent interview.
I've always been a fan of comedy, and if there's anyone who never fails to make me laugh, it's Tina Fey. Her witty humor, impeccable writing, and unwavering feminism inspire a sort of respect and awe that I have for very few—if any—celebrities. But, as the second season of The Unbreakable Kimmy Schmidt came to a close, I realized we hadn't been seeing much of the show's co-creator and sometimes on-screen character. Since the media buzz around the release of the war story turned comedy Whiskey Tango Foxtrot, Fey has been mysteriously out of the limelight. Not for long, though.
Fey is on the cover of Bust's August/September issue, which also happens to be its 100th issue. In the interview, she opened up about everything from her teenage years to politics. One of her most striking points, however, was about aging. Specifically, Fey is curious to see whether popular culture will let her (and her female peers) age and still do what they do. "I've met a lot of older male comedy writers who still work, but almost no female comedy writers who aren't marginalized in some way," Fey said.
Which, really, having Fey's career extend for a few more decades seems to only be a good thing. From her early days on Saturday Night Live, to the iconic hilarity of 30 Rock, to her 2011 book Bossypants, Fey has a résumé that any comedian, no matter their gender, would envy. But what's really impressive is that she's managed to be successful in her career while keeping her integrity intact and personal life scandal-free. If you take away Fey's celebrity status, her life and daily struggles are very relatable to any working woman. 
01. She admits to her flaws.
Nobody's quicker to make fun of her own mistakes than Fey herself. It's part of her candid, satirical brand of humor that makes her so good at what she does. Hilarity aside, both Fey's writing and acting show a true acceptance of self. Take two of Fey's most iconic roles: Liz Lemon, the perpetually single, feminist, ultra-geek protagonist of 30 Rock and the awkward, yet heroic, math teacher from Mean Girls—both characters are undoubtedly imperfect, but they're imperfect in a way that makes them relatable and ultimately the heroines of their own stories. Fey's work has shown us time and time again that not only is it OK to have flaws—but it's also actually pretty funny.
Although some may say that Fey's humility is at the point of self-deprecation, we have to remember that at the end of the day, Fey is a comedian. So, her willingness to make fun of herself, while hysterical, may be one of those don't-try-this-at-home-kids moments. While some bash Fey for constantly downplaying her own success and criticizing her own appearance, this brand of humor reveals the crazy standards that women are held to on a regular basis. In fact, it's because Fey doesn't fit the mold of the "perfect woman" that she's successful as a great role model. If there's anything we can learn from the author of Bossypants, it's that the best way to live is to be unapologetically yourself.
02. She remains strong in her values.
From her longstanding friendship with Amy Poehler to her dedication as a mother, there's no doubt that Fey puts stock in her real-life relationships both on and off the screen. Like every woman in Hollywood, Fey has taken hits for being a working mom. Instead of just taking it or deflecting, she's not afraid to call people out and stick to her convictions.
If you don't believe me, check out this article Fey penned for the New Yorker titled "Confessions of a Juggler." Fey admits that, although she may not show it, she actually does feel guilty about being a working mom but only because other people make her feel that way. In this way, Fey has become known for standing up for her values, whether responding to an accusation about her mothering or a sexist interview question. Before Poehler and Fey hosted the 2015 Golden Globe Awards, the hilarious duo announced what they'd be wearing to the event. Fey's answer? A "romper with cheese." That'll definitely keep away those shallow red carpet questions.
03. She dedicates herself to her passion.
A list of Fey's accomplishments hardly does justice to the breadth of what she's achieved. As the first female head writer of Saturday Night Live, Fey has made great strides for women in comedy—but also for women in general. Her dedication and success show that even if it's a so-called "man's game," you can do it. And she's done so by featuring strong female characters in her own work.
Take her latest venture, The Unbreakable Kimmy Schmidt. The main character, Kimmy Schmidt, is rescued from a doomsday cult and thrown into life in New York City. But Fey's writing never portrays Schmidt as a victim; in fact, Schmidt's strength and tenacious positivity are what make the show so comically inspired. Schmidt, and all of Fey's most iconic female leads, are so refreshing because they overcome their obstacles instead of falling victim to them.
Besides her amazing career achievements, Fey is also a mom. Another talking point for the media, Fey refuses to listen to criticism of her parenting; she wanted a career and a family, so she did both. In a world where every new celebrity update dominates the news, it's refreshing that Fey purposely keeps her personal life out of the limelight. She knows what she wants for her career, but she also knows what she wants for her family—which is definitely something we can respect.
Photo Credit: ABC
This article has been edited from its original version.