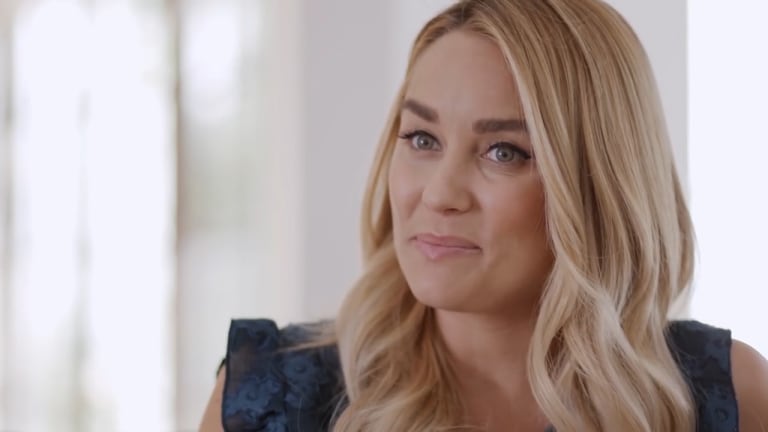 Lauren Conrad Proved Reality TV Isn't All Bad on Last Night's Anniversary Special of The Hills
Is she the exception that proves the rule?
Last night an entire generation breathed a sigh of relief. For the first time in years, we were able to tune into MTV and see Lauren Conrad's face and hear the sound of Natasha Bedingfield's "Unwritten" coming through our screens. We were transported back to the So-Cal reality TV heyday of yesteryear. (At least, that was my experience.)
The ten-year anniversary special called "The Hills: That Was Then, This is Now" gave us a chance to catch up with Conrad, the show's original golden girl. She showed off her new projects and talked about what she remembers, still loves, and hopes to forget about the show that launched her career.
Remarkably, she seems to have come out on the other side of reality TV stardom with arguably more humility and grace, not less, as one might expect.
The final episode of The Hills left die-hard viewers unsettled. In a time pre-Kardashian and pre–Real Housewives, we didn't yet know the truth behind this kind of new entertainment. The last scene showed a sullen goodbye between two primary characters, but as the credits rolled, the camera panned out and we saw that the whole thing was a staged set. Viewers were left to wonder just how much of this entire "reality" was real.
All these years later, the special delivered on its promise to reveal those secrets—some of them, anyway.
We learned that Conrad's Teen Vogue internship was partially rigged, her "relationship" with playboy Brody Jenner, son of Caitlyn Jenner, was "made for TV," and that confrontation in the clubs was "not forced but encouraged" by producers.
But one of the most insightful moments during last night's show was when a clip aired of a young, more natural-looking Kim Kardashian making an appearance with The Hills' cast member Heidi Pratt (née Montag). It was a perfect moment of reflection that showed just how different life paths can be—and just how destructive "the biz" can be.
Kardashian went on to have her own show, and we all know what has become of that. Heidi, meanwhile, married costar Spencer Pratt. "Speidi" now laments to the press how they blew through nearly $10 million. But, oddly, Spencer says the only thing he regrets is not living it up more. He told the Huffington Post, ". . . we should have been doing more paparazzi setups than hanging out in some dark recording studio eating In-N-Out burgers."
Conrad, however, showed us a rare side of young fame and fortune last night; she showed us that she's a person who somehow remained down-to-earth and actually seemed to learn something valuable from her time on-screen.
Conrad left The Hills a few seasons before it concluded, and when she did, 900,000 viewers went with her, a big dip from the record-breaking viewership the show was used to. She was beloved by viewers, I think, because we knew she had the promise to be more than just a reality star.
She is now married to a man who never saw her shows, she still goes home to her parents' house in Laguna, and she made her fashion dreams come true—in her own way.
She has several fashion lines, LC Lauren Conrad sold at Kohl's, her higher-end line Paper Crown, and a runway line that had its debut last season. She has written books, both novels and lifestyle manuals. And she runs an online shop called The Little Market, which serves as perhaps the best example of the reality TV star's departure from some of her entertainment peers.
"Several years ago I was at a place in my life where I felt like I had so much good and I also had been given this platform, and I wanted to make sure I was doing the right things with it," she said. The answer to her yearning was a fair trade venture.
The Little Market curates wares from women who would otherwise have no access to international markets. "Working through cooperatives and social enterprises, our artisan partners improve the quality of life in their communities in a number of ways, including literacy workshops, business training, and health programs," The Little Market website reads. "Women artisans are often able to work from home while caring for their families."
"It became consuming for some," Conrad said of the show's unforeseen success. "Working in entertainment and in fashion, it's really easy to lose perspective." But when traveling to meet artisans, "it's not about what designer are you wearing."
From last night's special, we got a sense that Conrad really does have her wits about her. She doesn't seem at all diluted by fame or ungrateful for her privilege.
When asked by the show's developer if she ever felt "completely misrepresented" by The Hills, Conrad sheepishly said that there were a couple times when the editing went too far. "We all, in our own way, learned how to deal with it," she said.
"It doesn't always bring back the best of memories," she honestly admitted, but she said, "The show prepared me for a lot of things that have come my way."
At the end of the day, there's no denying that Conrad played a part in what has become an industry overrun with moral calamities and gross excess. But this special, for what it's worth, brought a little perspective to the whole thing and showed a side of Conrad that's hard not to root for. Conrad may have been introduced to us on TV all those years ago, but she's making strides to be remembered as more than just a reality star.
Photo Credit: MTV