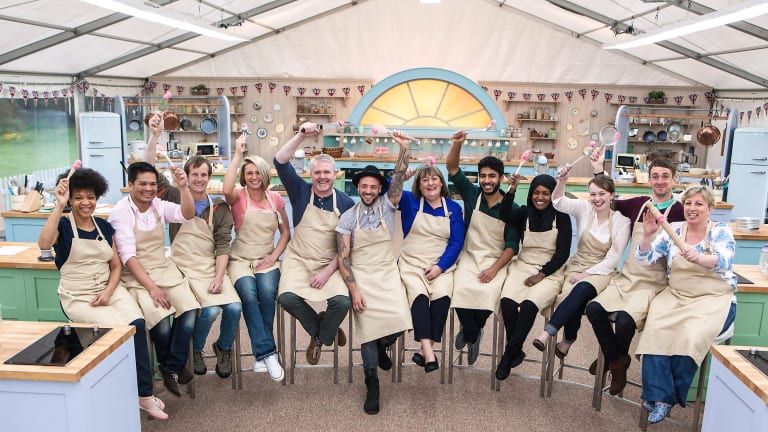 How The Great British Baking Show Won Our Hearts
Is it just us or is this the loveliest reality show to grace our TV screens, ever?
On Friday night PBS aired the season finale of the current season of The Great British Baking Show, and it was a thing of true beauty. Who knew watching a group of amateur bakers compete in a quaint bunting-adorned tent deep in the British countryside could be so addictive—and so very emotional? 
If this sweet-toothed, sweet-hearted show hasn't already stolen your heart, I'm pretty sure it will, and there's still time to catch all 10 episodes of Season 3 online. However, if you are a Baking Show newbie, I'd better give you fair warning to stop reading right now and come back when you've finished binge-watching the series—spoilers ahead!
As a native Brit, I've been an avid fan of this show for a few years—the entire British Isles are pretty much obsessed, with every annual season covered widely in the national press and the betting polls going crazy with predictions over the competition's outcome. This was our sixth season in the UK (the third season to be aired in the USA). This has been by far the best season of the show yet, though, and I'm so glad it's gaining popularity here in the States. 
Eighty-one-year-old Mary Berry, one of the two judges of the show, is a total legend in her homeland, and I am one of several generations who grew up learning to bake from her classic recipe books. The show's simple formula—get a bunch of amateur bakers together, give them three themed baking challenges a week, name the most successful one as Star Baker and send the least successful contestant home each week—is akin to many popular food competition shows. But something about this one is just more charming: it's down-to-earth, understated, and without a hint of the cat-fight competitive drama most reality shows thrive on. The contestants forge strong friendships and offer each other words of encouragement and even the occasional helping hand here and there. They're completely focused on doing their best, but also incredibly supportive of each other. 
And then there's the fact that throughout the series you'll experience a wide range of different British accents and mannerisms, not to mention some brilliant polite-but-devastating insults, and a good dose of classic British understated praise—case in point: "I'd be quite happy if I'd made that."
So what made this season so special? Without a doubt it was watching the journey of the eventual champion, Nadiya Hussain. A stay-at-home mom full of self-doubt at the start of the season, she grew in confidence and skill as she made her way to the top. Having been married with her first kid at 20-years-old, it was so refreshing for someone so positive and yet so real about motherhood to be in the spotlight. As her husband comments in the final episode, the work of a stay-at-home mom is tough, and it's generally under appreciated: "[during the filming] I've been feeling what Nadiya has been doing for the last 10 years of looking after the children, doing the school runs," he says. "This is definitely the first time she's gone away and done something for herself."
The first time she won Star Baker in episode 5, Nadiya managed to control her voice just enough to gasp, wide-eyed, "It's weird, I'm never proud of myself, but I'm actually really proud of myself." And then there was her young daughter's innocent and telling comment after she'd been crowned the winner of the show in the last episode, "She's never been the winner before, has she?" 
This isn't a tale of an oppressed housewife, though. Nadiya says the bravest thing she ever did was to have children and calls her husband her best friend and supporter. "[He] stayed up with me, doing sudoku or just hanging around the kitchen, then did the dishes—even though he had to be at work at 8 a.m.," she told The Guardian. "He knew there were times I was struggling, and he would say: 'Remember you want this more than anything in the world, so just push through. You can do it.' He was my driving force."
The beautiful thing about this season is that yes, it's all about making the perfect patisserie and crafting a winning pie, but it's also about so much more than baking. "I'm never going to put boundaries on myself ever again," Nadiya said, clutching her trophy in the final episode. "I'm never going to say 'I can't do it.' I'm never going to say 'Maybe.' I'm never going to say 'I don't think I can.' I can, and I will." 
And she clearly meant that—as The Telegraph reported, she said it is "my time now for an adventure." Nadiya has now begun studying for a degree in childhood and youth studies. She also recently baked a birthday cake for the Queen and is releasing her own recipe book.
Next time you're tempted to binge on a show, let it be a show where they eat cake. It will do your spirit good.
Photo Credit: PBS