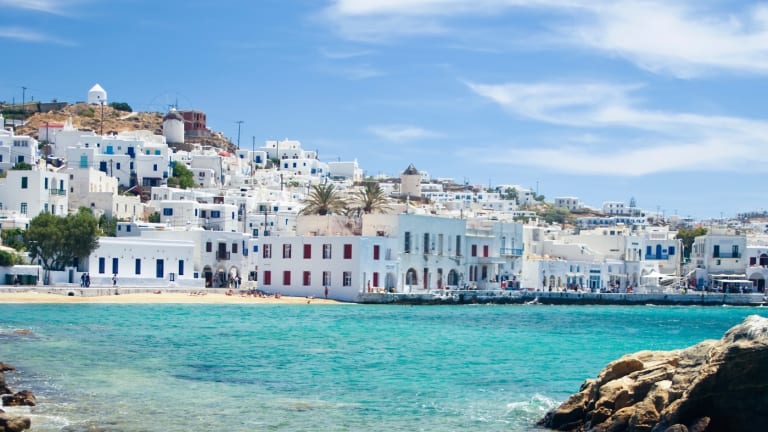 10 Breathtaking Destinations That Prove Cruises Are Super-Underrated
Think traveling by boat is just for your grandparents? Think again!
By now, we should all be in the midst of enjoying our summer freedom and adventures. But is it too early to plan ahead to further this state of bliss? Now is actually an ideal time to book your fall or winter getaway—in cruise form.
Cruises are stereotypically reserved for retirees, families, or partygoers. But I've worked on a cruise ship for a few years now and I feel the need to share with you a side of it that may be perfect for a wider range of travelers, including those looking for sporty outdoor activities, rich culture, and ancient history.
Trust me, cruises aren't as lame as our grandparents have made them out to be. It's not all bingo, arts and crafts, and lectures on tundra wildlife (although it can be if that's what you're into). No matter your age, gender, income, likes, and dislikes, there is a ship and itinerary for you.
You may think it's unnecessary to book so far in advance, but there are many benefits of planning ahead. Not only are prices at their lowest now, but you will have your choice of itinerary, cabin type, and vessel (which book up fast if you wait). You could even plan a cruise for next summer, giving you plenty of time to save up, and something to look forward to all year around. The best part is, for most cruises, you can put down a deposit and pay off the rest closer to your sail-off date. Many cruise lines even allow you to cancel and use that deposit in the future.
Sure, cruises can be hit or miss. To make sure your vacation is a hit, here are my top ten ports that I have visited a number of times, what makes them special, and a few tips to keep in mind to ensure you have a getaway you will one day be telling your grandchildren about.
01. Skagway, Alaska
Skagway is one of many hidden treasures in Alaska, and can be best enjoyed in the summer months when—contrary to what most believe—it is warm enough to be considered t-shirt weather! This quaint town is a breath of fresh air, a change of pace from the busy cruise ship life.
Walking through local shops gives a warm, welcoming feeling. If you're up for a hike, there are mountains to explore in every direction with stunning views. There are even day trips to Canada's former gold rush town, Whitehorse, Yukon, where a three-hour journey by rail is as easy to enjoy as the destination.
Keep in mind the demographic of Alaskan cruises are typically 50 and up, so steer clear if you're looking for a lively booze cruise. Whether you visit now or after retirement, though, Alaskan cruises are extremely laid-back and provoke an environment where passengers and crew alike are at their friendliest. Must be something about that Alaskan air!
Make this trip a hit: Visit Sugar Mama's, a charming bakery with delicious cupcakes and the most unique "creepy baby" postcards you'll ever see.
02. Catalina Island, California
Catalina—a typical port of call on California coastal cruises—is one of those rare places that has it all: the beach, sky high hikes, adventure, and of course, shopping. Everything is within walking distance if you're in the mood to explore on foot. For the more adventurous, rent ATVs and drive around the island. Or if you aren't sick of the ocean yet, take a yacht trip.
Make this trip a hit: For the young party-goer, this port is commonly offered during a "Groove Cruise," a weekend of nonstop parties and live DJ sets on and off the ship.
03. St. Maarten
St. Maarten island in the Caribbean Sea is one of the most popular cruise destinations in the world–and for good reason. Split up into French and Dutch halves, this port is a hot spot for beaches, beers, and boutiques. Just a short walk from the Philipsburg port is the core of the Dutch side, with colorful colonial architecture and artisan shopping. Wherever you are along the beachfront, you'll find a great deal on cocktails to enjoy on the countless patios, with plenty of room on the pristine sands to relax.
Make this trip a hit: A bucket list destination is Maho Beach, or as many know it, Airport Beach. Yes, I'm talking about the beach from photos and videos of airplanes landing so close that it looks highly dangerous. There is a bar with screens listing the landing times of planes coming in to make spectating convenient, yet crowded. If you're brave enough, hold onto the fence as a plane is taking off to feel an adrenaline rush like no other—and hold onto your things!
04. Antigua
In the Cayman Islands, Antigua is the epitome of a tropical vacation. If you're looking for a flawless beach with crystal clear water and white sand, this is the place to be. Take a catamaran trip where food and drinks are often included, and your choice of floating near a beach or surrounded by water to snorkel and splash. All ages can enjoy this day trip—the people of Antigua are easygoing and happy to go by what best suits your vacation style.
Make this trip a hit: If you're feeling adventurous, take a trip to Stingray City, an organized boat trip to feed and cuddle with stingrays as big as your family dog who impatiently awaits your return home. Get as near or far as you want to these surprisingly sweet creatures and have a laugh with the staff and your loved ones—this is an experience you'll be raving about.
05. Venice, Italy
A lot of Mediterranean cruises begin or end in Venice for one or two nights, so there is plenty of time to see all that this city has to offer—from gondola rides (expensive, but worth it!) to taking in St. Mark's Square. Venice is one of my personal favorites; you'll get lost walking around and have an amazing time doing just that! Explore on your own, grab a street gelato, find your first authentic Italian pizza, maybe purchase a Venetian mask—you may even be able to wear it on the ship for a festive reception.
Make this trip a hit: Seeing Venice while cruising is a completely unique experience as opposed to flying in and out for one main reason: the sail-away. When the ship leaves to start a cruise, make sure you're out on the top deck watching the magnificent views to the sounds of Andrea Bocelli. The ship glides through slowly enough to savor your surroundings; a great start to a Mediterranean escape, and a moment not to be missed.
06. Barbados
Barbados is an all-around crew favorite; it is one spot we go to every year, without fail. Now this is revealing a huge secret (I even feel a bit guilty for sharing this much), but we've come this far. Let me paint you a picture.
You pull up and you're surrounded by smiling faces and great music. You walk into a beachfront bar and, with a small fee, are given a wristband giving you credit towards food and drinks. Keep walking and find stretches of beach beds to your left and a pier to the right leading to rope swings, water trampolines, and other all-inclusive water sports. This is The Boatyard, an industry legend.
Make this trip a hit: Pick up a Boatyard tank top from the bar's merchandise shop and possibly be mistaken as a cruise ship's crew member.
07. Mykonos, Greece
Sit and enjoy a fresh Greek lunch from white-walled Mykonos. Maybe explore all the way to Paradise Beach, which is exactly what it sounds like—clear blue waters, palm thatch umbrellas, snorkeling, and extensive food and drink menus. A DJ plays beats to one of the world's largest open air venues. Join in on the party, or find a quieter spot further down—this is your oyster!
Make this trip a hit: Need a little more excitement? Just a bit further you will find Super Paradise Beach (I can't make these things up). Here you'll find everything Paradise Beach offers and more, including water sports activities sheltered from strong winds and tides by the natural geography of the bay.
08. Copenhagen, Denmark
In Copenhagen, there's one magical attraction that every youth at heart should see once in their lives. That is Tivoli Gardens, one of the world's oldest amusement parks and one that inspired Walt Disney to create Disneyland. As soon as you walk through the doors, you have to pinch yourself to make sure you aren't in Alice's Wonderland. You will feel like a kid again.
Make this trip a hit: On your way back to the ship, take a short walk to the shore and marvel upon The Little Mermaid, a symbolic landmark of Copenhagen based on native author Hans Christian Andersen's iconic fairy tale (and, incidentally, another Disney inspiration). Take a few snaps with the most photographed statue in all the land.
09. Istanbul, Turkey
If you are looking for an itinerary with ports that are enriched with culture and history, Istanbul should be at the top of your list. That there is a lot to see in a short amount of time is an understatement. Don't miss the breathtaking tile-work and architecture of the Blue Mosque—which functions as a sacred place of prayer to this day—or the craziness that is the Grand Bazaar, a winding maze of Turkish sundries and souvenirs (try not to buy a hundred rugs or a thousand pounds of sweet Turkish delight).
Due to recent terrorist attacks and violent incidents in Turkey, however, multiple foreign ministries have issued travel advisories warning tourists to visit at their own risk. On July 21, the Cyprus Mail reports, "The Turkish government has declared the entire country in a state of emergency for a period of three months." Cruise itineraries do offer small group tours including trained guides and private transportation to and from well-known sites. So if you're considering Turkey, stay informed on the state of the country.
Make this trip a hit: Visit the Basilica Cistern, the largest water cistern in the city and one of the only ones open to the public. I was shown this subterranean space without knowing what to expect and was blown away by the ancient marble columns surrounded by water—without a doubt one of the coolest places I've seen to date. Please, I beg of you, do not miss this hidden treasure.
10. Roatán, Honduras
Roatán is a lesser-known port, but it has all the ingredients for a getaway well spent. With a chairlift that travels from where the ship is docked and lands on the beach, it could not be any easier to get to where everyone is going anyway. Roatán has several relaxing spa locations (a massage in a bungalow in the middle of the ocean? Yes, please). But it is also a mecca for exploring wildlife within its lush tropical forests.
Make this trip a hit: Take a few zip-lining trips which end with the last and longest run landing on the rooftop of a restaurant on the beach. It does not get any better until you try the jerk chicken and plantain. Just a few more steps and you're knee-deep in the waves while enjoying a fresh coconut. Enough said.
Have you been on a cruise yet? Leave your tips, hits, and misses in the comments below!